These Vampire Cheesecake Bites are the perfect Halloween Vampire Treat. Easy to make, fun and so delicious. Kids and adults will love these Halloween Themed Party Desserts.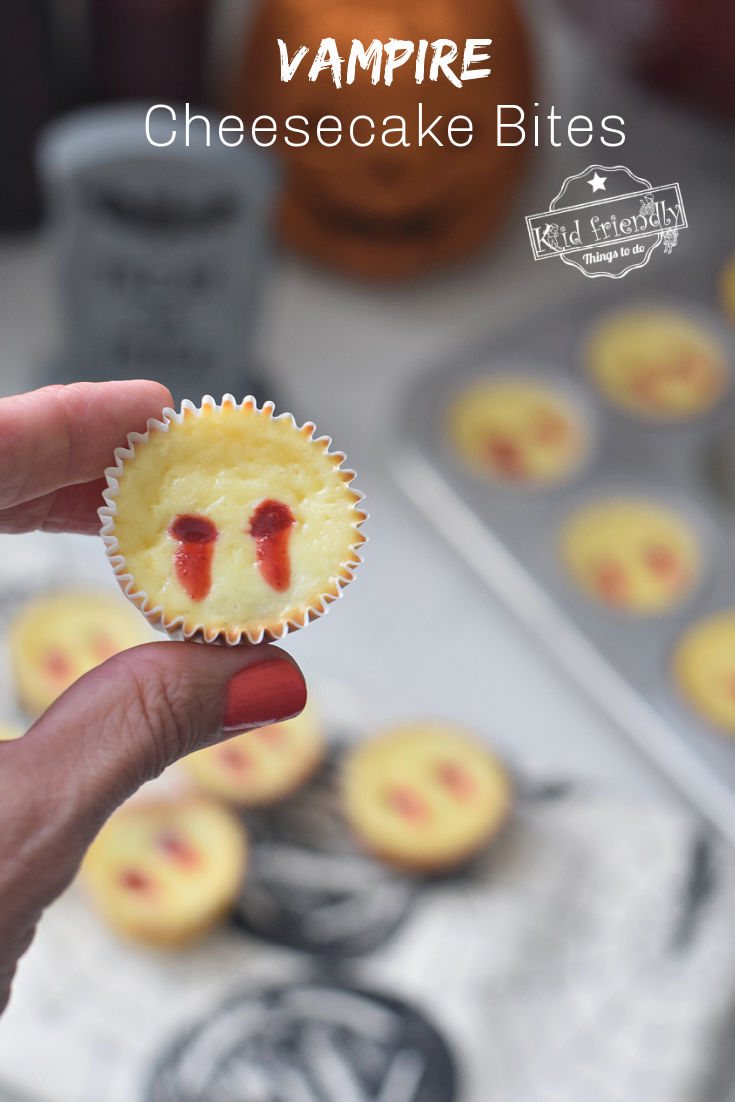 Vampire Cheesecake Bites – Halloween Vampire Treats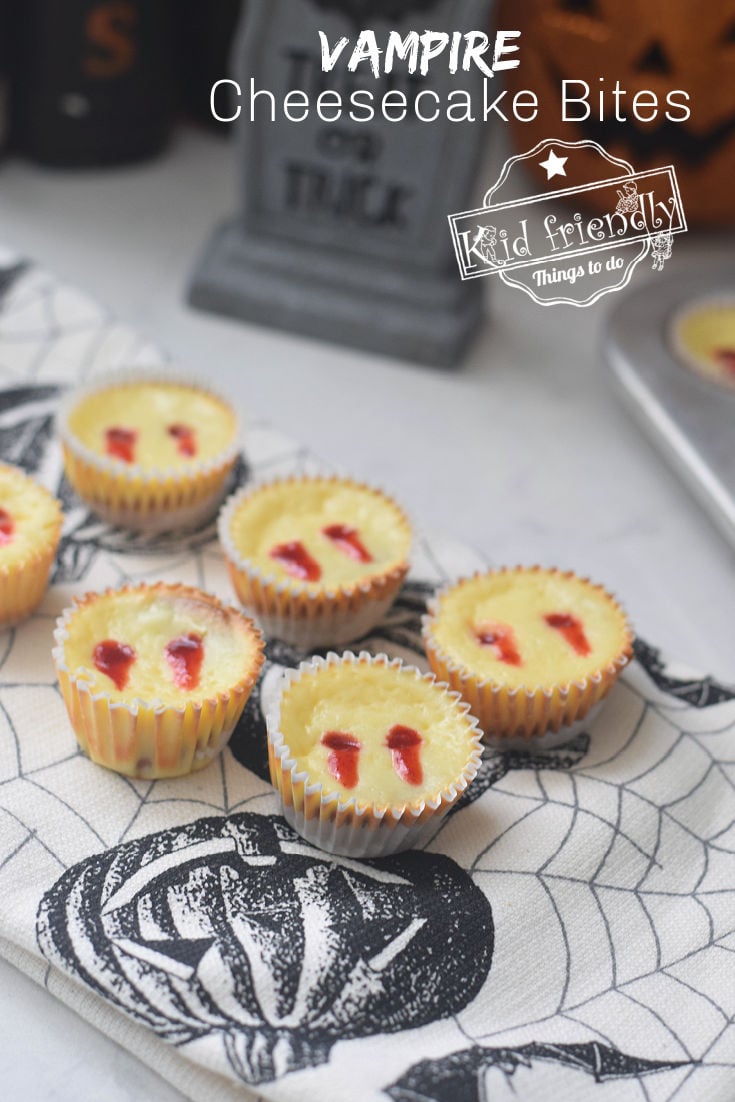 The big bonus here is that these cheesecake bites can be made ahead of time.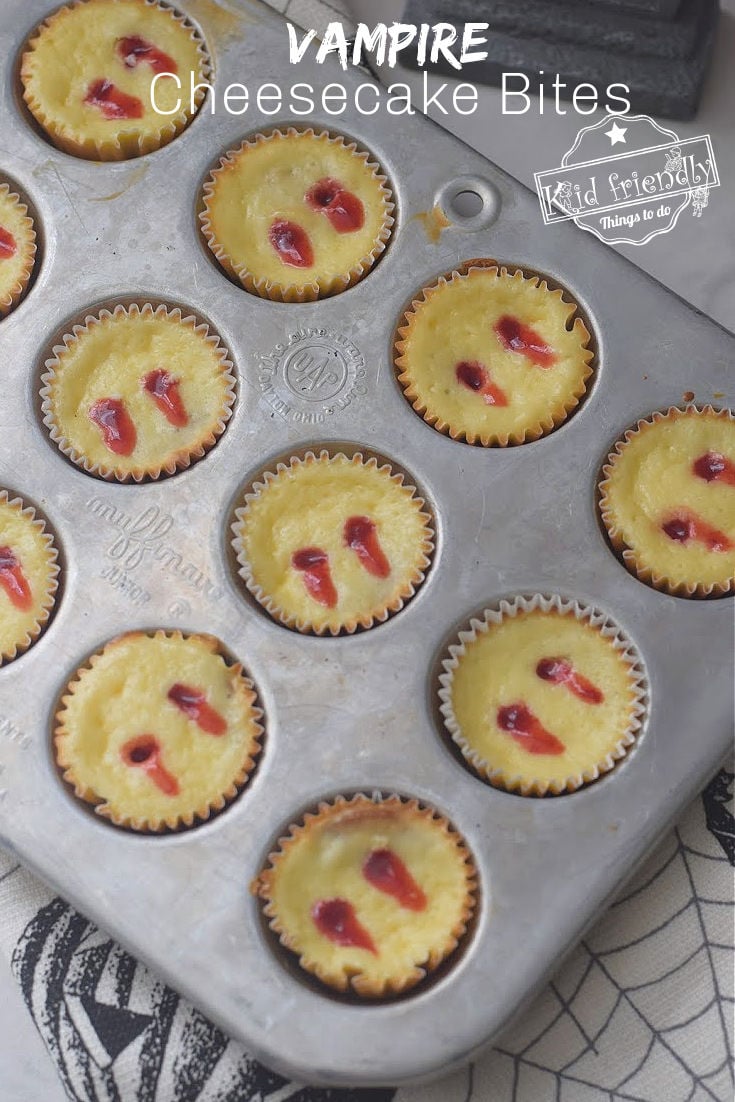 Delicious, easy to make and so cool, these Vampire Bites will be the hit of the Halloween Party!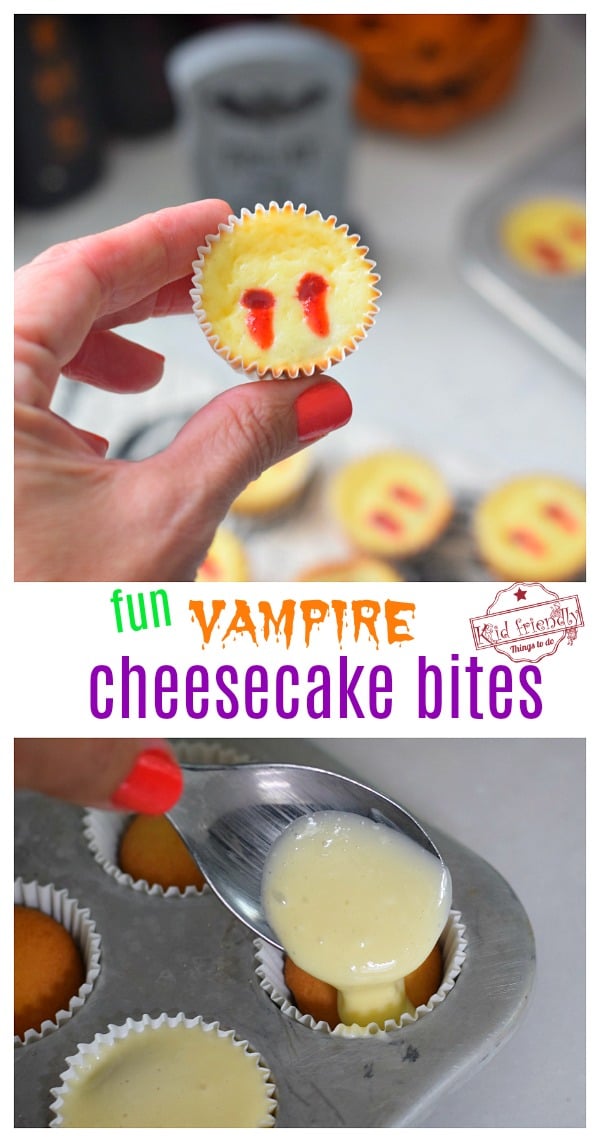 These treats are a fun twist on the old fashioned cheesecake bites with vanilla wafer crusts.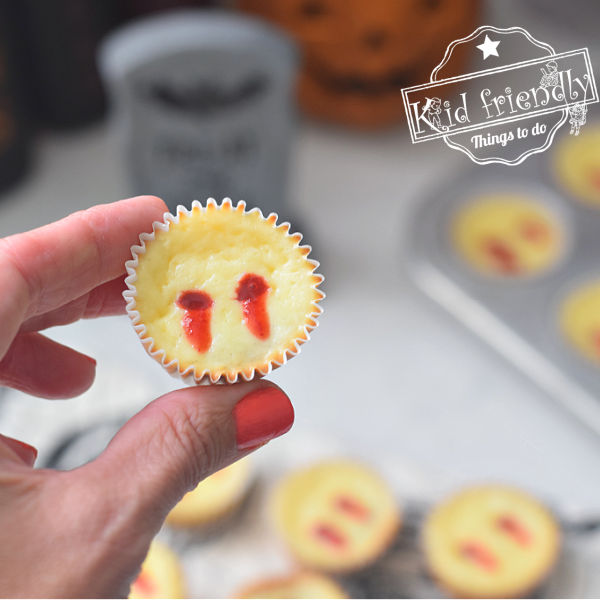 What are some good Finger Foods for a Halloween Party?
Halloween Jalapeno Poppers
Pizza Mummies
Mummy Meatballs
How Long will Cheesecake Bites Last?
Cheesecake bites, covered and stored in the refrigerator will last up to 3 days
How far in advance can I make Cheesecake Bites?
For freshness – it is best to make them up to one day in advance or the day of the party
How do you make Vampire Cheesecake Bites – A Halloween Vampire Treat?
Preheat the oven to 325 degrees
Mix cream cheese, sugar and vanilla
Add eggs and mix in
Line a mini cupcake tin
Place vanilla wafers into the bottom of the liners
Spoon cream cheese filling over wafers
Bake for 30 minutes
Prepare pie filling by blending it and pouring it into a squeeze bottle
Let cheesecakes cool
Make 2 holes into cheesecake bites
Pour filling into holes and make fangs by squeezing pie filling into fang shapes
Here is the printable recipe for these Halloween Vampire Bites…
Print
Vampire Cheesecake Bites {A Halloween Vampire Treat} | Kid Friendly Things To Do
Easy to make and fun Halloween Party Treat
1

Box of vanilla wafer cookies, such as Nabisco Nilla Wafers

2

(8oz.) packages of softened cream cheese

1 tsp

. vanilla

1/2 cup

of sugar

2

eggs
Cherry Pie filling
Other Equipment Needed:
mini cupcake wrappers
mini muffin tin
lollipop stick, wooden skewer or something similar in shape and size
Squeeze bottle – like a Wilton Candy Melt Squeeze Bottle
Instructions
Preheat oven to 325 degrees
Line mini muffin tins with cupcake wrappers
Place a vanilla wafer in each wrapper – If you are struggling to get the cookie to fit then you can turn the cookie around so the rounded side is facing down.
Mix cream cheese, vanilla, and sugar
Add eggs and mix well
Spoon the mixture over vanilla wafers – filling cupcake wrappers all of the way
Bake for 25 minutes
Let the mini cheesecakes cool down
Remove the mini cheesecake bites from the muffin tin
Let cool for about 30 minutes
Blend the cherry pie filling until it is smooth
Pour the filling into the squeeze bottle
Use the lollipop stick to push 2 holes into the cheesecake bites
Fill holes with cherry pie filling and then squeeze a small amount under the 2 holes in the shape of fangs
Store covered and in the refrigerator
Notes
If you find that your vanilla wafers are too large for your cupcake liner, try flipping them over so the rounded edge is at the bottom or simply break them up and drop pieces into the bottom of the liner