Just in time for St. Patrick's Day – A Lucky Horseshoe St. Patrick's Day Cupcake made out of m&ms. It's so easy to make. You'll be done in time and celebrating at your party with the kids.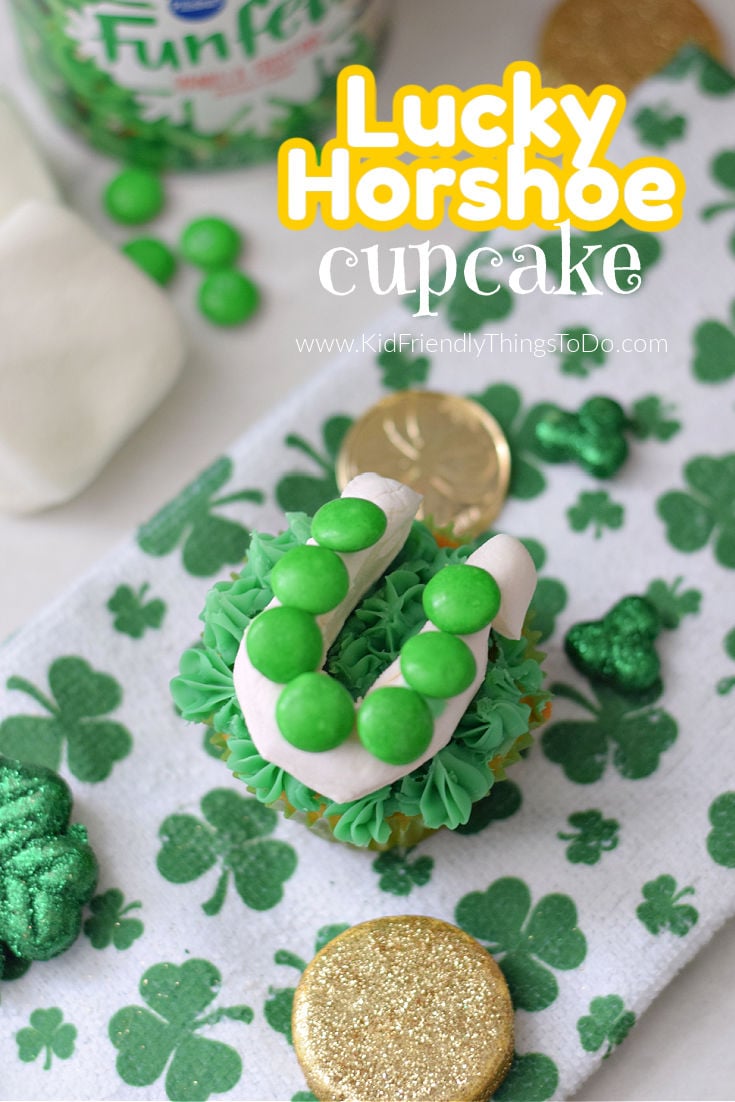 Lucky Horseshoe St. Patrick's Day Cupcake
Are you looking for St. Patrick's Day party treats? You might be interested in my other posts, like a Pot of Gold Cupcake, Shamrock Shakes, or Rainbow Rice Krispies Treats.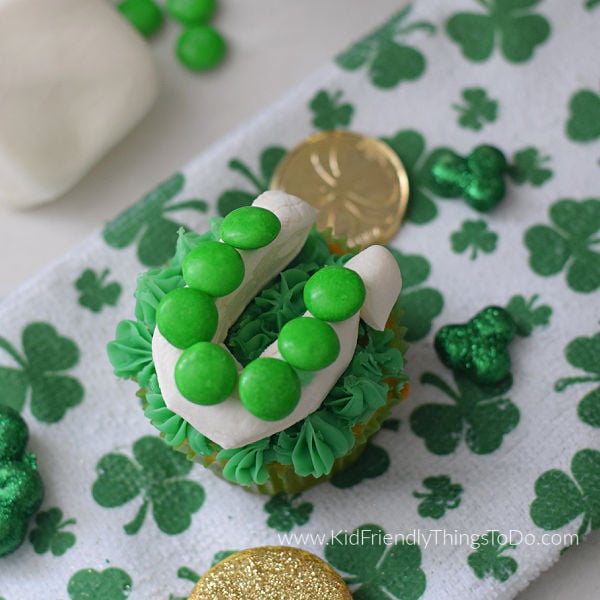 What are some good St. Patrick's Day cupcake ideas?
lucky horseshoe
Rainbow cupcakes
pot of gold cupcakes
leprechaun cupcakes
Make-Ahead and Storage:
You can make these lucky cupcakes ahead of time. Just store them in an airtight container at room temperature. They should stay fresh for up to 3 days before your celebration or event.
Are you ready to make these easy-to-make cupcakes? Let's make sure that you have everything you'll need…
Supplies Needed: 
cupcakes baked and cooled
frosting for cupcakes – I used Funfetti Green
star or grass tip for frosting in a piping bag
S'mores square marshmallows
Scissors – kitchen scissors
Green M&Ms – you can use regular-sized or mini
Frosting – I used green frosting, but white or vanilla frosting would work too
Extra Equipment Needed:
mixing bowl to make cupcakes
knife or a toothpick to place frosting on the M&M candies for gluing
How do you make Lucky Horshoe St. Patrick's Day Cupcakes?
(detailed instructions are in the printable recipe card, below)
frost cupcakes with green frosting using a grass or star tip to represent grass
cut a U out of a square marshmallow
make V cuts into the top of the marshmallow U to define it as a horseshoe
place the marshmallow on top of the frosted cupcake
use a toothpick or small knife to add frosting to the bottom of 7 m&ms and place them around the marshmallow in a U formation
Print
A Lucky Horseshoe St. Patrick's Day Cupcake | Kid Friendly Things To Do
Easy to make Lucky Horseshoe St. Patrick's Day cupcakes
cupcakes baked and cooled
frosting for cupcakes – I used Funfetti Green
star or grass tip for frosting in a piping bag
S'mores square marshmallows
Scissors – (kitchen scissors)
Green M&Ms – you can use regular-sized or mini
Frosting – I used green frosting, but white or vanilla frosting would work too
Extra Equipment Needed:
mixing bowl to make cupcakes
knife or a toothpick to place frosting on the M&M candies for gluing
Instructions
frost cupcakes with green frosting using a grass or star tip to represent grass
cut a U out of a square marshmallow
make V cuts into the top of the marshmallow U to define it as a horseshoe
place the marshmallow on top of the frosted cupcake
use a toothpick or small knife to add frosting to the bottom of 7 m&ms and place them around the marshmallow in a U formation
Design by Melissa Haines
~Melissa – KidFriendlyThingsToDo.com