This Finding Dory Party Drink for Kids is so darn cute. It's the perfect drink for those Finding Dory or ocean themed birthday parties. Of course, I made it simple to make, because who has time for complicated? (Especially…when you're trying to pull a party together).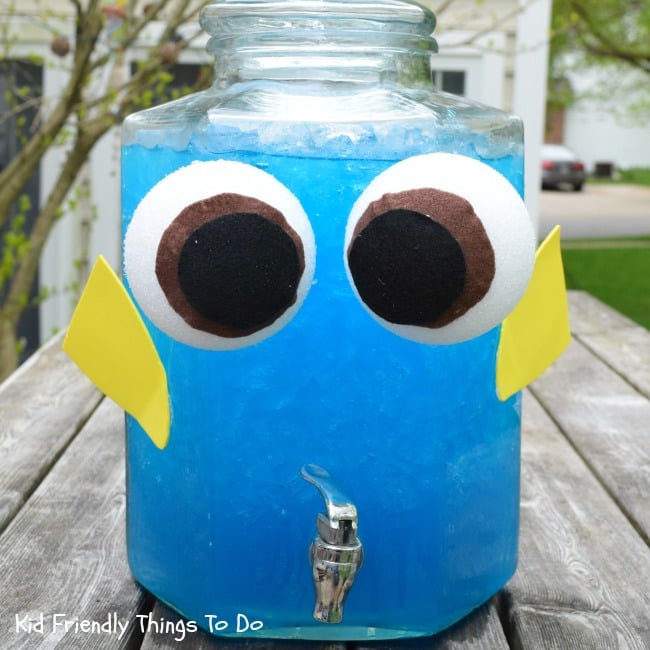 Finding Dory Party Drink
Believe me, I just pulled off another birthday party in the Haines' House. I know that the less complicated, the better for everyone. Come on in and I'll show you how to make this fun Finding Dory Party Drink for the Kids.
Are you looking for Finding Dory Party Ideas? Try, some of these ideas…
For this Finding Dory Drink, You'll Need: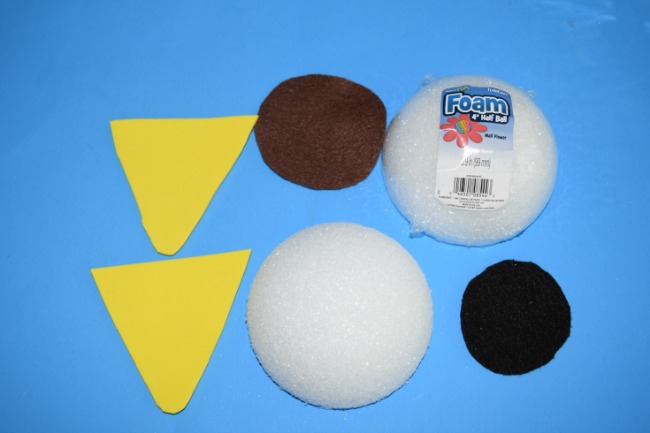 A large container for your drink – I used a glass container
A blue drink – I used Hawaiian Punch
Ice
(2) 4″ Half Foam Balls
(2) Brown felt circles – 3 inches wide
(2) black felt circles – 2&1/2 inches wide
(2) yellow foam triangles with a curved center – Mine is about 3″ x 4″, but you'll probably adjust that to the size of your container
Fabri Tac Glue – This is my alternative to hot glue and it does such a great job. Honestly, this is the only glue that I would use in this craft.
Glue stick – for a backup glue
Instructions: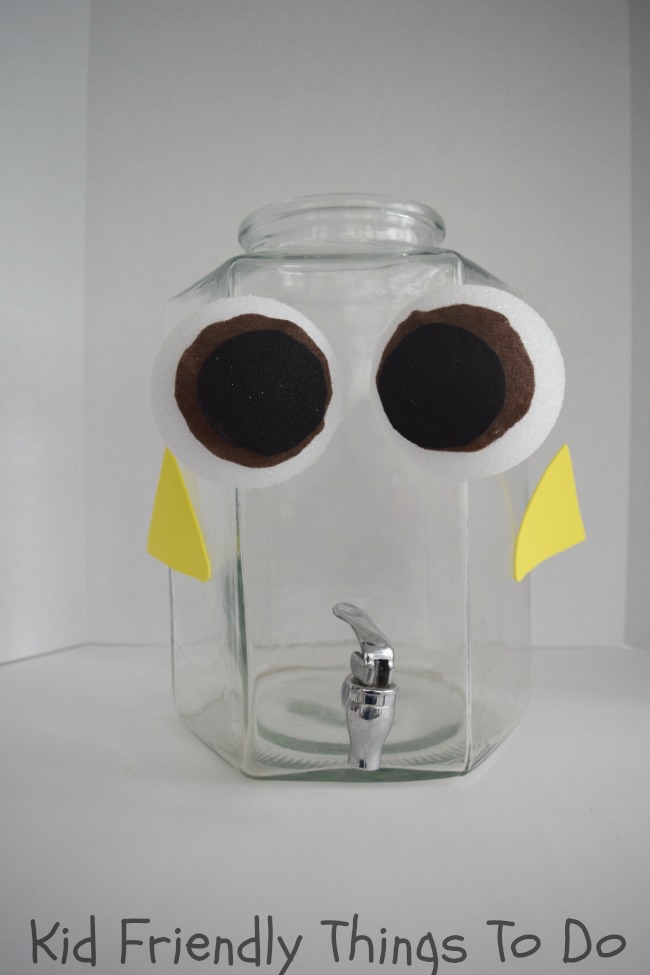 Assemble the eyes by gluing the brown felt circles to the white balls
*I made mine off-centered. In a lot of Finding Dory images, the pupils are kind of to the side
Glue the black felt over the brown
*I did the same with the black. I made them off-centered
Now, using the fabric-tac glue, add some glue to the backs of the foam balls
Stick them onto the glass container and then take them off
Let the glue on the container and the glue on the balls, set up and begin to get sticky for about 1 minute
Place the eyes back onto the container – they should stick now without falling
Follow the same procedure for the fins
When you're ready to party, fill the container with ice and the drink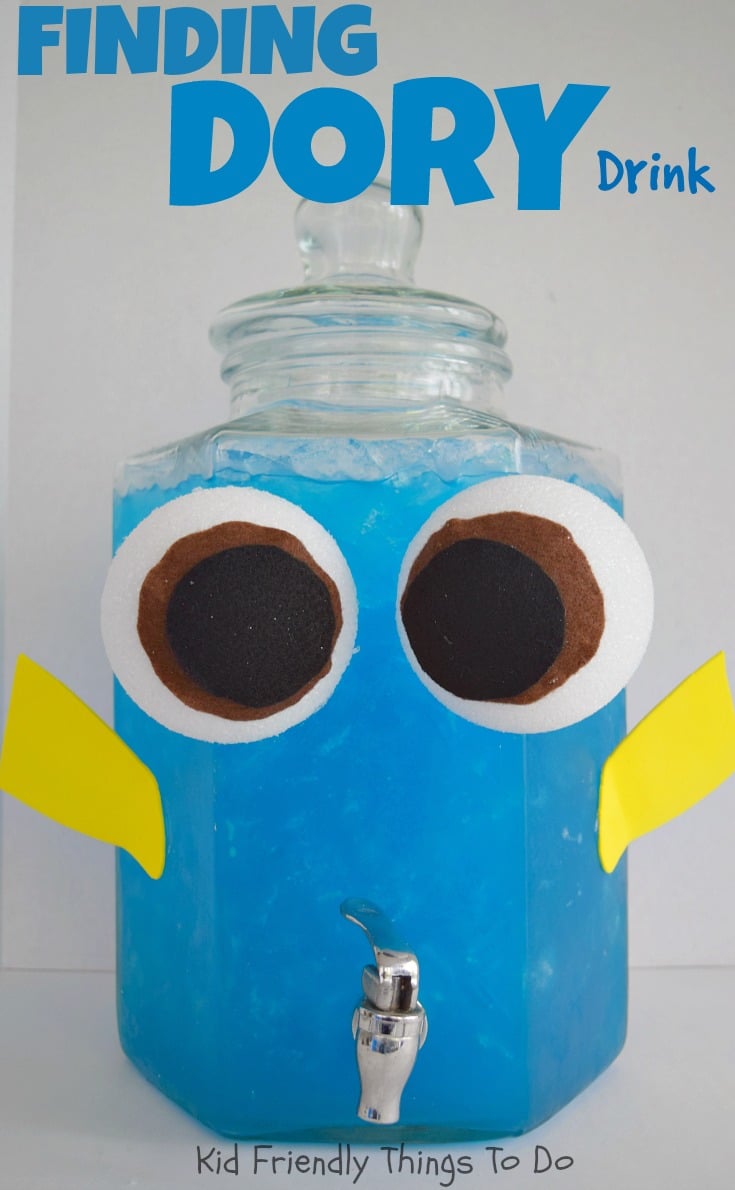 Tips and tricks for making this Finding Dory Drink Idea…
Be careful in transporting the finished creation to the party table. You don't want to pull an eye off
Everything should stick just fine. If the glue can't handle the condensation and something falls off…use the glue stick to re-stick the stuff. It does a good job with condensation.
Don't worry though, my pieces didn't fall off at all! I actually had to pull the eyes off
*I'm going to insert a suggestion for those of you that are worried about gluing something to your container.  Try a little experiment to set your mind at ease with inexpensive glass. See if the glue comes off of that when you need it to.

I can attest to my experience with my particular glass container. I know this glue really well. We go way back. I use it all of the time. I had "zero" worries when I glued this to my glass container.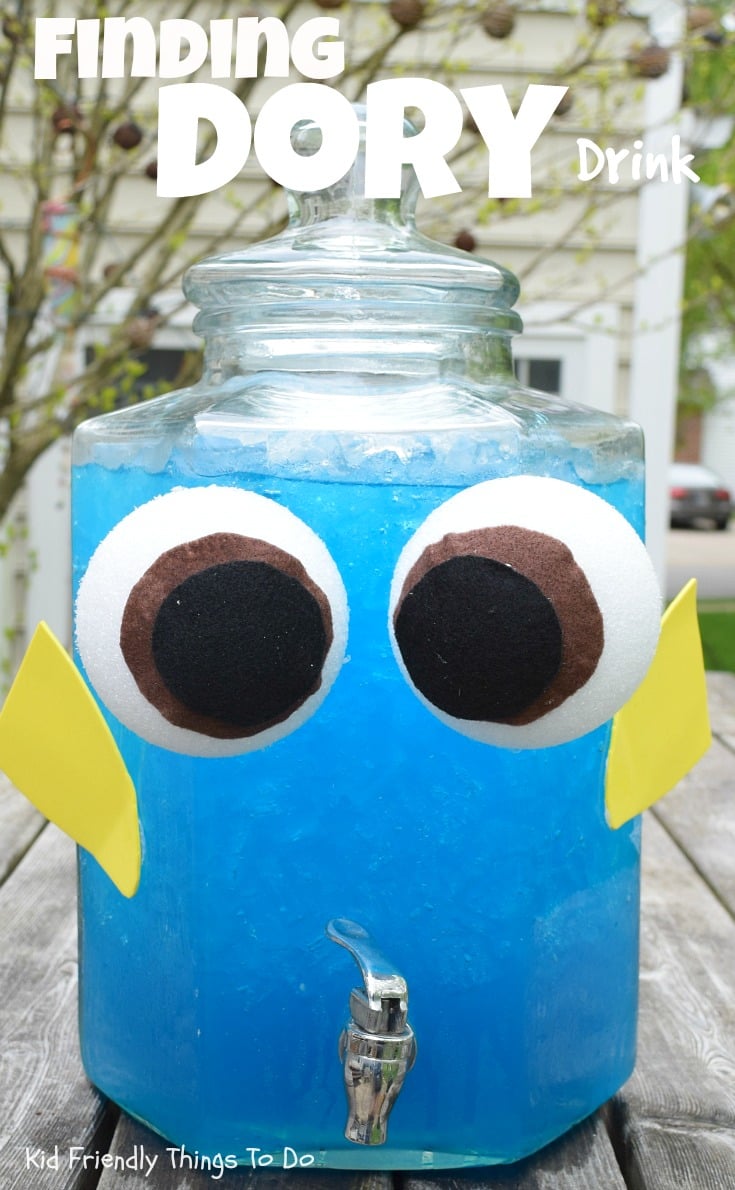 Here's some stuff you might need or even want for this idea:
(affiliate links)
[box] [/box]
[box]
~Melissa – KidFriendlyThingsToDo.com