A Four Leaf Clover Cupcake For St. Patrick's Day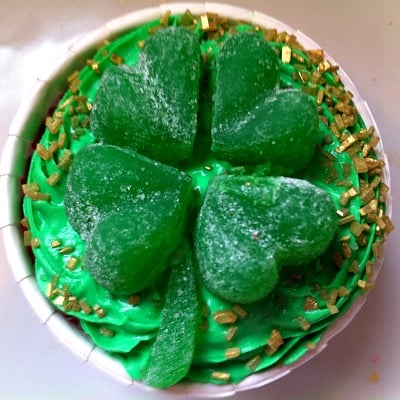 Posted by Melissa in Birthday/Holiday & Celebration Dish, Cupcakes, Fun Food Crafts, Game Ideas, Holiday Fun Foods, Recipes, St. Patrick's, St. Patrick's Day, St. Patrick's Day | 0 comments
Well, I blew it. I didn't look up the definition of a Shamrock until these were eaten and gone. Apparently a Shamrock is a 3 leaf clover. I was thinking because a 4 leaf clover is supposed to bring luck this would be a perfect St. Patrick's Day Shamrock cupcake. Ugh! In my defense, I a search within Pinterest for St. Patrick's Day did bring up both 3 and 4 leaved clovers. It's too late for me to fix it, but if you want, you can adjust this down to 3 hearts. Here's what I did to make these easy FOUR leaf clover cupcakes!:
You'll Need:
Cupcakes iced with green frosting
Gold Sprinkles
Green Fruit Gummy Slices – I found these in the candy section of Wal-Mart – they are with the novelty candies that hang on hooks – A picture of one is below
Scissors
Now, on to the Clover!
Generously sprinkle your green cupcake with gold sprinkles
Looking at the fruit slices, with its nice curvy top – I see a perfect opportunity for a couple of heart shapes in each slice
If you go 2 curves over and slice down at and angle you will have a heart shape
Place these hearts together points touching for a 3 or 4 leaf clover!
Use the remaining fruit slice to cut a stem for your clover
That's it! You're done!
~Melissa – KidFriendlyThingsToDo.com – providing kid friendly crafts, fun foods, recipes, party ideas, and fun ideas for the whole family!