Today, I have another fun idea for Thanksgiving to show you. I love how these little rustic looking Thanksgiving Turkeys came out. They are one of the easiest fun treats to pull together for your holiday meal, too. Come on in, and I'll show you how to make these Chocolate & Caramel Turkey Treats for a Thanksgiving Fun Food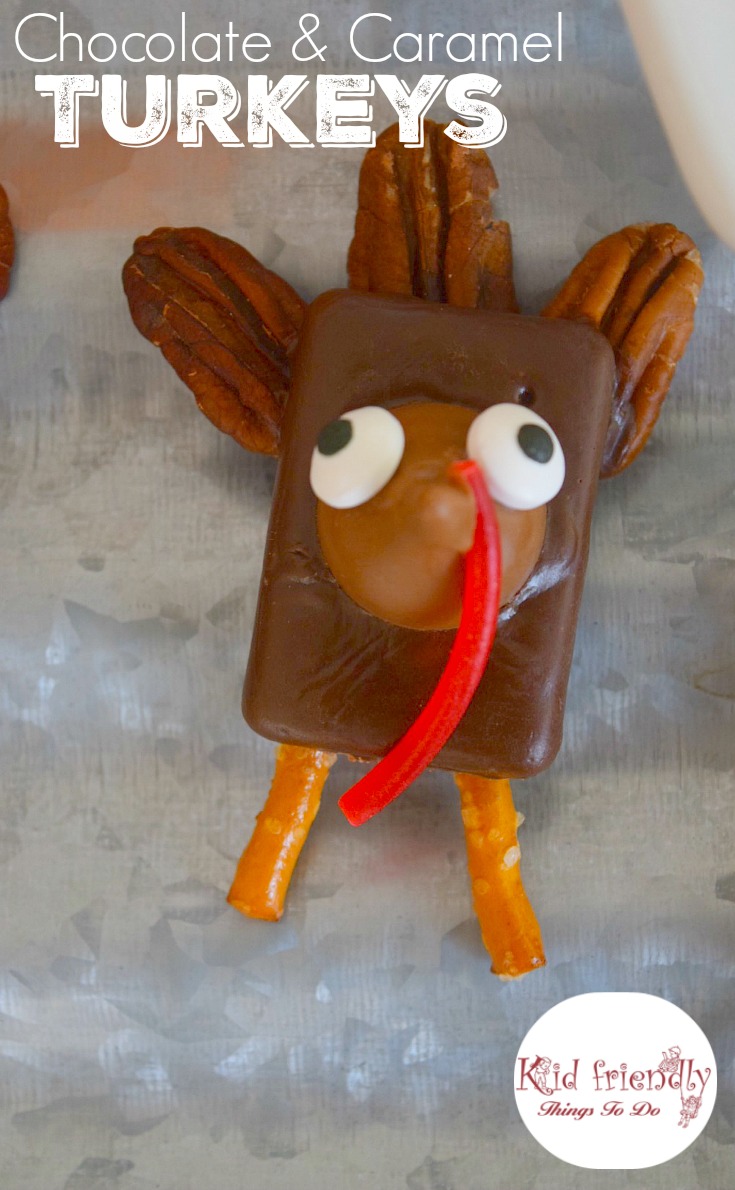 These little guys are so cute, that they are almost hard to eat. ALMOST
Here's what you'll need to make these simple Turkey Treats for Thanksgiving:
Fudge cookies. I found some rectangle fudge covered graham cracker cookies, but you could use any kind you like
Caramel filled chocolates – There are so many varieties. I got the kisses with caramel
Pull and Peel licorice – red
Candy Eyes
Mini pretzel sticks
Parchment paper lined baking sheet
Optional – brown chocolate melts for added glue
Here's the How To for Chocolate & Caramel Turkey Treats for a Thanksgiving Fun Food:
Preheat the oven to 350 degrees
Now…grab yourself some parchment paper and line a baking sheet
Spread out the feathers – 3 pecans, for each turkey
Grab your pretzels and snap them in half to make turkey legs
Place those under the feathers, like the image above
Place your cookie over the feathers and pretzels – Make sure that it touches the pecans and the pretzels, so when the chocolate melts it glues to them
Place your soft chocolate caramel candy onto the fudge cookie for the head
Pop the treats into the oven for ONLY about 30 seconds! *Here's why, I found that the longer I heated the chocolate caramel candy, the harder the chocolate got. When chocolate is overheated, it tends to seize up and does the opposite of what you thought it would do. It hardens and gets really difficult to work with
*You can leave the treats alone at this point. They will look like the image #3. I liked them rustic, but the kids liked the eyes and gobble. If you are also adding the candy, then move on to the rest of the steps
Pull the chocolate treats out of the oven, place your eyes on the melted chocolate head, and place the licorice gobble on the tip of the chocolate caramel
Let the treats cool for about 15 minutes. They are very fragile until the chocolate sets up, so be careful not to pick them up until the chocolate has completely cooled off
If you have a casualty, then grab yourself some chocolate melts, melt them in the microwave, place the melted chocolate in a baggie and snip a corner off. Use it as glue. Chocolate melts set up super quick and they are the perfect glue for yummy treats!

 I even left some without the licorice waddle. I thought they were cute with and without. It's totally your preference!
Happy Thanksgiving!
If you liked this fun idea, then chances are you'll like the rest of my fun ideas! So…sign up!
[box]