Satisfying my addiction to Caramel Apples with a fun little twist. You're gonna love seeing these on your serving platter this fall! They just make the dining room, look so festive. Of course, they won't last long, so enjoy looking at these pretty Caramel Applesauce muffins while you can.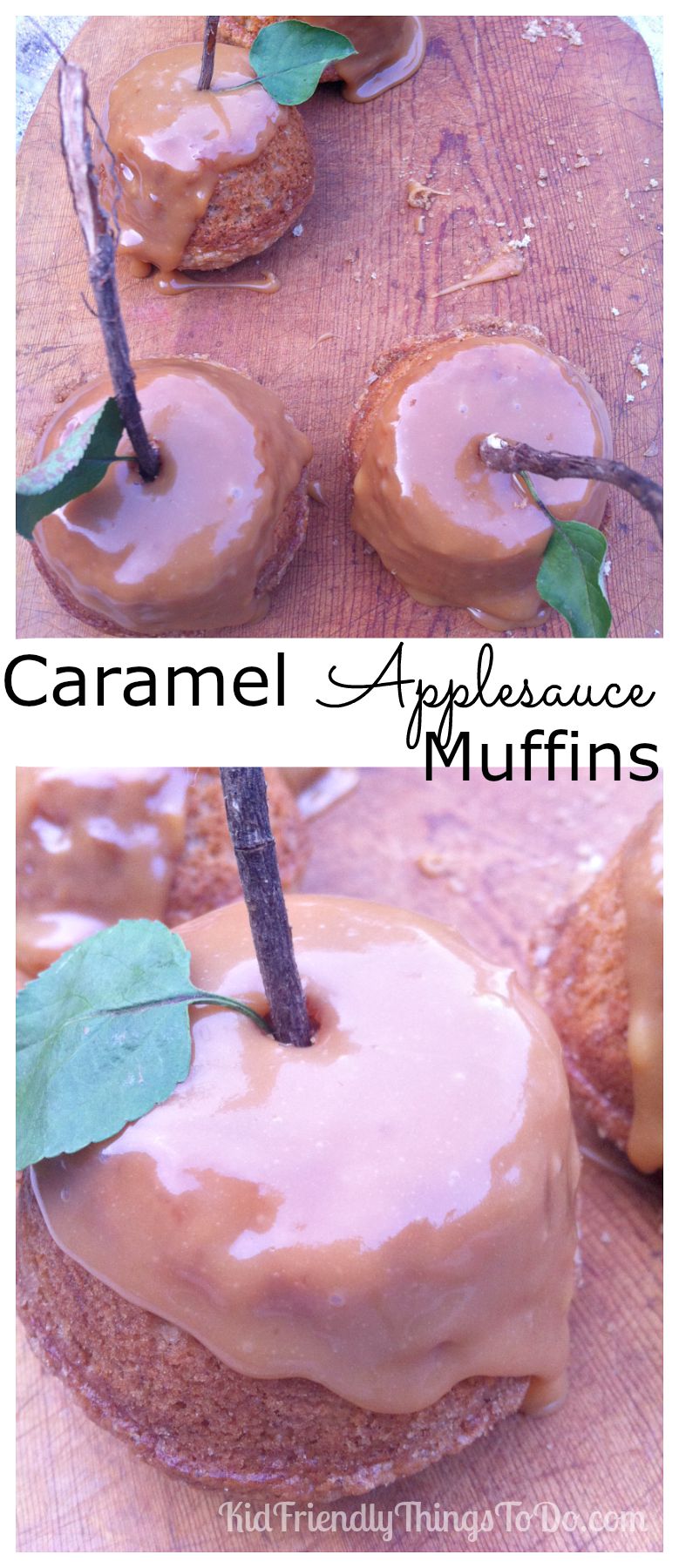 Did I mention that I like Caramel Apples, or basically anything smothered in gooey caramel? Goodness…I love them. One of my favorite things to see in the grocery store, is a package of caramel apples sitting in the produce section. Of course, those packaged ones are never as good as a fresh one. Does that stop me from throwing one into the cart. No way! I can't pass 'em up.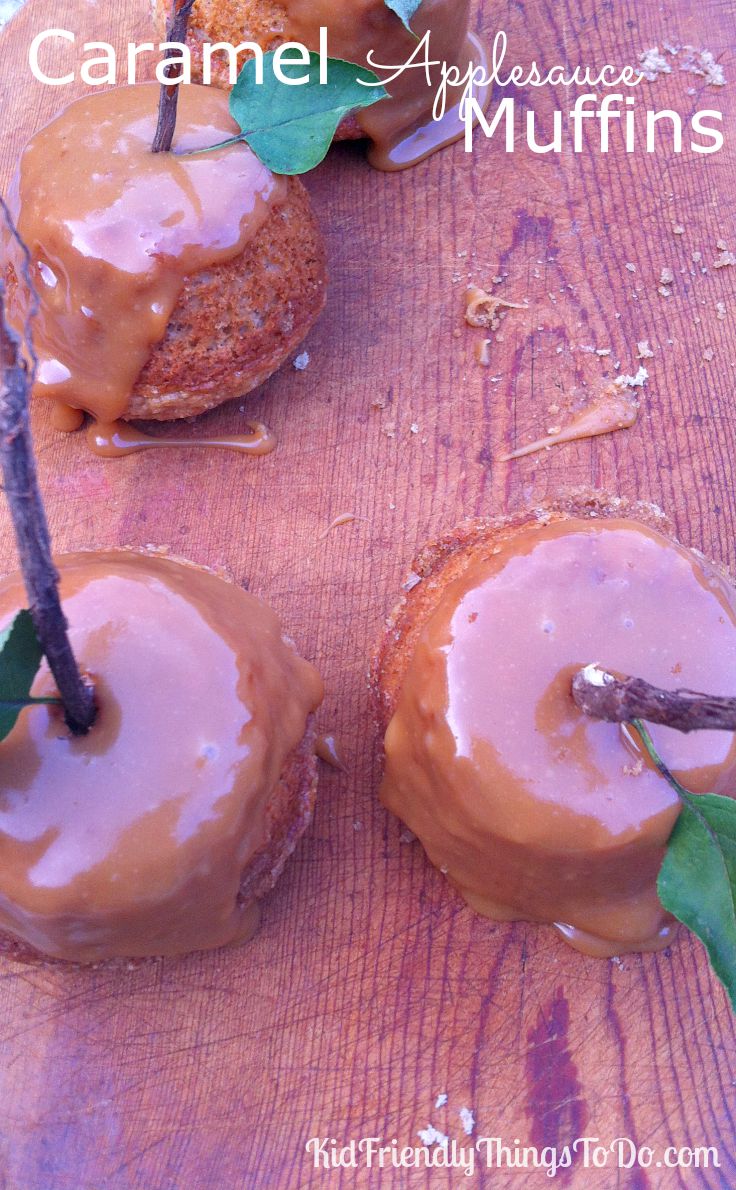 Hellooooo Dolly!

You'll have to decide whether or not to add the cinnamon topping. I knew some of my kids would prefer it plain and simple, so I only sprinkled half of mine with cinnamon.
Here's some equipment you might need or even want for this recipe. Seriously…I need the wooden cake stand. Need it!
[box] [/box]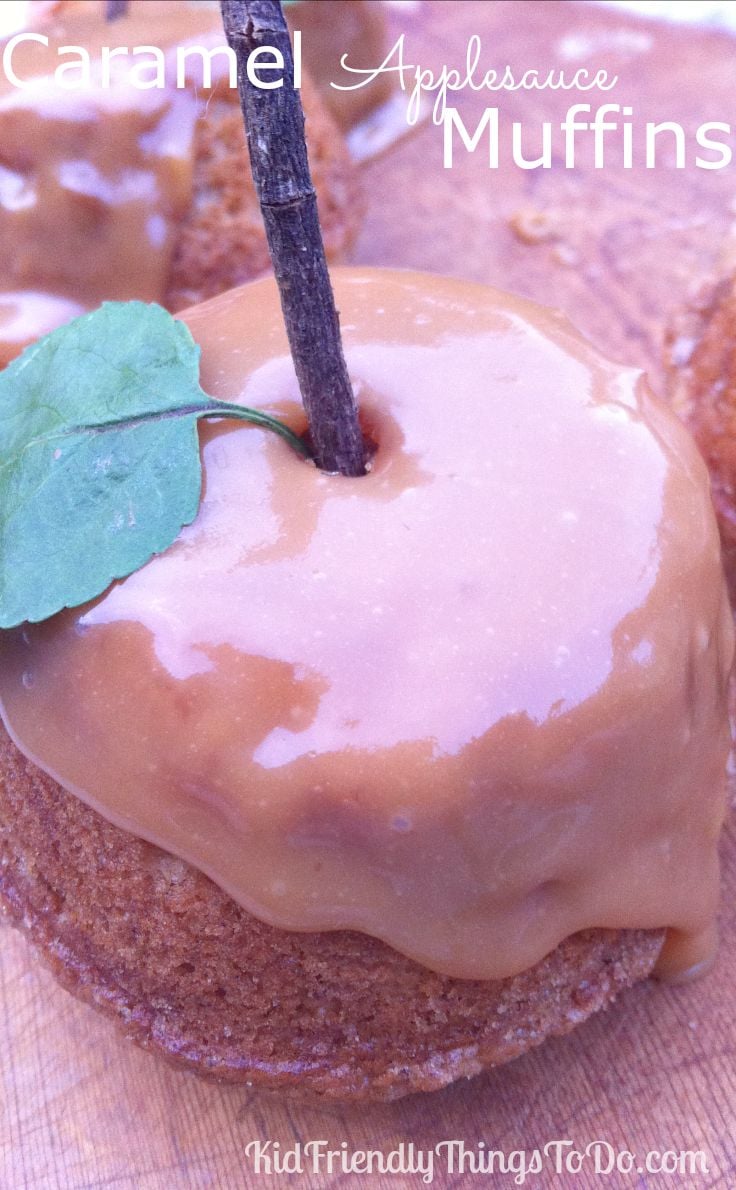 Here's the recipe:Finally, right?!
Print
Caramel Applesauce Muffins
Caramel Apples with a twist!
Muffin Batter
1

pkg. of yellow cake mix

1 cup

of applesauce

1

&1/4 tsp. ground cinnamon

1/2 tsp

. ground nutmeg

1/4 tsp

. ground cloves

3

eggs
Optional Cinnamon Topping
1/3 cup

of brown sugar

1

&1/2 Tbsp. all purpose flour

1/4 tsp

. ground cinnamon

1

&1/2 Tbsp. of soft butter
Caramel Sauce
3 Tbsp

. Whipping Cream

1

(14 oz.) Package of Caramels – Such as Kraft Caramels
Instructions
Preheat the oven to 350 degrees
In a large bowl – Mix all of the muffin batter together in a large bowl
Stir for about 2 minutes
Spoon batter into greased muffin tin – going about 3/4 of the way up the muffin molds
If using the optional cinnamon topping – Using a small bowl, mix the cinnamon topping ingredients together with a fork, until the ingredients look coarse like oatmeal
Sprinkle the cinnamon topping onto each muffin
Bake the muffins at 350 degrees for about 20-25 minutes – or until a toothpick inserted into the middle of the muffins comes out clean
Let cool
Make the caramel sauce by placing the ingredients for sauce in a microwave proof bowl, and microwave on high for 1-2 minutes or until when stirred is smooth
Let that thicken by cooling it off for a few minutes
Roll the bottom of the muffins into the caramel mixture and place on wax paper (top side down) to cool
Place food safe sticks or craft sticks into muffins
[box] [/box]