Good morning. It's supposed to be spring, but I woke up to snow on the ground. Of course that is just a typical spring in these parts. Thank goodness the soccer games were cancelled, today. Brrr. I was thinking that, today, I would bring an old post out of the archives. I made this last spring, but I think that it would be such a fun treat for mom on Mother's Day or for a fun spring treat. The kids can easily help make this or you can just get creative in the kitchen. Either way…super fun and yummy! Here goes:
Wow! This was devoured in about 8.2 seconds! I love it when soccer gets canceled, due to a rainy day, and I already have my materials to have fun in the kitchen. Half of my kids were preoccupied with their friends that were over, and my husband took the other two to the library. So, I took full advantage to have some fun with an idea that I've been cooking up to make it come to life! The kids took full advantage of taste testing this sweet treat! A win/win for everyone!
I'm thinking this adorable sunflower would be the perfect gift from kids to their mommy on Mother's Day. What mom wouldn't love an edible flower?! Here's the tutorial:
You'll Need:
1 lb. of Ripe Strawberries, rinsed an towel dried
A (12 oz.) package of bright yellow candy melts – Wilton preferred (you can find these at Michael's Craft Stores)
Milk Chocolate chocolate chips
Suggested Eqipment:
A microwavable glass bowl
Silicone Spatula
Wax Paper
Toothpick
Instructions:
You'll want to melt your chocolate using the package directions until it is smooth
There are two ways to dip your strawberries – one is using a toothpick to pick them up with, another is grasping the leaves with your fingers
I ditched the toothpick because I felt like I had more control with my fingers
Gripping the strawberry, dip it into the chocolate spinning it around until it is coated all the way up to the top of the strawberry. Some red will still be exposed
Lift your strawberry into the air, and holding it over the bowl, continue to swirl it around getting most of the excess chocolate off
Next, set your chocolate strawberries on wax paper to dry
Almost Done!
Now, arrange the strawberries with the leaves facing inward on a plate or platter
Fill the middle with chocolate chips!
Done! With just a little help, the kids could absolutely make this!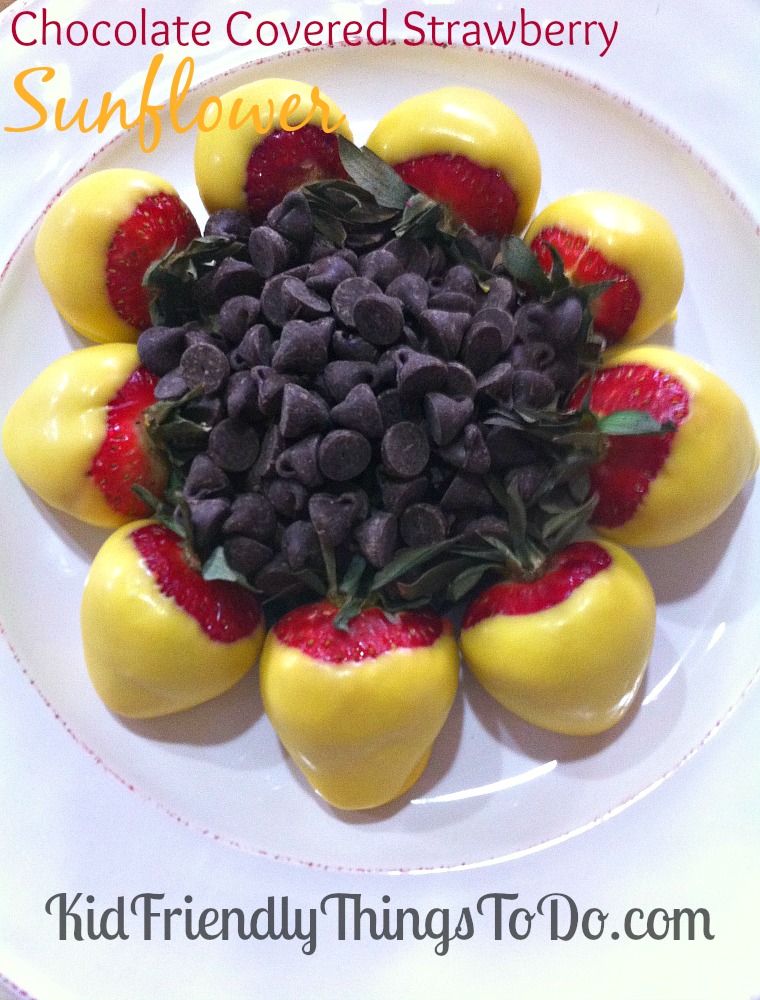 ~Melissa – KidFriendlyThingsToDo.com