This easy-to-make ham has a delicious hint of a sweet glaze to balance the flavor of this tender ham. Making a baked ham with a brown sugar glaze ensures you'll have a flavorful ham for your holiday meal.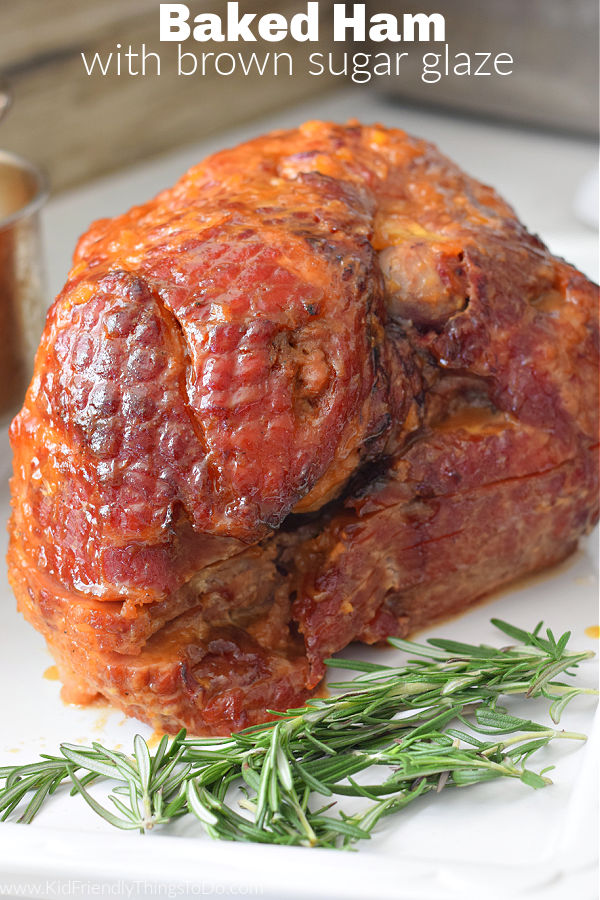 Baked Ham with a Brown Sugar Glaze
Holidays like Easter and Christmas are a great excuse to make an enormous ham for everyone to enjoy. Although, my boys would argue that any day is an excellent excuse for ham.
If you love glazed ham recipes, then you might like my recipe for Maple and Orange Glazed Ham or Tomato and Onione Glazed Ham
What do I do with Leftover Ham?
There are plenty of delicious meals that you can make with leftover ham. Like…
Table of contents
What I love about this recipe:
It's simple to make
The ham and glaze have very few ingredients that are easily found at your local grocery store
You'll most likely have leftover ham from this recipe which will make delicious sandwiches and casseroles for more delicious meals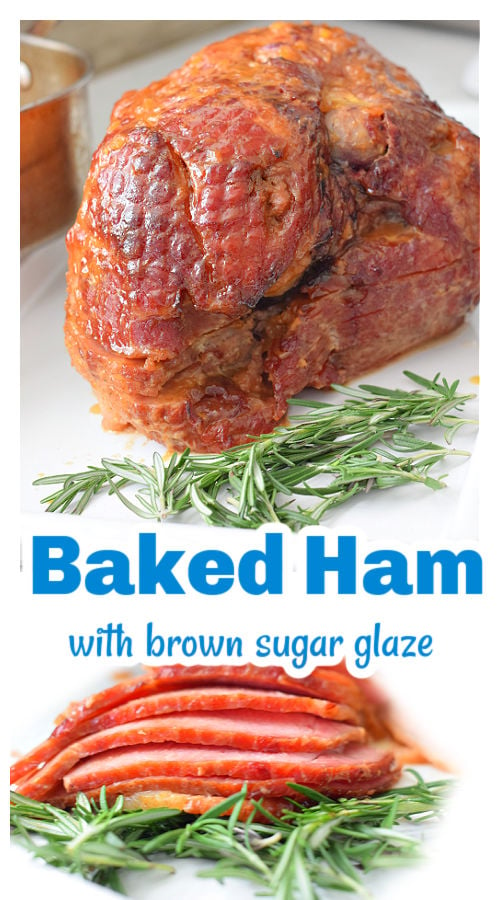 FAQs
Make Ahead and Storage
Can I Make Ham ahead of Time
Yes! You can bake your ham, store it in the refrigerator for a day or two, and then reheat it on the day of your celebration
How do I Store Leftover Ham?
Store leftover ham, covered in the refrigerator for 3-4 days
Or, freeze ham for up to 3 months
How do I Freeze Ham?
You can freeze ham in chunks by wrapping it with freezer wrap and then placing it in a freezer bag
You can simply place sliced ham in a freezer bag
How do I Re-Heat my Ham?
If you have stored a cooked whole ham in the refrigerator, set your oven to 325 degrees F. and bake for one hour or until warmed through – and serve
If your ham was frozen, thaw overnight in the refrigerator and then bake
To prevent your ham from drying out, add water or broth to the bottom of your roasting pan
Do I have to use a Spiral Cut Ham?
No. You do not have to get a pre-sliced ham, but you'll want to get a whole ham with the bone-in for the ultimate juicy flavor
Should I Score a Spiral Cut Ham?
You do not need to score a pre-sliced ham. Scoring gives the glaze places to settle into and a spiral ham already has that available
How do You Score a Whole Ham?
Before you add the glaze, use a sharp knife to cut a diamond-shaped pattern on the outside of the ham. Add the glaze and bake uncovered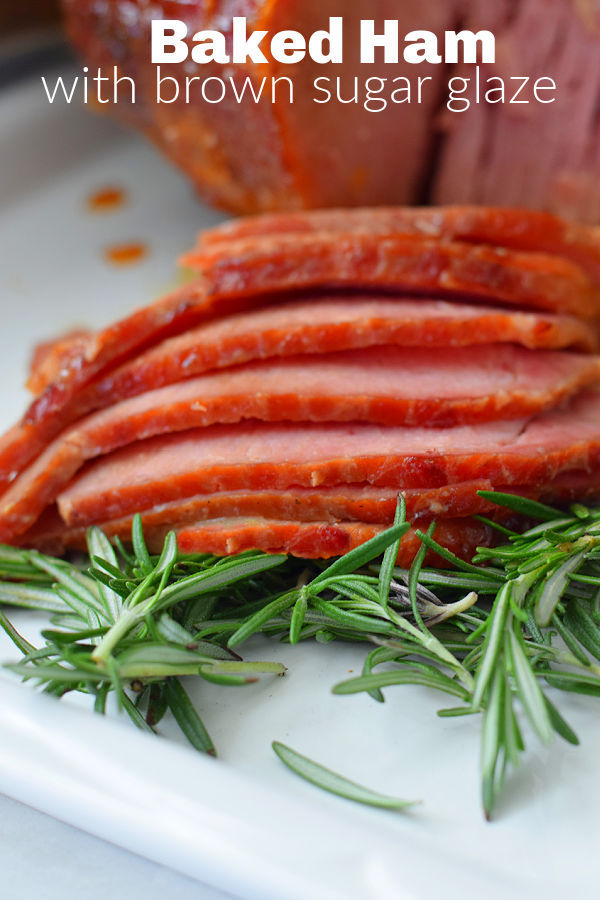 Tips and Tricks
Buy a bone-in ham for this recipe. It will ensure that your ham is juicy and flavorful
Don't forget to take out the plastic disk in the ham bone
Place your ham flat side down for baking
Your glaze will only be applied for the last 15-20 minutes of baking time
Pay attention to whether or not your ham is pre-cooked and follow the baking instructions on your package for time and temperature
What do I need to purchase for this Brown Sugar Glazed Ham?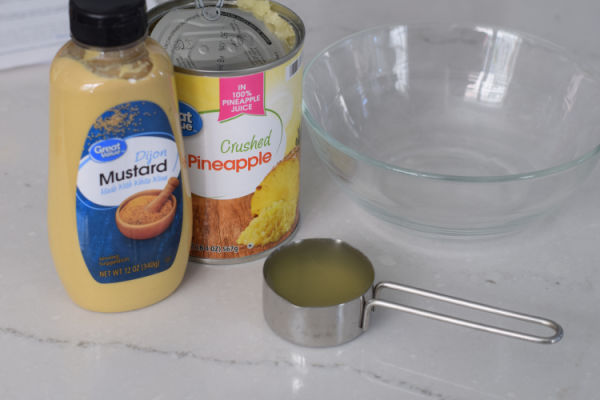 Ingredients
Spiral Cut Ham – Buy a spiral cut ham with the bone-in. This will provide you with a tender and juicy ham
Dijon Mustard – This will be used in both the baking and glazing process
Crushed Pineapple – You can find canned crushed pineapple at most grocery stores
Brown Sugar- Brown sugar will give you that beautiful brown caramelized color and sweeten the ham and glaze
Ground Ginger – This spice gives a warm flavor to this recipe
Ground Cloves – Another spice that adds warmth to the recipe
Cornstarch – This will be used to thicken the glaze. You can substitute flour instead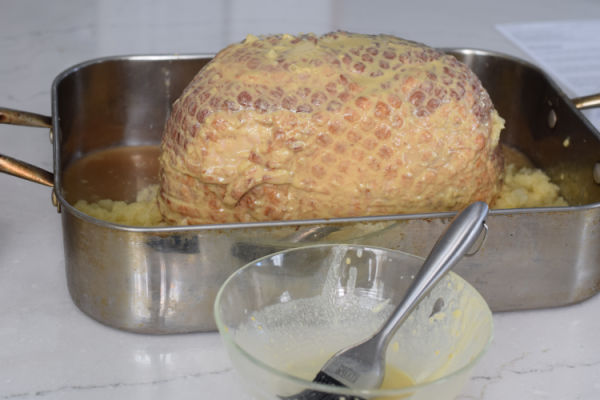 How to bake a ham and then glaze it
Preheat the oven to 325 degrees
Pour out 1/2 cup of pineapple juice from the canned pineapple into a small bowl
Add the mustard and whisk together
Place the ham flat-side down in the roasting pan
Brush the juice and mustard mixture of the ham
Pour out the rest of the crushed pineapple including juices and spread it around the bottom of the ham
Cover the ham with foil
Roast according to package directions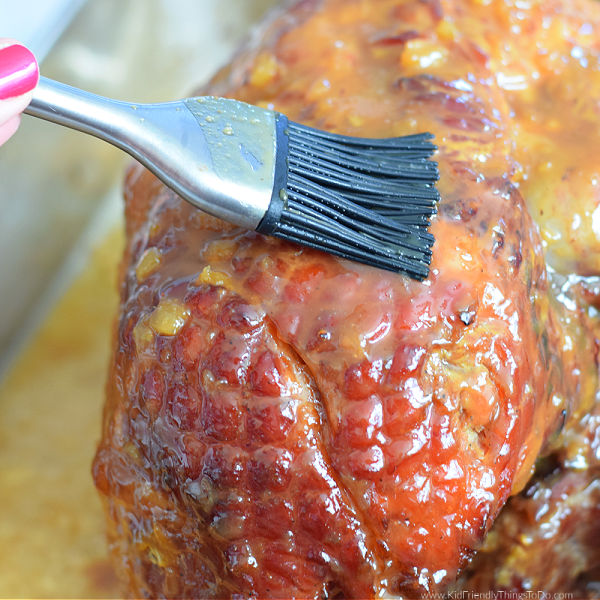 30 minutes before the ham is done, remove the ham from the oven
In a medium-sized saucepan, 1/2 cup of the juices from the pan, brown sugar, mustard, ginger, cloves, and cornstarch
Bring the mixture to a boil and then turn it down slightly – let this mixture cook – stirring occasionally until the glaze had thickened up
Take the foil off and baste the glaze over the ham
If there is more than 1/4 inch of juice around the ham, pour it out. You can use that for ham gravy
Bake uncovered for the last 30 minutes
Making Gravy
Combine strained juices from the bottom of the roasting pan with about 2 Tbsp. of all-purpose flour
Cook in a saucepan until thickened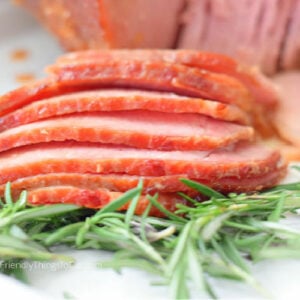 Baked Ham with Brown Sugar Glaze
Delicious moist and juicy glazed ham that's easy to make and perfect for your holiday celebration or dinner
Equipment
1 roasting pan

1 whisk

mixing bowls

strainer

saucepans
Ingredients
1

7-9 lb.

spiral ham with bone-in

2

Tbsp.

dijon mustard

1

20 oz.

can of crushed pineapple or pineapple tid-bits
Glaze
½

cup

juices from pan

½

cup

brown sugar

2

Tbsp.

dijon musard

½

tsp.

ground ginger

¼

tsp.

ground cloves

2

tsp.

cornstarch
Instructions
Preheat the oven to 325 degrees

Pour out 1/2 cup of pineapple juice from the canned pineapple into a small bowl

Add the mustard and whisk together

Place the ham flat-side down in the roasting pan

Brush the juice and mustard mixture over the outside of the ham

Pour out the rest of the crushed pineapple including juices and spread around the bottom of the ham

Roast according to package directions

30 minutes before the ham is done, remove the ham from the oven

In a medium-sized saucepan, mix 1/2 cup of the juices from the roasting pan, brown sugar, mustard, ginger, cloves, and cornstarch

Bring the mixture to a boil and then turn it down slightly – let this mixture cook – stirring occasionally until the glaze had thickened up

Take the foil off and baste the glaze over the ham If there is more than 1/4 inch of juice around the ham, pour it out

You can use that for ham gravy

Bake uncovered for the last 30 minutes
For Gravy
Strain juices from the bottom of the pan into a bowl

Whisk in 2 Tbsp. of all-purpose flour

Pour into a medium sized saucepan and heat on medium-high heat until thickend

If it will not thicken enough, mix more flour with a small amount of cold water together and add that to the gravy mixture by quickly whisking it in

Strain any lumps out of the gravy as you pour it into your gravy bowl
Notes
Nutrition Facts are only an estimate 
Nutrition
Calories:
420
cal
Carbohydrates:
14
g
Protein:
44
g
Fat:
34
g
Saturated Fat:
12
g
Polyunsaturated Fat:
4
g
Monounsaturated Fat:
16
g
Cholesterol:
120
mg
Sodium:
2300
mg
Potassium:
620
mg
Fiber:
1
g
Sugar:
13
g
Vitamin A:
160
IU
Vitamin C:
3
mg
Calcium:
22
mg
Iron:
2
mg