Bread! My worst enemy and my best friend all rolled into one! I despise and love it at the same time. Crescent rolls are my absolute favorite, and the hardest for me to resist! That's why, I don't buy them at the store. I figure, if I want them bad enough, then I'll have to do the work to get them on the plate. There is so much waiting involved, that my patience usually doesn't allow for them. But, sometimes I get into a baking mood, or my daughter has a science experiment like controlling yeast in a recipe! Whatever the reason that gets me to bake up these scrumptious bites of heaven, they are definitely worth the wait. They are perfect for the holiday season that's just around the corner. Can you believe someone posted there's only 10 Sundays before Christmas?! The nerve! Oh…one more reason to sing the praises of these Homemade Crescent Rolls, you can freeze them and pull one, two or twenty out when you need them!
Come on in, and I'll share the recipe with you: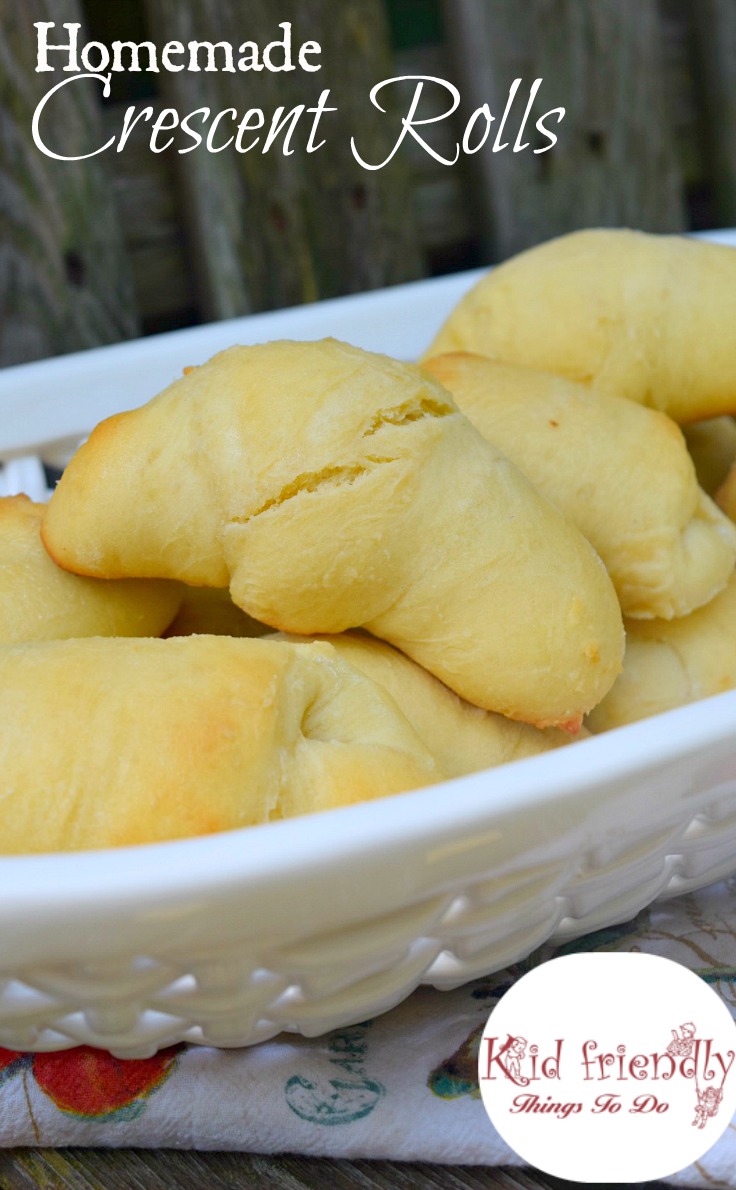 These rolls are simply a scrumptious dinner roll, but they make the perfect roll for breakfast, too! Just slather on some jam and cream cheese…oh yum! See?! This is why I don't keep them in the house…unless it involves a science project or the holidays! 🙂

Let's get to it. Here's the recipe:
Homemade Crescent Rolls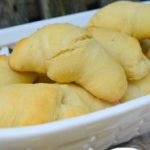 Cook Time:

15

Total Time:

15

Yield:

16

1

x
Scale
Ingredients
1 cup

of luke warm milk

2

&1/2 t of yeast (

1

package)

4 cups

of unbleached flour

1/3 cups

of granulated sugar

1

t of salt

3

eggs, beaten

1/3 cup

of canola or vegetable oil

2

T of melted butter
Instructions
Heat milk in a saucepan, but only until you see some steam rising. The best temperature for yeast is around 110 degrees. If your milk gets too hot, then just let it cool off for a bit.
Add the yeast to the milk, and stir to dissolve
In a large bowl, mix flour, sugar and salt
In a separate bowl mix the eggs and oil
Stir the oil mixture into the dry
Now, add the yeast mixture and stir in
Grease a large bowl
Place the dough into the large greased bowl, and place in a warm place to dry
You can use the warmth of your oven light with the door closed to make a warm place
Let the dough rise until doubled – It's a good idea to just walk away. This will take about 40 minutes to an hour.
Divide the dough in half.
Place half of the dough onto a lightly floured surface
Roll the dough out to about a 9 inch circle
Slice the dough into 8-10 triangles
Start rolling the triangles up from large tip to small tip, tucking the point under
If you want to freeze the rolls – Place on a cookie sheet to freeze
When the rolls are frozen, place them in a zip tight bag and freeze until your ready for them
You'll have to let the dough thaw and rise on the day you bake the rolls. So, take the out the ones you want and place on a cookie sheet. Cover them up so they are warm and cozy, and let rise until the rolls have doubled in size.
If you don't intend on freezing them, then once you have the rolls on your baking sheet, let them rise again for about 15 minutes. They should puff up and almost double in size.
Bake at 350 degrees for about 10-15 minutes
Brush melted butter over baked rolls. Heaven!
Don't forget to sign up for instant access to free recipes like this one, crafts, fun foods, and more!
~Melissa – KidFriendlyThingsToDo.Com