Here's an easy and crispy homemade pizza dough crust that makes 2 super thin crusts or 1 regular crust for pizza night with the family. I've been using this pizza dough recipe for years and years. It hasn't let me down, yet.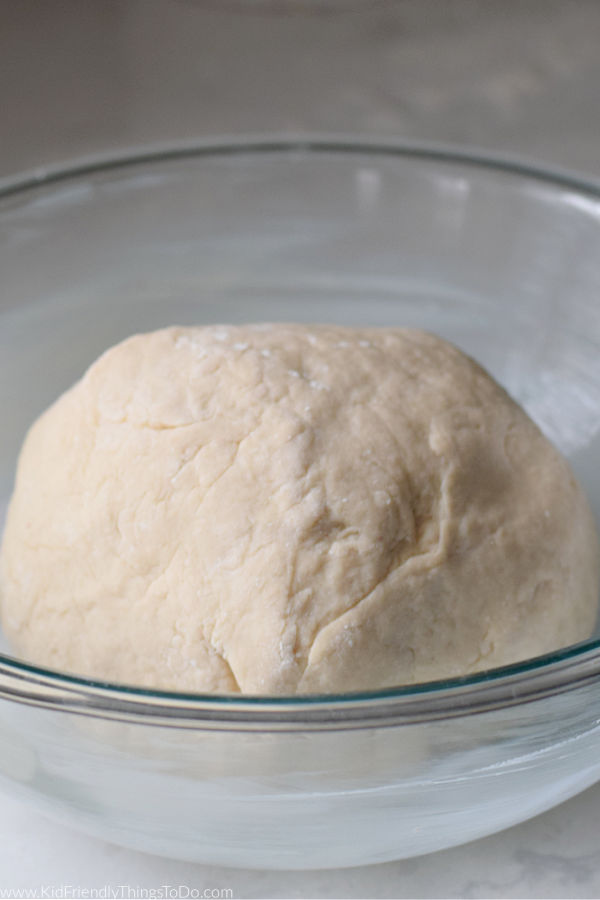 Pizza Dough Recipe
This is a simple and easy pizza dough recipe. You'll have to set aside time to let the dough rise, but other than that it comes together in minutes.
I always manage to get 2 oblong pizza crusts out of this recipe. I love the thin cracker crust that this crust forms and it always bakes up to perfection. In my opinion, it's the best pizza dough recipe. The dough is not enough to completely cover 2 baking sheets, but it comes really close.
If you are looking for pizza recipes or even pizza sauce, you might like my recipe for No-Cook Pizza Sauce, Flavorful Homemade Pizza Sauce Recipe, or The best Homemade Margherita Pizza Recipe
Can you freeze pizza dough for later?
You can freeze pizza dough. Let it rise and then divide it up into the number of crusts the recipe calls for. When you are ready to use your crust, let the dough thaw in the refrigerator (overnight is best). Allow the pizza to come to room temperature before rolling out. 
Why do you cover the dough to rise? 
Covering the dough prevents it from drying out and it retains the heat so it will help it rise
Can I let the dough rise in the oven? 
To rise dough in an oven, first place the oven on the lowest setting to warm up for only a few minutes. Turn the oven off. Place the dough in the center of the oven to rise
Can I Freeze Pizza Dough?
Yes! Just let the dough rise and then divide it up into pizza-sized portions. Freeze-covered and in a freezer bag for up to 2 months.
Thawing – let the pizza dough thaw at room temperature for a couple of hours or overnight in the refrigerator
If you thaw it in the refrigerator, let it warm up to room temperature which should take about 30 minutes before baking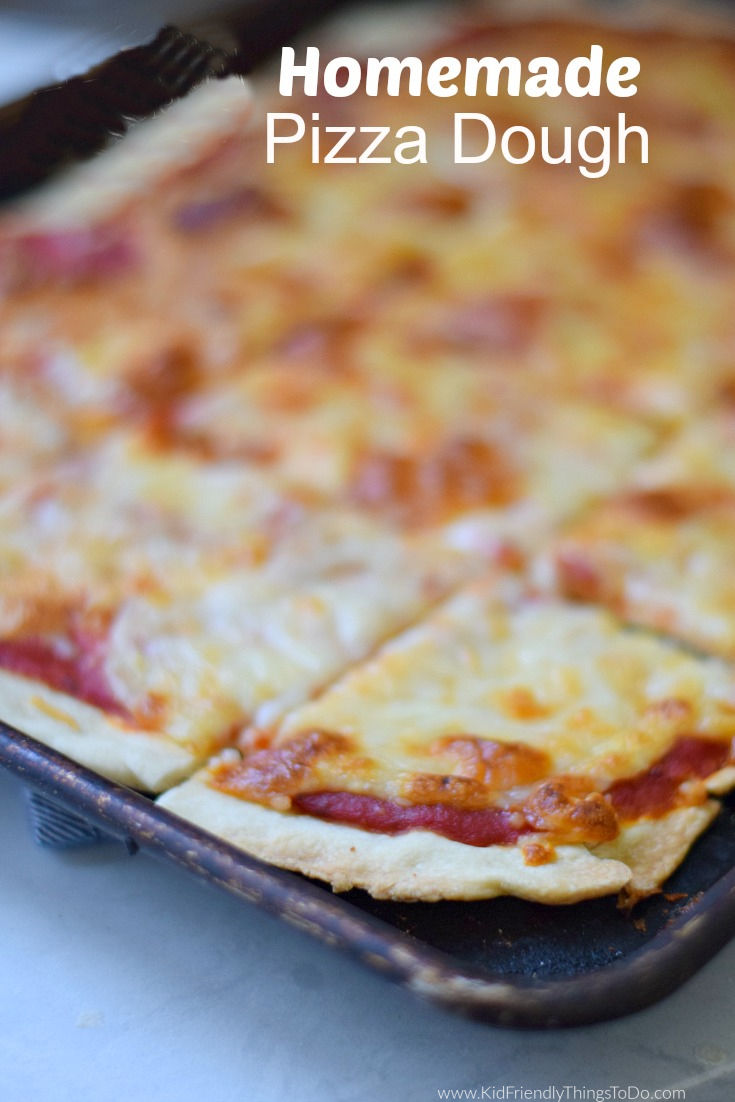 What is the best flour for making homemade pizza dough?
It depends!
It has been said that bread flour makes a chewy crust and that all-purpose flour makes a crisp crust.
I don't know if that is true, because my go-to flour for just about everything is all-purpose flour, but I can attest that this pizza is made with all-purpose flour and the crust is super crisp. Just looking at the image, above you can see the paper-thin crisp pizza crust.
Tips and Tricks
I have learned that with yeast, the water temperature is very important – you don't want boiling water, only lukewarm
you can feed yeast with a smidgen of sugar – it's kind of fun to watch it bubble
another tip for cooking with yeast is to give the yeast a minute to bubble and activate before adding the other ingredients
My mom always covered yeast dough with a towel, and that's how I did it for years. Now, I have learned that covering it tightly with plastic wrap, helps it rise even better. The wrap contains the heat and moisture of the dough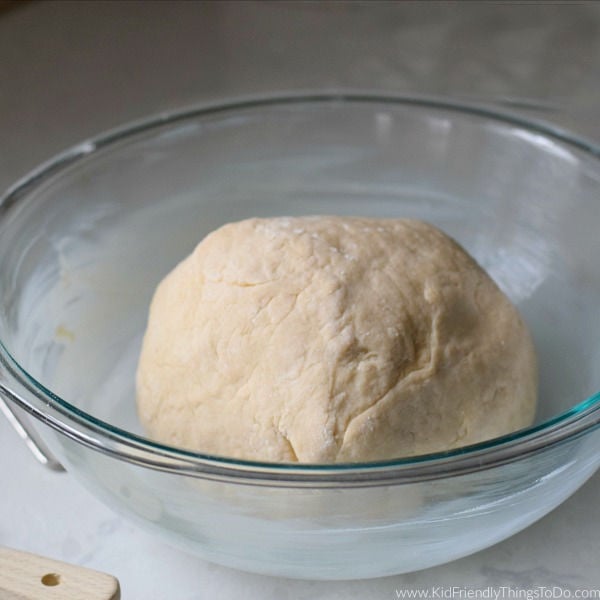 Flavoring Your Pizza Crust
Honestly, I keep mine plain and simple and leave the flavor up to the sauce and the toppings, but…if you want to expand the flavor to the crust then try these additions:
Rosemary
garlic powder
dried basil
dried oregano
baste it with melted butter mixed with Parmesan cheese and spices
Stretching out Pizza Dough
Stretching pizza dough is always a combination of brute force, stretching with your hands, and rolling it out.
Inevitably, you'll get some bounce back from the dough. Just keep on going and know that it will shrink back just a little from the edge
Putting a little olive oil on your fingertips seems to help stretch to dough out
Getting your Pizza Pan Ready
I have always spread a little olive oil on my pizza pan, and sometimes I'll throw cornmeal out onto the oil. At one time, I heard that kept the crust from sticking to the pan
How to Make Pizza Dough
Mix yeast and lukewarm water to activate the yeast
Add salt, oil, and all-purpose flour
Roll into a ball and place into a greased bowl
Cover and let rise for an hour or until doubled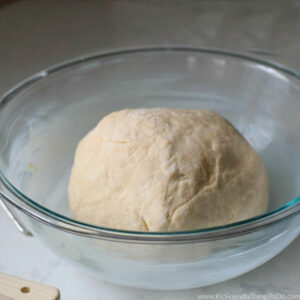 Pizza Dough Recipe
Easy and simple pizza dough recipe for pizza night 
Ingredients
1

cup

Luke-warm water

– the water should be at about 130 degrees – like a hot bath temperature – not boiling 

2

tsp.

active dry yeast

equivalent to one packet

1

tsp,

salt

2

Tbsp.

vegetable oil

3

cups

flour
Instructions
Mix the Luke-warm water and yeast together

Add flour, salt, and oil

Mix well

Grease a large bowl to place the pizza dough in

Put the dough into the greased bowl. Cover with a towel. Place in a warm area, and let rise for about and hour – or until doubles

Now, shape your dough for your pizza! This should make 2 thin crusts or 1 very thick crust
Notes
Nutrition facts are only an estimate 
This recipe makes 2 thin-crust pizzas or 1 thick crust 
Nutrition
Calories:
207
cal
Carbohydrates:
36
g
Protein:
5
g
Fat:
4
g
Saturated Fat:
1
g
Polyunsaturated Fat:
2
g
Monounsaturated Fat:
1
g
Trans Fat:
0.03
g
Sodium:
242
mg
Potassium:
62
mg
Fiber:
2
g
Sugar:
0.1
g
Vitamin C:
0.004
mg
Calcium:
8
mg
Iron:
2
mg
~Melissa – KidFriendlyThingsToDo.Com