St. Patrick's Day Pot of Gold & Rainbow Craft. Make these little pots of gold, and set them on shamrock cut-outs. They make cute table decorations for St. Patrick's Day.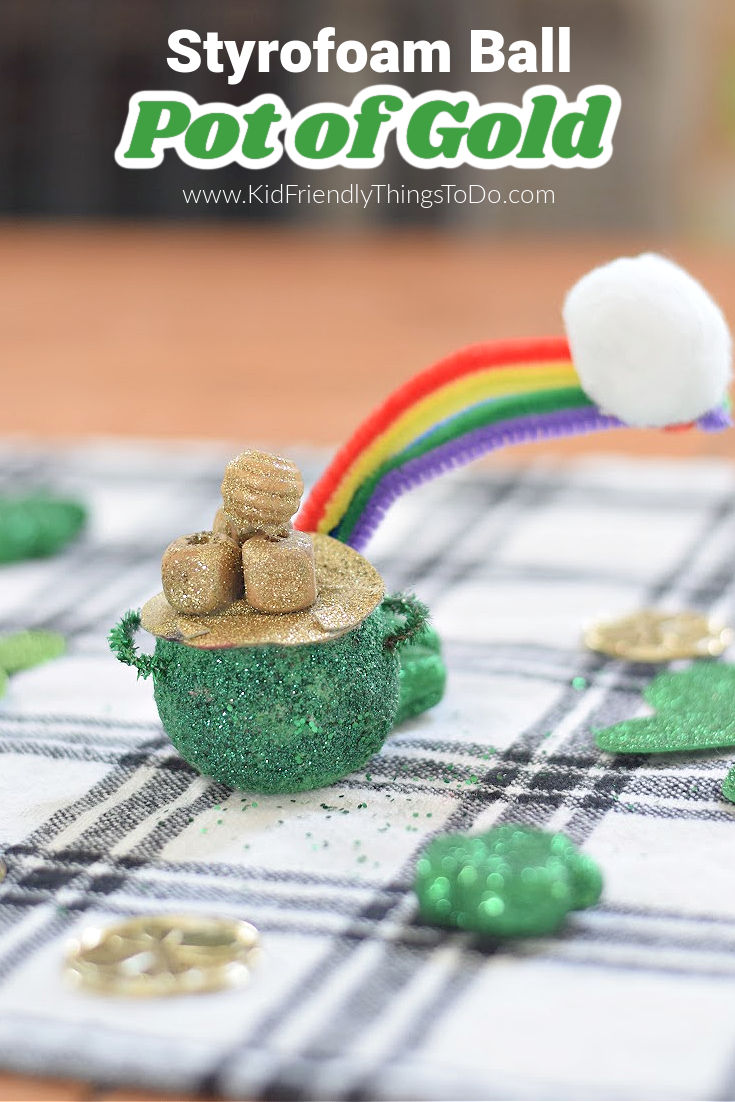 Pot of Gold Craft
Are you ready to make this pot of gold craft? Let's see if you have all of the supplies for this craft
For Each One:
A small green Styrofoam ball – I used 3 inches. (You can buy these in green, but if you can't find a green, just paint them with some green paint.)
Green Glitter
Spray Adhesive
Wooden beads – 4 for each pot of gold
Gold Extra Fine Glitter
Gold Glitter Paper
Knife
Glue gun
3 or more Chenille Strips – Rainbow Colors
green glitter pipe cleaner
cotton ball
Instructions:
Start by slicing off a small piece of the ball's bottom. This is so it can stand on its own
Shave off a little from the top, too. A little more, than you did from the bottom (about 1/2 in.). You're trying to make it look like a bowl shape
*If you need to paint yours green, you might want to get that done and let it dry before moving on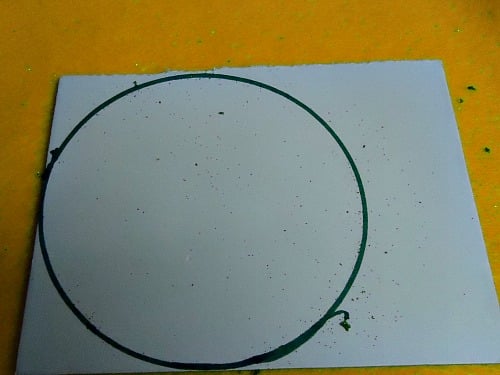 Now, that you have your bowl shape. Turn the bowl over onto the backside of the glitter paper, so the top of your bowl can be a circle template. Trace the top of your bowl with a pen.
Cut the circle out of the glitter paper
Cut your 3 chenille strips to about 4 inches
Stick one end of the strips into the top of the bowl, making sure they are off to one side
Glue your small shamrock to the end of your rainbow. This hides the uneven ends and just finishes it off nicely
Spray your Styrofoam bowl with adhesive.
Avoiding your rainbow. Sprinkle glitter – generously.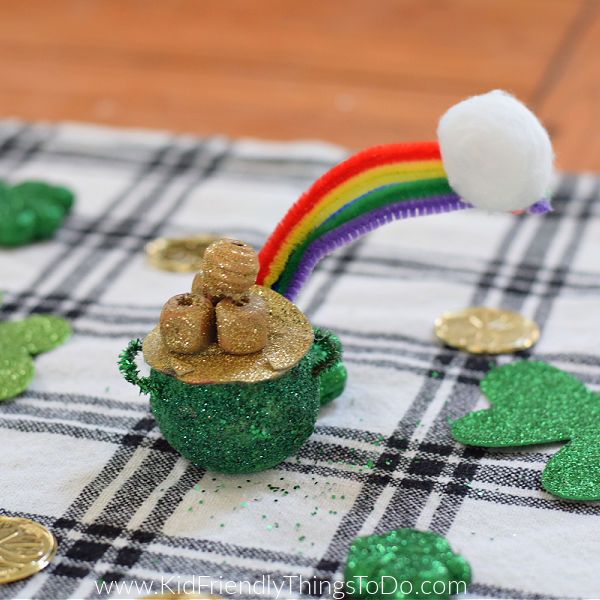 Put some hot glue on the top of your bowl, and place your glitter paper circle onto the top of your bowl. You'll have to push down on your rainbow to get it to sit as level as possible
Cut 2 little pieces off of your green glitter chenille – about 2 inches long for each one. Place them into the sides of the bowl to resemble handles
Put 3 wooden beads, in a circle formation, on top of your pot of gold. Stack one more on top
Spray these with adhesive
Sprinkle gold glitter onto the beads
Take a scrap piece of pipe cleaner and loosely bend it around the end of the rainbow to hold the pieces together
Adjust your rainbow and use glue to add a cotton ball at the end
Don't forget to follow me for more fun crafts, recipes, party ideas, and lots more.
~Melissa – KidFriendlyThingsToDo.com