Grilled Greek Naan Pizza Recipe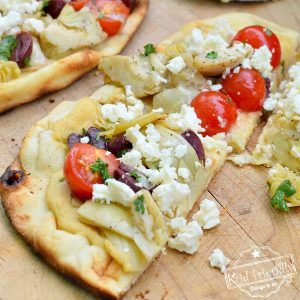 Posted by Melissa in Appetizers, Christmas, Easter, Easy Family Recipes, Grilling Fun, Main Dish, New Years Eve, Other, Thanksgiving | 0 comments
You will absolutely love this Grilled Greek Naan Pizza. Not only is it beautiful, it's simple, and dang delicious!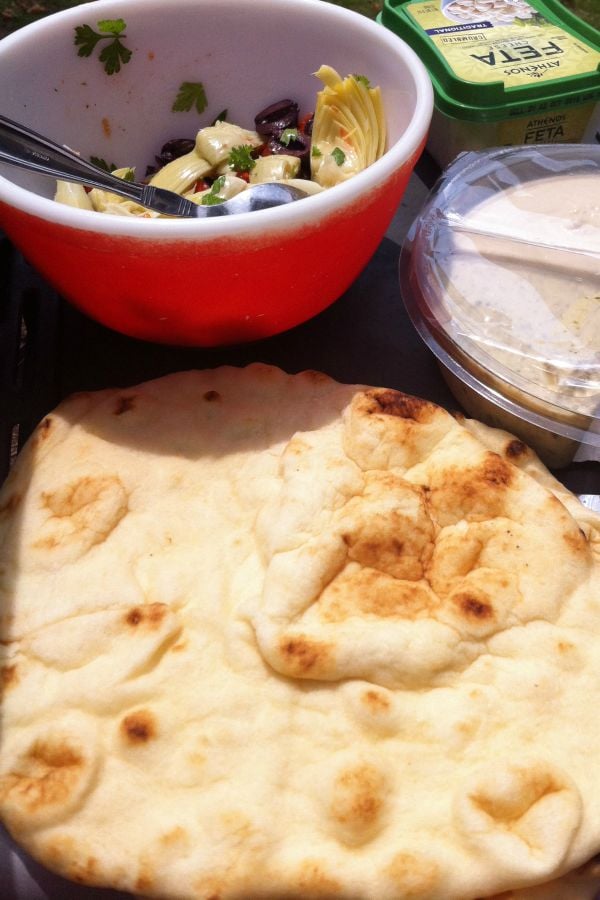 Here's all you'll need. Easy, Peasy! I love anything on Naan bread. Love the stuff!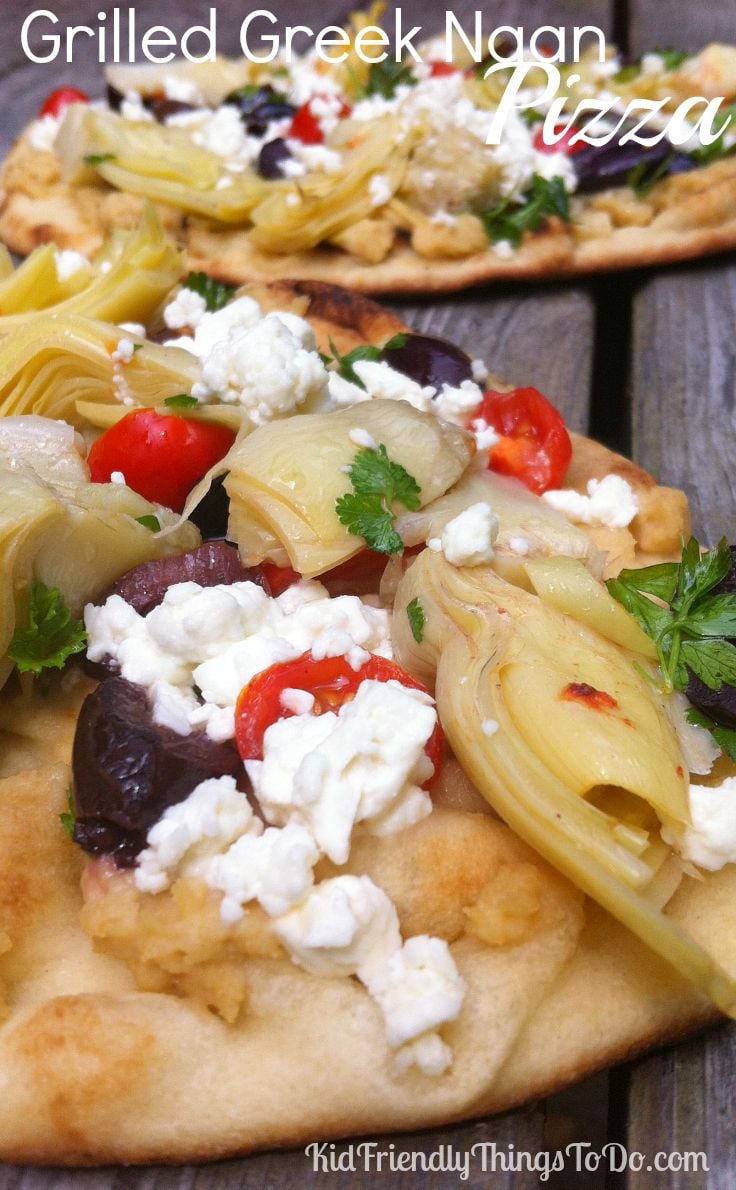 This is one of the recipes that I reviewed for Taste of Home, this month. As soon as I saw a grilled pizza in the magazine, I was all over it!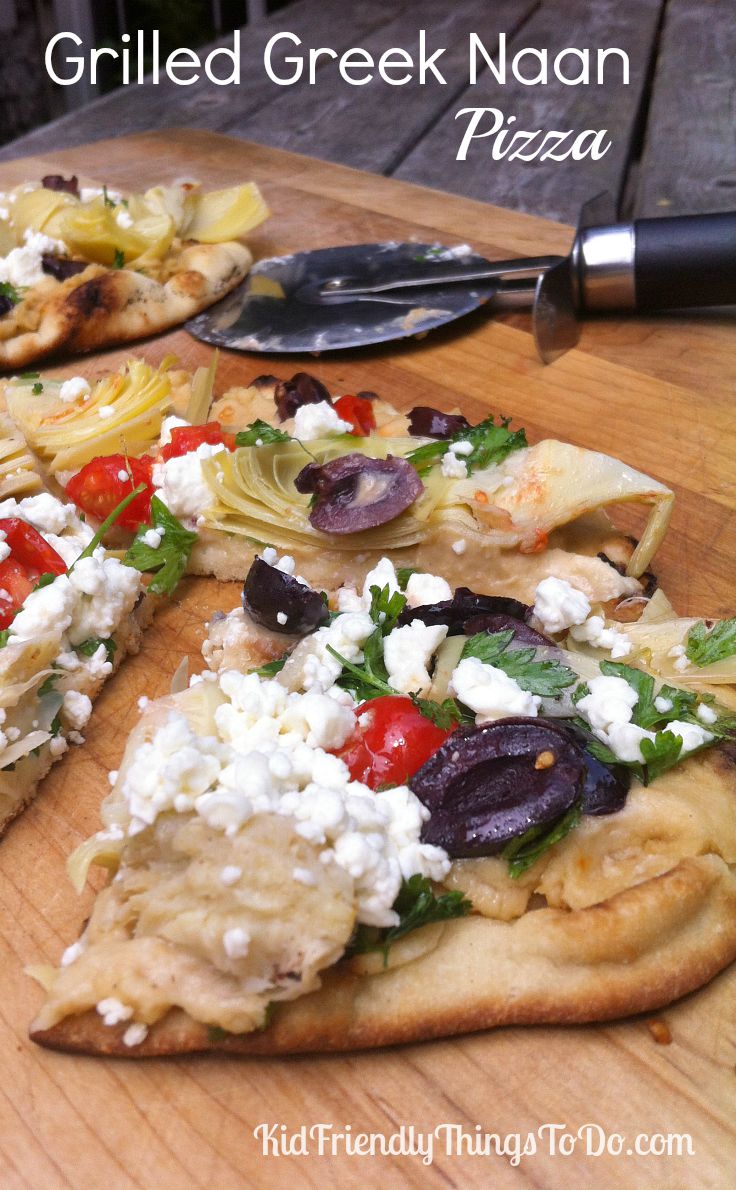 I think this would make a perfect appetizer for the holidays, an impressive one for summer BBQs – you'll look so skilled pulling these off of the grill, or just an easy dinner at home.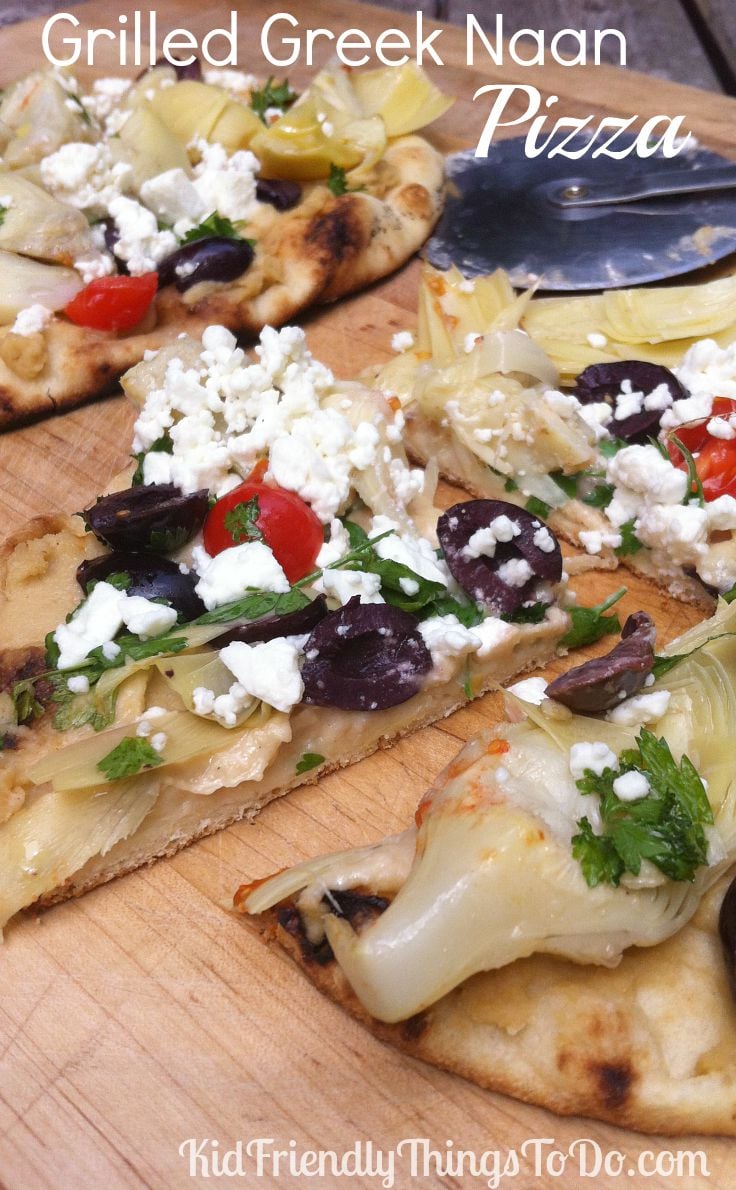 Here's some equipment you might need or even want for this recipe!
And…finally! The handy, dandy printable for ya:
Grilled Greek Naan Pizza Recipe
2015-08-10 07:22:08
Grilled pizza that is as beautiful as it is delicious!
Ingredients
1 jar of quartered artichoke hearts - drained
1 cup of grape tomatoes - halved
1/2 cup of pitted Greek olives - halved
1/2 cup of fresh parsley - chopped
2 Tbsp. olive oil
1/4 tsp. ground black pepper
1 (7 oz., or larger) container of Original Classic Flavor Hummus Spread
2 Naan Flatbreads
1 container of crumbled Traditional Feta Cheese, such as Athenos Traditional Feta
Instructions
In a medium bowl, mix the artichokes, tomatoes, olives, parsley, oil, and pepper
Spread the hummus evenly onto the Naan bread
Add the topping mixture
Grill over low/medium heat for about 5 minutes
Remove from grill, and sprinkle feta cheese liberally over both pizzas
Slice, and serve!
Notes
*Grilling Pizzas - A little trick that I like to use over my gas grill is turning every other burner off. I move the pizzas around letting them cook over direct heat, and sometimes over indirect heat to avoid charring the bottom.
Adapted from Taste of Home
Kid Friendly Things to Do.com - Family Recipes, Crafts, Fun Food Crafts, and Game Ideas https://kidfriendlythingstodo.com/
Hey there! If you enjoyed my post on – Grilled Greek Naan Pizza Recipe – then, don't forget to come hang out with me in my social places!
Wait! Don't leave me, yet. Not before you sign up for this. Posts straight to your inbox. You'll never miss a thing!
Thank you so much for stopping by! Have a wonderful day!
~Melissa – KidFriendlyThingsToDo.com