You all know that I love to "keep it simple" here on the blog. This Patriotic Fruit Salad with Marshmallow Stars is one of the easiest fun treats I've made to date! I don't know a kid or adult that can pass up a fruit salad, especially one with marshmallow stars. Come on in and I'll show you how I created this super cute patriotic fruit salad in a watermelon bowl or individual fruit salad in a cup.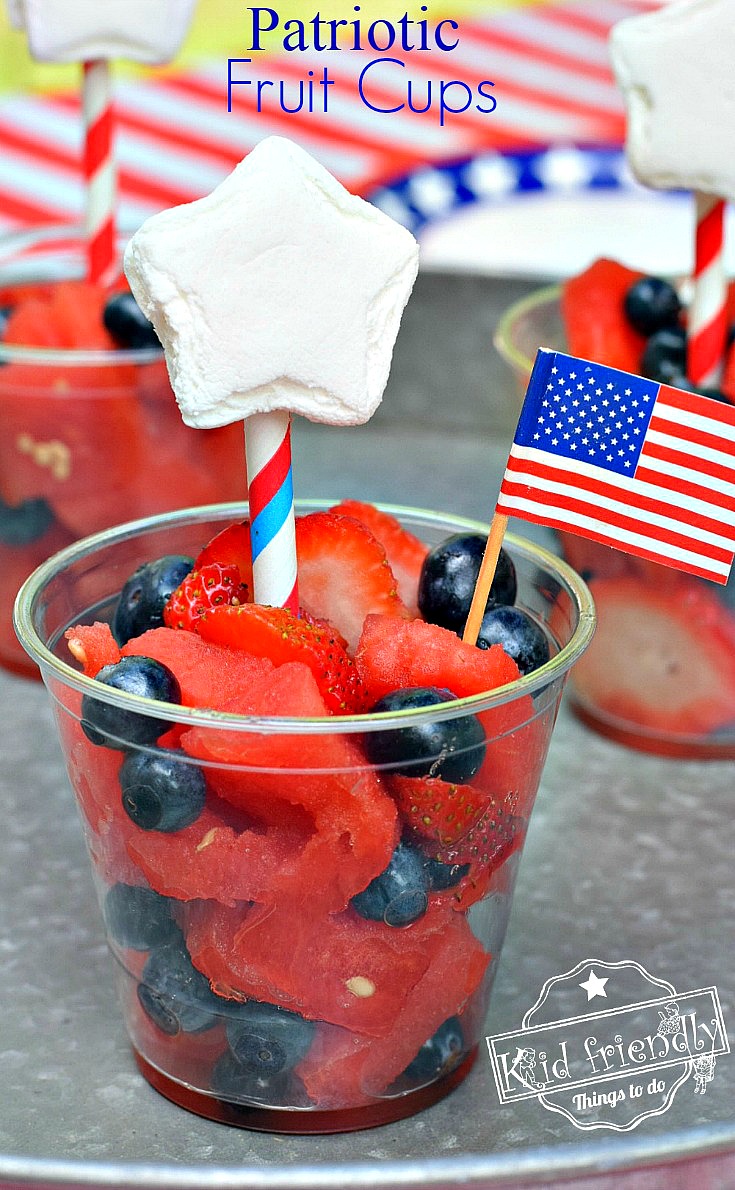 Here is the individual cup version…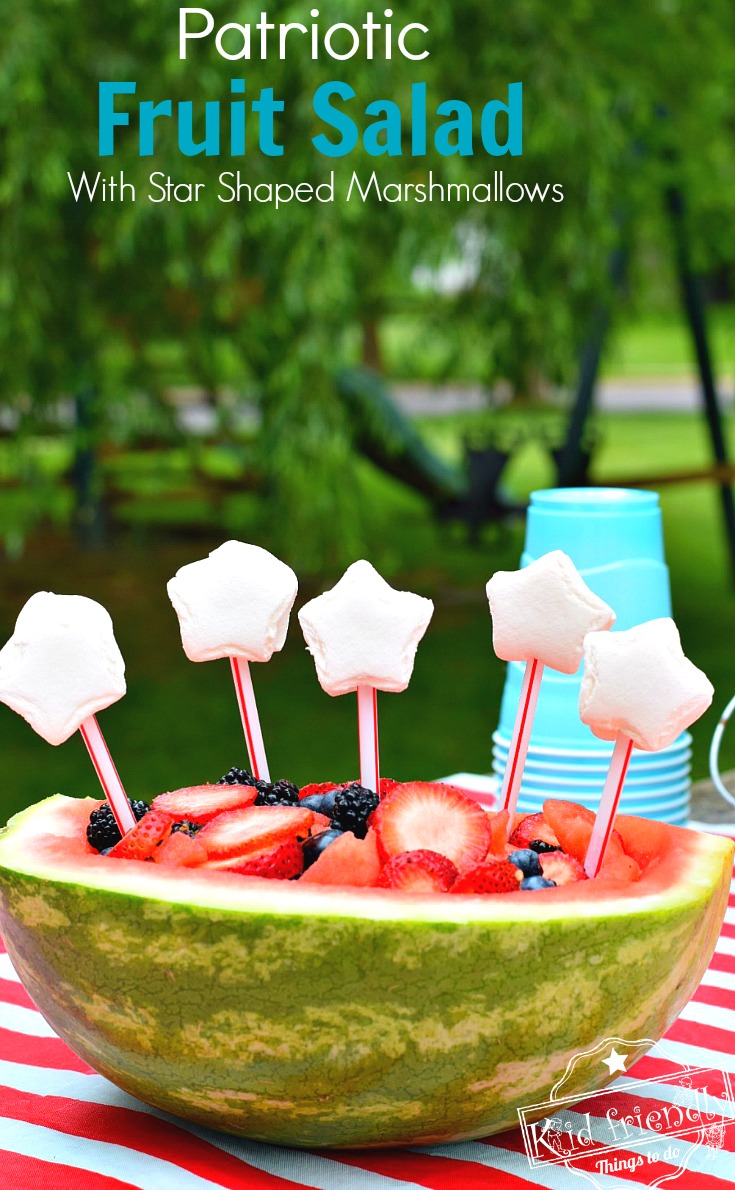 Here's the watermelon version. A fruit salad with a side of marshmallow. Yum!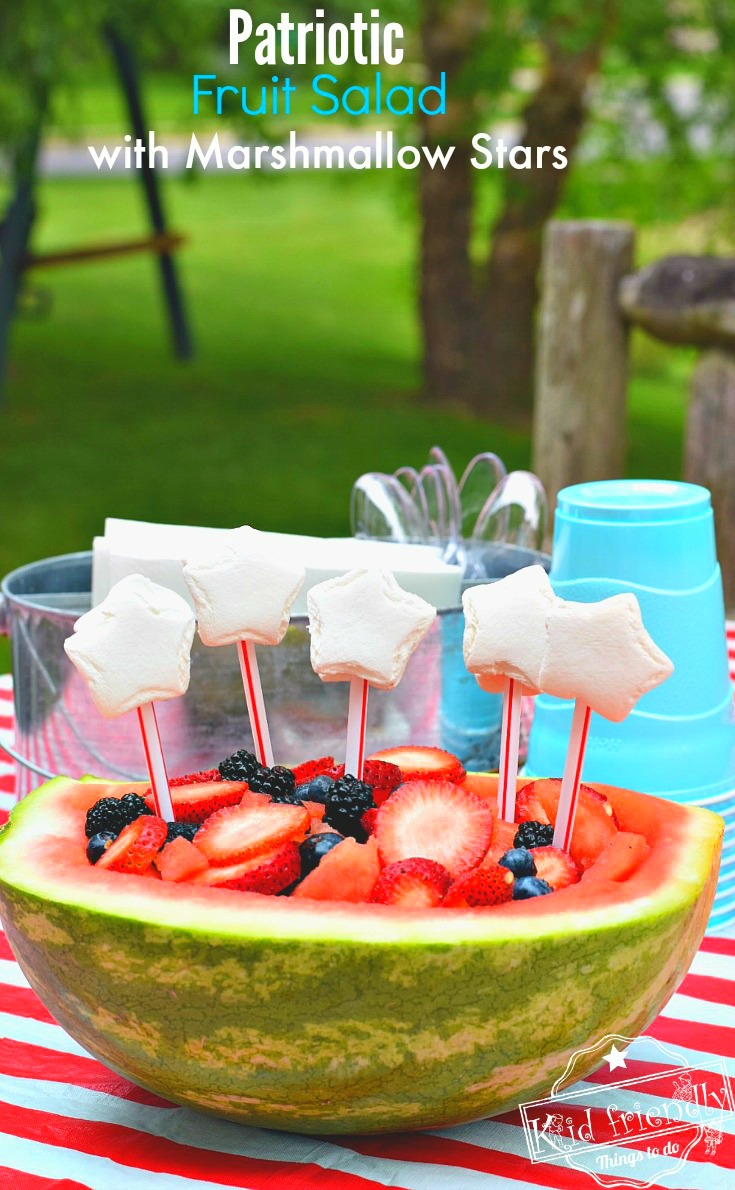 Here's What You'll Need for this fun Patriotic Fruit Salad in a Watermelon Bowl: (Individual Cup Instructions – below)
An Oblong Seedless Watermelon
Fresh blueberries – 1 or more packages
Fresh blackberries – 1 or more packages
Fresh strawberries – 1 or more packages
Straws for the marshmallows (use patriotic colors to go with our theme) – I used 5 – If you'd like to set out both halves of the watermelon, double the straws
*I only made 1/2 of the watermelon into a fruit salad and sliced the other half up into regular ol' watermelon slices
5 or more flat marshmallows – Kraft makes these for S'mores
Star shaped cookie cutter – I used a 1&3/4 inch star cookie cutter. Just find one that is slightly smaller than the marshmallows
Instructions: (for each half)

use your cookie cutter to cut marshmallow star shapes out of the marshmallows
push a straw through the bottom of each marshmallow star
set those aside
Cut the watermelon in half
Grab a large bowl and scoop the watermelon from 1/2 out into the bowls
cut the watermelon into bite sized chunks
Add rinsed blueberries, blackberries and sliced strawberries
Scoop the fruit mixture back into the watermelon half – you'll have extra. Use that to refill the watermelon as it gets low on fruit
trim the straws so they are just a few inches over the fruit salad when you push them in
when you're ready to serve, push the star marshmallow straws into the fruit salad and enjoy!
Simple Fruit Cups: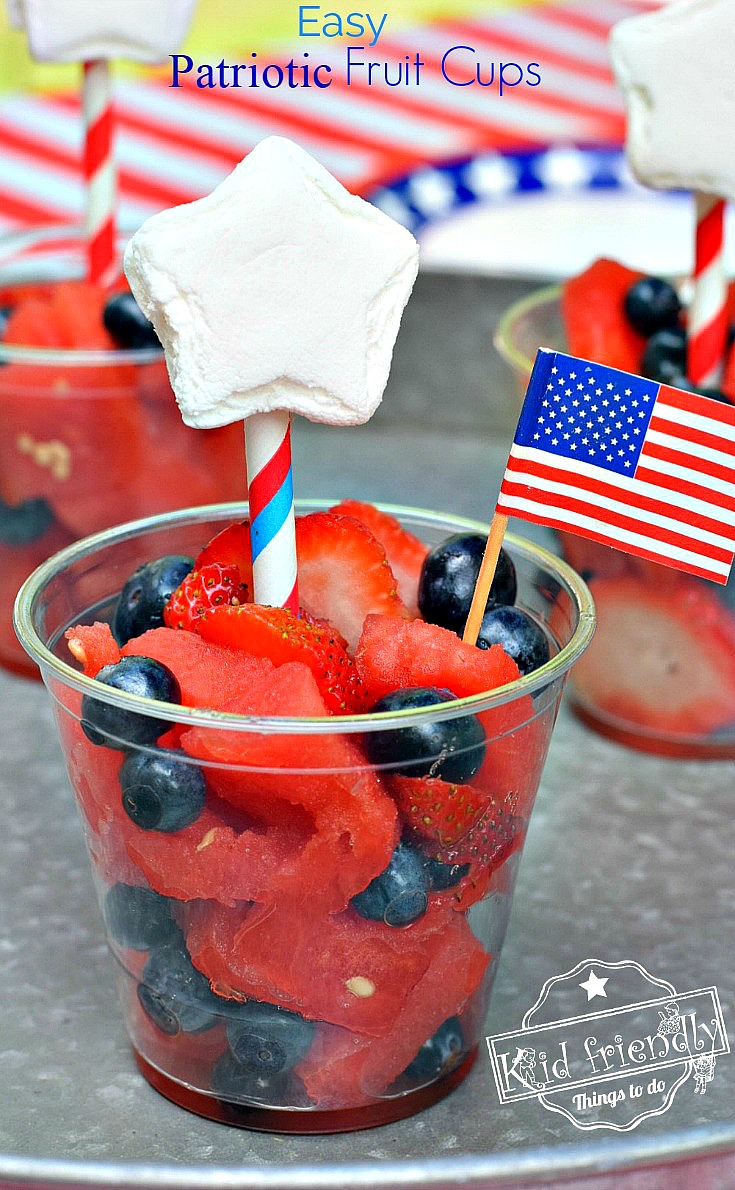 Seedless Watermelon
Fresh blueberries – 1 or more packages
Fresh blackberries (optional) – 1 or more packages
Fresh strawberries – 1 or more packages
Straws for the marshmallows (use patriotic colors to go with our theme) – I used 5 – If you'd like to set out both halves of the watermelon, double the straws
5 or more flat marshmallows – Kraft makes these for S'mores
Star shaped cookie cutter – I used a 1&3/4 inch star cookie cutter. Just find one that is slightly smaller than the marshmallows
Instructions:

use your cookie cutter to cut marshmallow star shapes out of the marshmallows
push a straw through the bottom of each marshmallow star
set those aside
Cut the watermelon in half
Grab a large bowl and scoop the watermelon into the bowls
cut the watermelon into bite sized chunks
Add rinsed blueberries, blackberries and sliced strawberries
Scoop the fruit mixture into individual cups. You'll probably have extra – You can place a bowl out for refills
trim the straws so they are just a few inches over the fruit salad when you push them in
when you're ready to serve, push the star marshmallow straws into the fruit cups and enjoy!
*if you are using paper straws, you'll probably want to wait until you're at least only 1 hour from party time to insert those. The paper will eventually break down from the moist fruit
My Top Amazon Picks:
(affiliate links)
[box] [/box]
~Melissa – Kid Friendly Things To Do