I was introduced to these cute, and simple graham cracker houses when my oldest was in nursery school.  That's the year I stopped buying the boxed gingerbread houses. We haven't looked back since. These graham cracker houses are way too much fun! Here's how you can make these for your classroom party – (these are huge for classroom holiday parties!), or Christmas craft!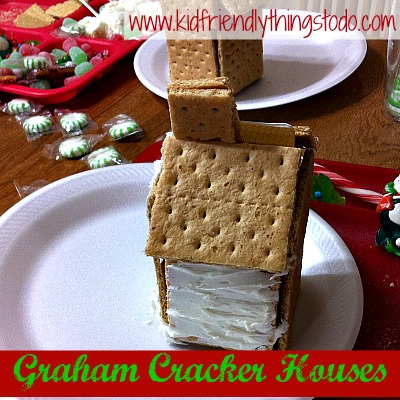 Graham Cracker House for Christmas
School Cafeteria Milk Carton, or something similar – whipping cream cartons might work ***FYI – don't hesitate to walk into lunch at school and just ask the cafeteria workers. They usually throw the cartons away! They'll probably even have them washed out for you!
White cake frosting
powdered sugar
food coloring (optional)
graham crackers
hot glue gun and glue sticks
plate to put the house on (Styrofoam or plastic works best)
various Christmas candies!

Assembling the Gingerbread House
Grab your clean and dry milk carton ( I put mine on the top shelf of the dishwasher to clean them)
Hot glue graham crackers to the sides of your carton
Hot glue graham crackers to the roof.  Don't get too picky here.  The frosting will cover any of the carton showing through.
Hot glue the graham cracker house to the plate.  Place it in the back, leaving room for a front sidewalk.

The picture above shows a square piece sawed in half – at an angle. I use these pieces for the sides of the rood. When trying to get those triangle cuts for the side of the roof, take a square and USE A SAWING MOTION on the graham cracker.  Press down VERY LIGHTLY, and pretend you are sawing a piece of wood with your butter knife.  I don't know how many I broke pushing down, trying to slice the square into two triangles.

I add about 3/4 cup to  1 cup of powdered sugar to the frosting to thicken it.  This keeps the candies from sliding off the roof and walls.  It also dries nice and hard.
We have also started to color the frosting.  It makes it even more fun.
I found the best selection, and the least expensive at, none other than the Dollar Tree.  They have awesome candy to choose from.  Plus, everything is $1.
Gumdrops, candy canes, marshmallow shapes, gummy shapes, Christmas presents, beautiful candy trees, etc…
I found it is best to get the divider trays for each kid, and portion the frosting, and candy out before they sit down at their house.  Less fighting that way.
Now, let them get creative!  My almost 2-year-old, even caught on, after watching the older kids.  He is so proud of his house.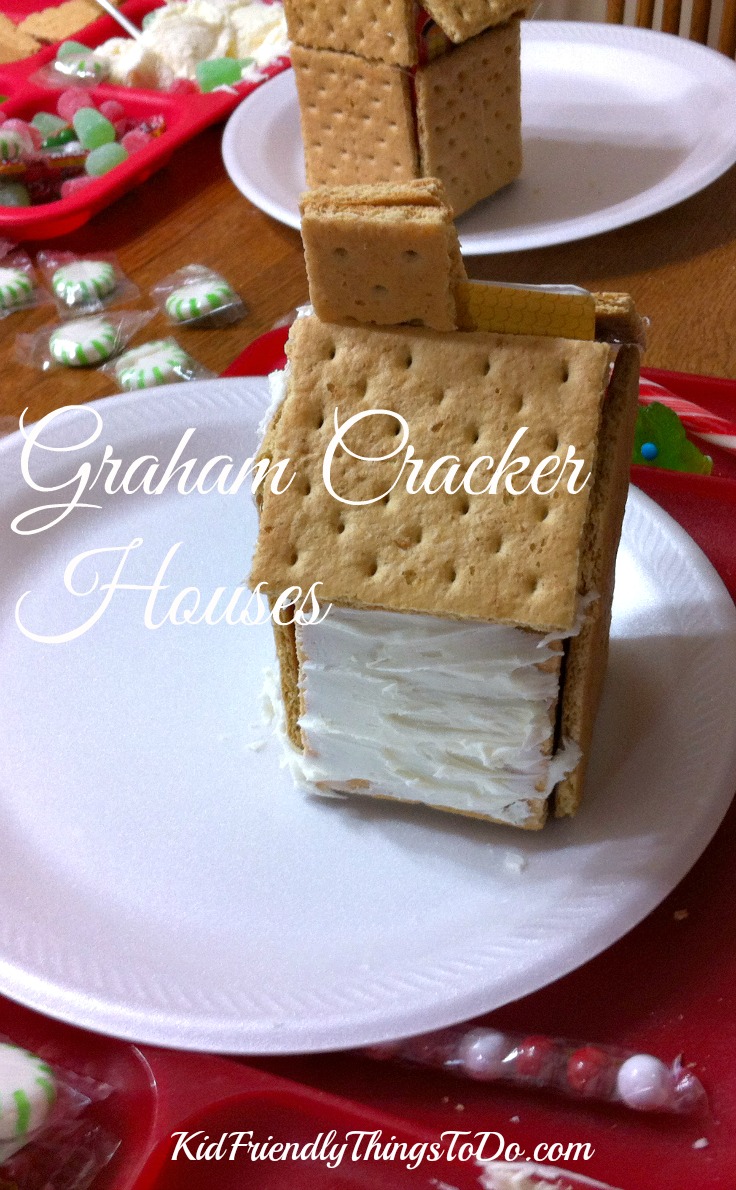 Display, and enjoy!  Make a bet on whose house has the most candy left by Christmas.  You'd be amazed at how some of the decorations seem to just disappear off the houses. Must be those impish elves!
Classroom Party Tips:
Have frosting in individual Dixie Cups (kids will eat the frosting, and you don't want those germs going back into a community bowl!).
Take a few bowls for each table – Divide candy into bowls
Melissa
KidFriendlyThingsToDo.Com – Providing fun kid-friendly activities, recipes, ideas, and crafts to do with kids.