Just in time for Cinco De Mayo.  A festive Mexican poncho craft made out of a paper bag and streamers.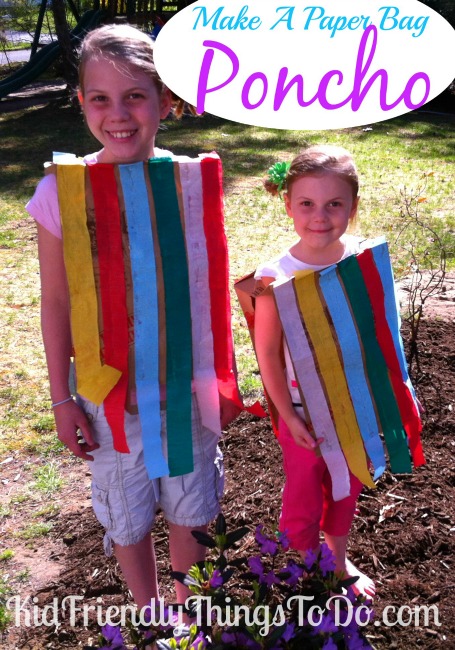 Paper Bag Poncho
At the end of the year, when all of the state testing and big academic learning is done, our elementary school holds a cultural day for each grade. It is a day filled with food samples, displays, crafts, dances, and games from some parts of the world.
This year the second grade has South America. I was assigned the food and dance room. So, being the crafty and pushy lady that I am, I naturally wriggled a craft into this fun room. The second graders will learn the Mexican Hat Dance! But, NOT before they make Mexican ponchos out of paper bags
A big shout out to Trader Joe's. They didn't even blink when I asked them to donate over 100 paper bags for this school function. Thank you Trader Joes
Are you looking for Cinco De Mayo Ideas? Try some of my other fun posts, like: 
So, with my paper bags ready to go…
I cut the 2 sides out for the arms – I found that if you go all the way up to the base of the bag, the bag looks less like a robot
Then, I cut a large oval in the base of the paper bag. This will be the part the kids slip over their head. Try to leave an inch or to on the edges of the oval. This will help keep the bag nice and sturdy
Then using streamers that I cut into 21-inch strips, I glued the colorful pieces onto the paper bag
I ended up using 6 streamers per side, for a total of 12 per bag
*Regular old liquid school glue works great here. The glue grabs the paper streamer instantly!
Ta-Da!
Suggested Equipment:
[box] [/box]
~Melissa – KidFriendlyThingsToDo. com