Nowadays, schools pretty much outlaw any type of food product. So, Jelly Bean Fear Factor is out. Feel Factor is my Fear Factor alternative for a non-food Halloween Sensory Game… Come on in, and I'll show you how I made the boxes, and I'll give you the down low on the game!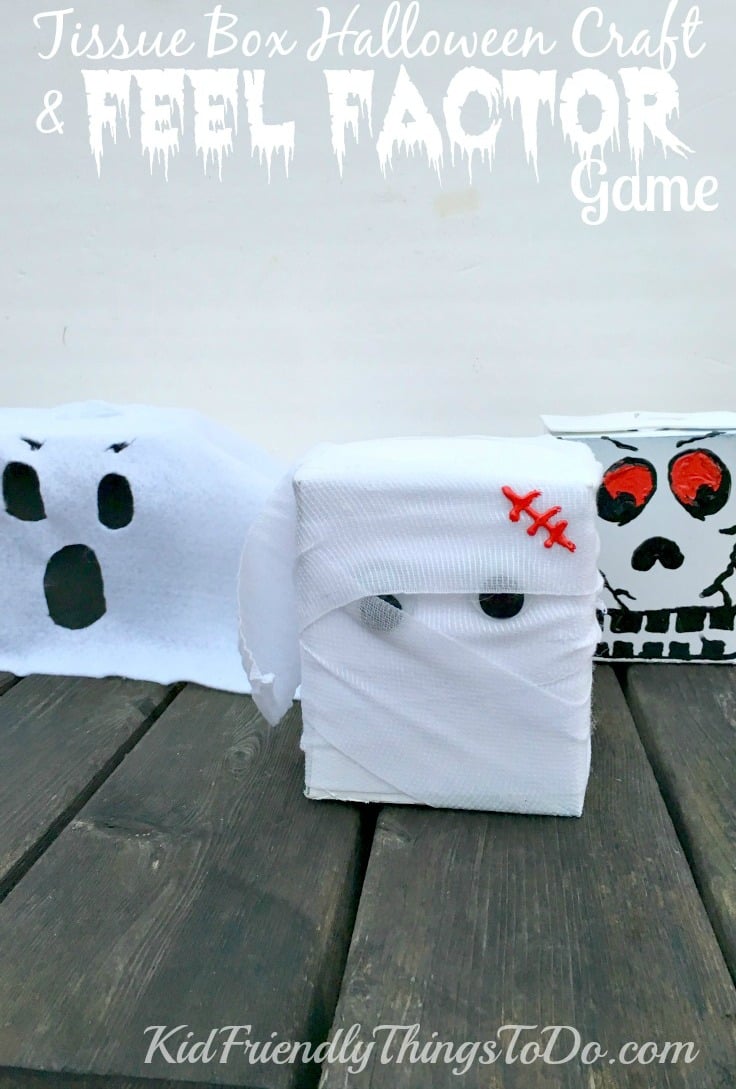 I was lazy last weekend, and only had white spray paint! So, I went with it! The kids helped me think of all of the white Halloween characters, and Voila' The mummy, The ghost, and The skeleton Kleenex boxes were born! 3 White characters for Halloween! There should be 6 boxes total. You can double up on these designs or create 3 more Halloween characters.
For These 3 Boxes, You'll Need:
For All:
Tissue Boxes – I used the small, but tall! Such as Kleenex
White Spray Paint
White Foam Paper
Scissors
Warm glue gun and glue sticks
Additional Items For Ghost:
White Felt cut into a 16 x 16 in. square
Black Foam Paper, cut to the size of one of your box sides
Additional Items For Mummy:
Wiggly Eyes – about 1 in. wide
Gauze – I used one roll (from the Dollar Tree)
Optional – Red Puffy Paint
Additional Items For Skeleton:
Black and Red Puffy Paint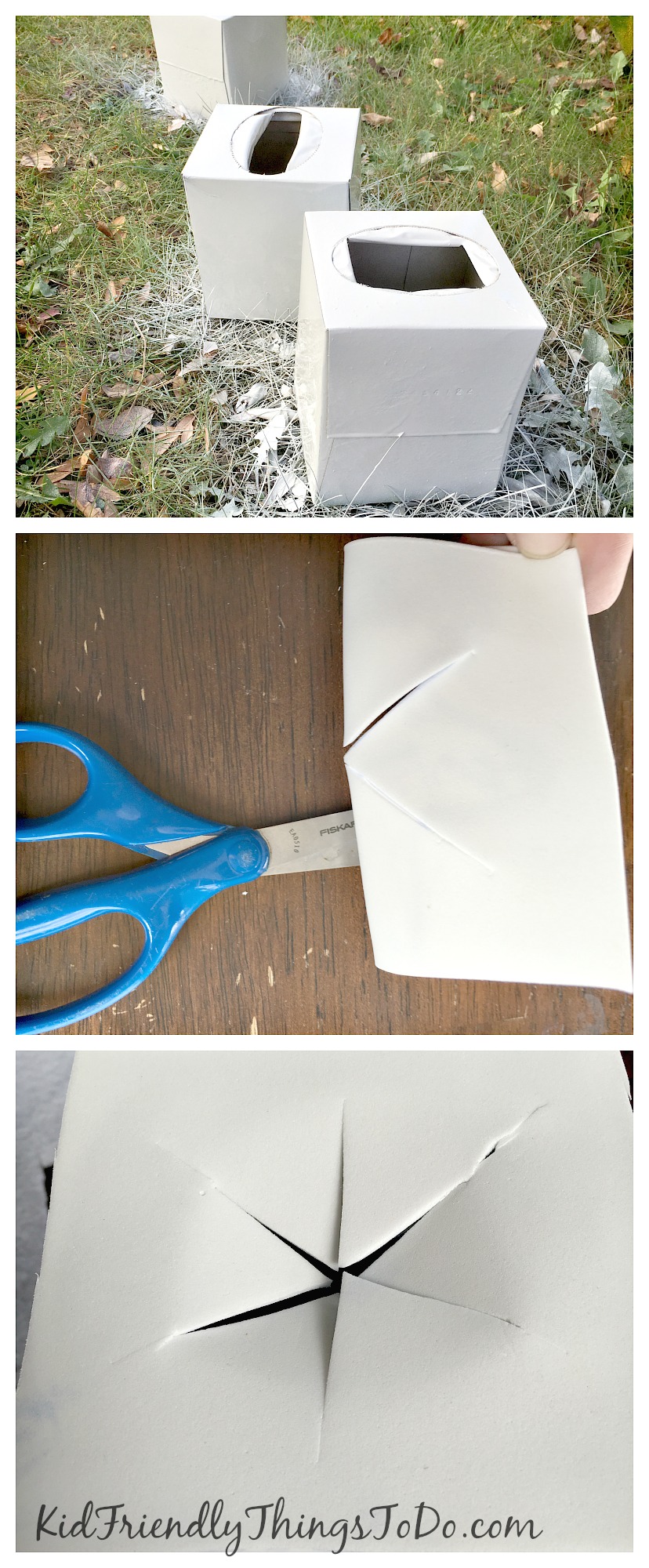 Spray your boxes white. My husband just loves it when I don't cover up the grass. 😉 I told you I was lazy last weekend
Cut your foam squares out to match the size of your box top, then fold them in half and cut a V shape
Open the fold up, and cut another couple of slits
Glue to the top of your box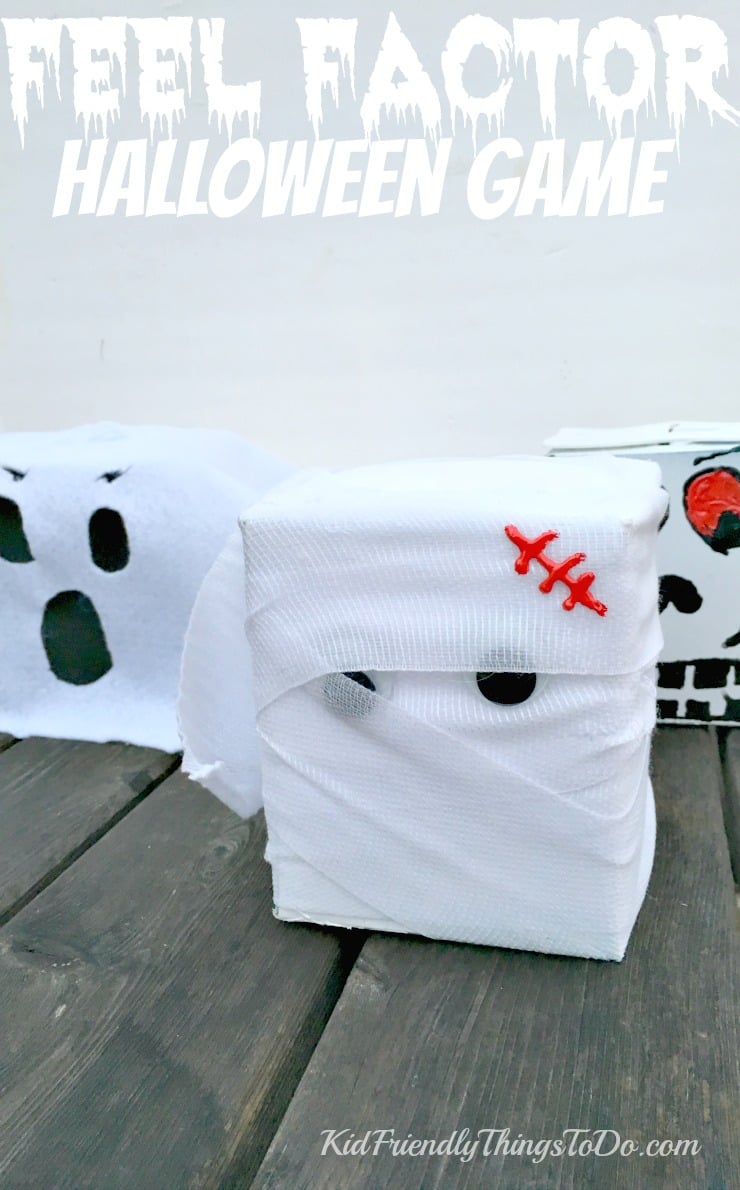 Ghost
I centered my felt, and glued it down
Then I cut a couple of ovals out for the eyes, a bigger oval out for the mouth, and a couple of angry eye brows
I decided it was too cute for fifth grade boys, so I ran down to my craft section, and grabbed some black foam. I cut that to size, and glued it down. It did the trick! He's mean looking!
Mummy:
I unrolled my gauze, and at the top of my box, I added a dab of glue
I stuck the end of the gauze to the glue, and started wrapping the box!
About halfway through my roll, I glued the eyes down, and then kept wrapping, covering portions of the eyes
Try to go in different directions when you wrap – diagonal, then straight across, then back to diagonal, etc…
And, add a little dab of glue every once in a while to help secure the gauze. You don't want an unwrapped mummy!
I finished him off with a little red stitch made with puffy paint
Skeleton:
I did this all free hand, and tried my best to make him scary
My older daughter said that I looked like I had no idea what I was doing on the mouth! The truth is…I had no idea what I was doing on any of him/ I just kept adding more black cracks in his skin
Good luck on this one…when in doubt, add more cracks!
Other supplies for the game…
Paper and pen for guessing
Onto the Game: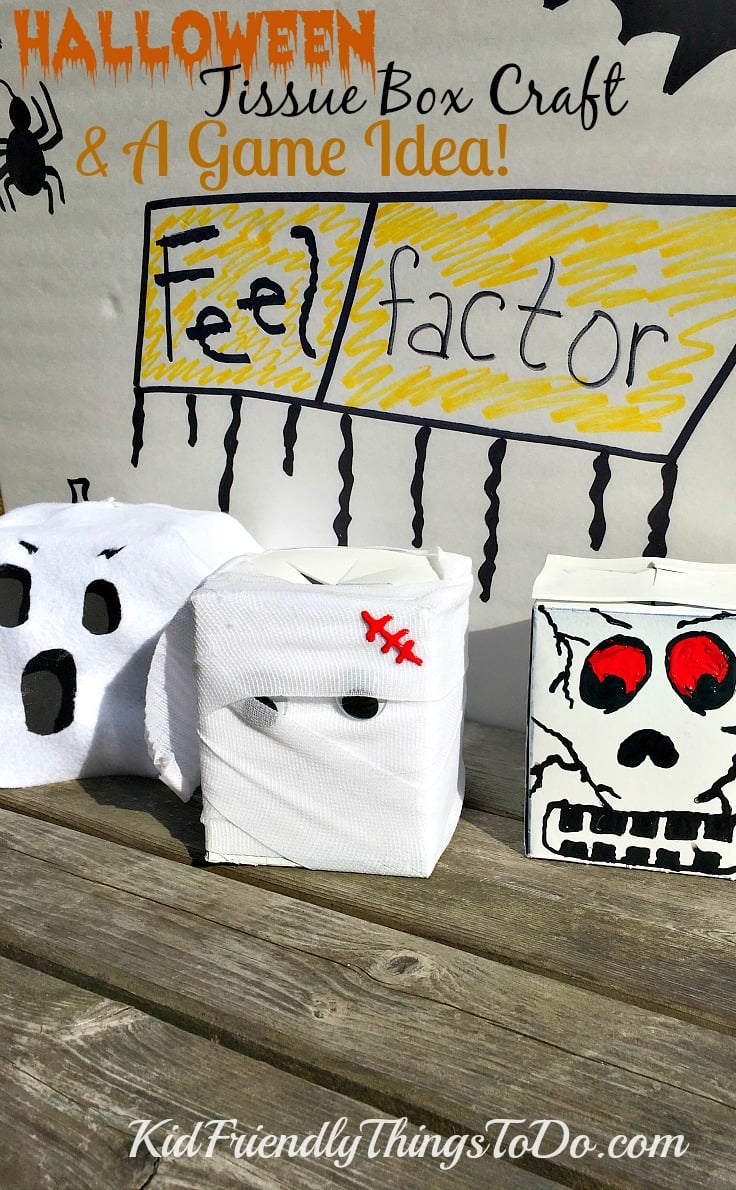 Rules for the game:
The kids will have to come up – 6 at a time, 3 from each team to sit in our Feel Factor Chairs
They'll be blindfolded, and asked to feel the contents of the box
After they've had time to really feel the objects inside…They will have to guess the Halloween item inside
The kids should guess what the objects inside represent, but you can give them a bonus point if they guess the gross representation and the true identity
After the kids have all gone – we will tally up the correct guesses, and whichever team guessed the most correctly – wins
I'm thinking with a class of around 30 kids, this should take up about 20 minutes
*you can have them write their guesses down on a Guess Pad of Paper that your provide or they can guess out loud like a true game show
What will we fill our boxes with?
These are the ideas we are using to fill our boxes:
Peeled cucumber, quartered, then sliced – witch's tongue! Picture a long U shape for each slice!
Peeled grapes – the kids will have to guess, eyeballs!
Pipe cleaners, cut into small sections and bent into a V shape – the kids will need to guess spider legs
baby carrots wrapped in gauze – for mummy fingers
carrot sticks – cut into spears – for witch fingers
Here are my Top Amazon Picks for this Halloween Sensory Game…
(contains affiliate links)
~Melissa – KidFriendlyThingsToDo.com