This Human Ring Toss was such a fun and easy game to pull together, and I wanted to share it with you all. Come on in and check out the Human Ring Toss Game – A Fun and Easy Summer Outdoor Game for Kids 

Human Ring Toss – A Fun Summer Outdoor Game to Play
Summertime fun is the best kind of fun. I love heading outdoors with the kids to enjoy a few family-friendly competitions. My kids are growing up way too fast, so I'm cramming all of the summertime epic moments that I can.
Here's What You'll Need for the Human Ring Toss Game:
3 inflatable pool rings per team – our rings are called 36″, but they really only measure 31″x31″. The inside ring is about 16″. I bought 6 – (3 for each team of 2 teams)
That's seriously it! – FYI – they make giant pool rings for adults. I'll provide a link to Amazon below. So fun!
Here are my top Amazon Picks for this Human Ring Toss Game:
(affiliate links)
[box]  [/box]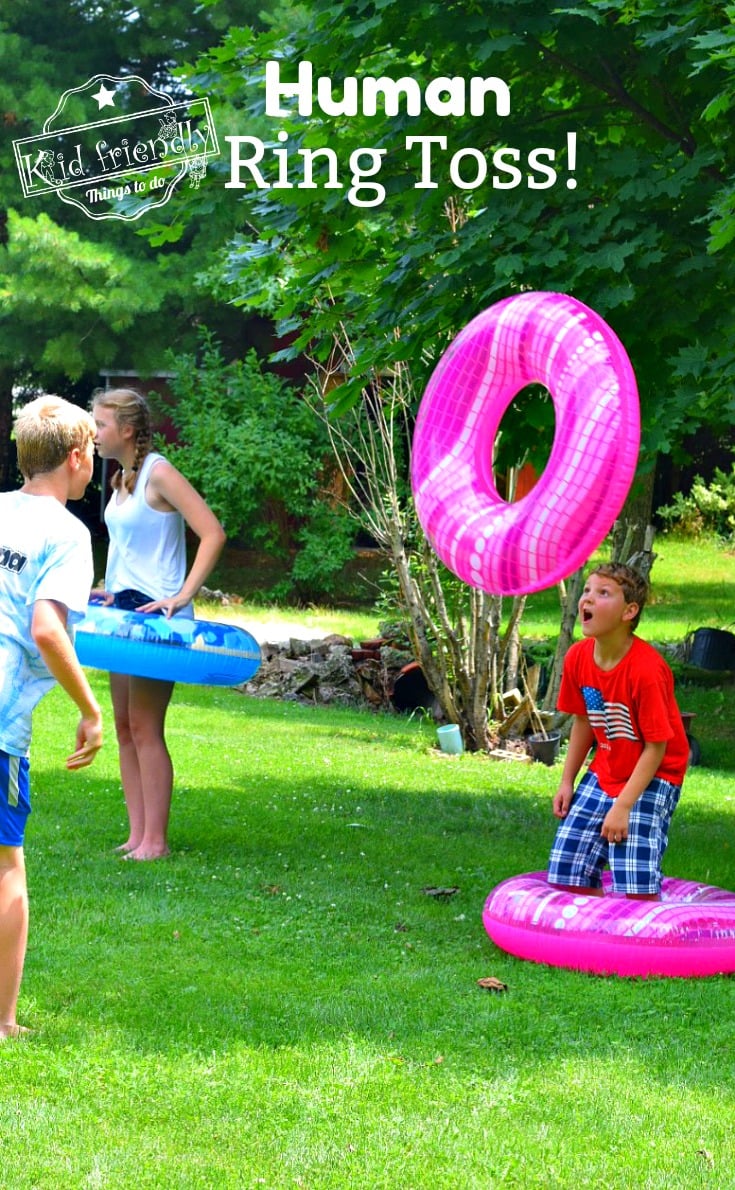 If you are looking for fun summer outdoor games, check out all of these posts…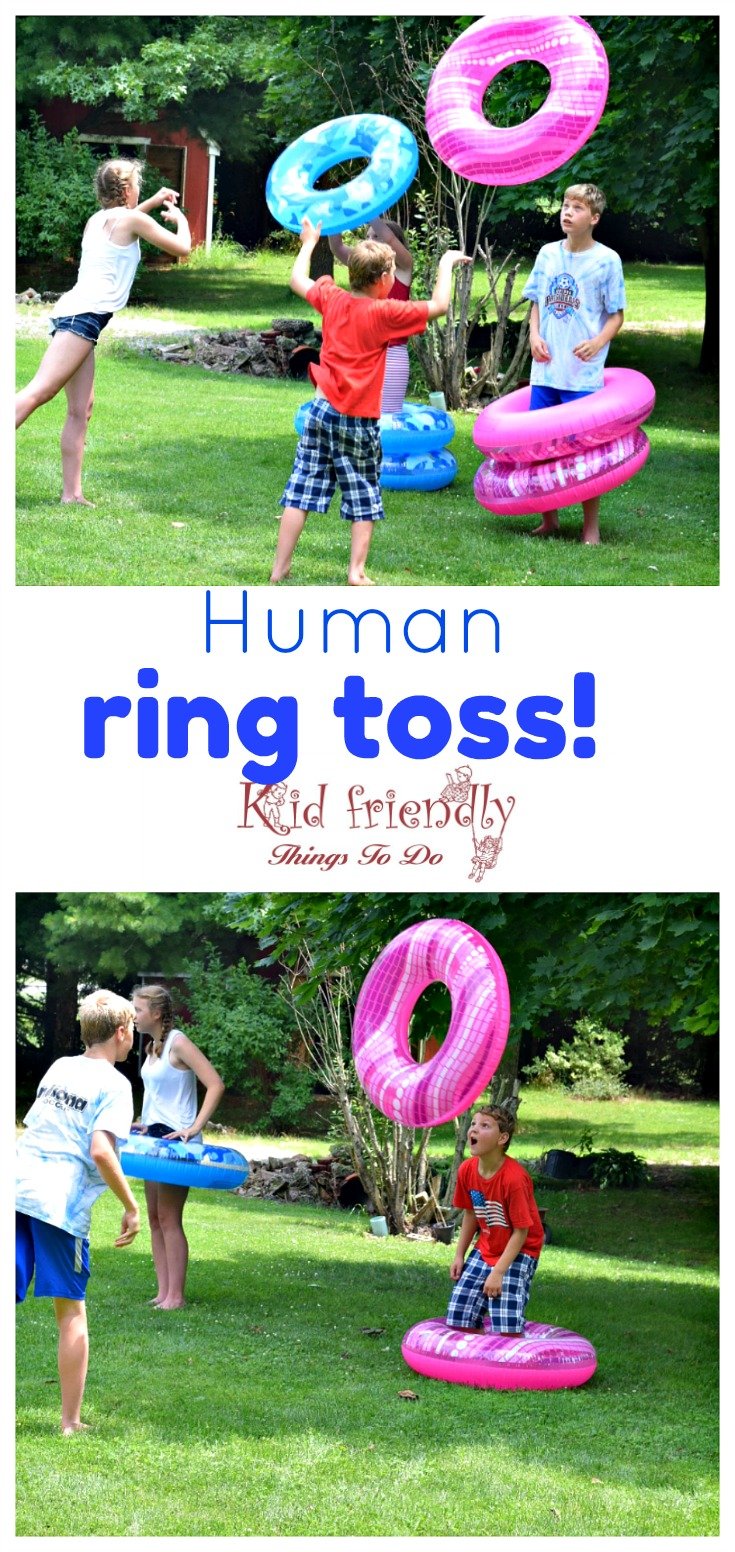 Instructions: Here's how you play the Human Ring Toss Game
Pick your teams and divide the rings evenly between teams
Decide on the distance away from the person to ring that's challenging but doable – we settled on about 6 ft. away
To ensure that there is no cheating – It might be a good idea to place a marker down for the person that you're going to ring  and for the people throwing rings to stand on or behind
When you're ready, start ringing your human!
*The human has to stand on their mark but can bend at the waist and point arms up in the direction of the pool ring to make it easier to ring them – to make it more challenging for older kids and adults you can disregard this variation 
Rings  count as 2 points for a full ring (I think that around the neck counts) and 1 point for a pool ring that is leaning on touching the target/human
The first team to get to 21 points wins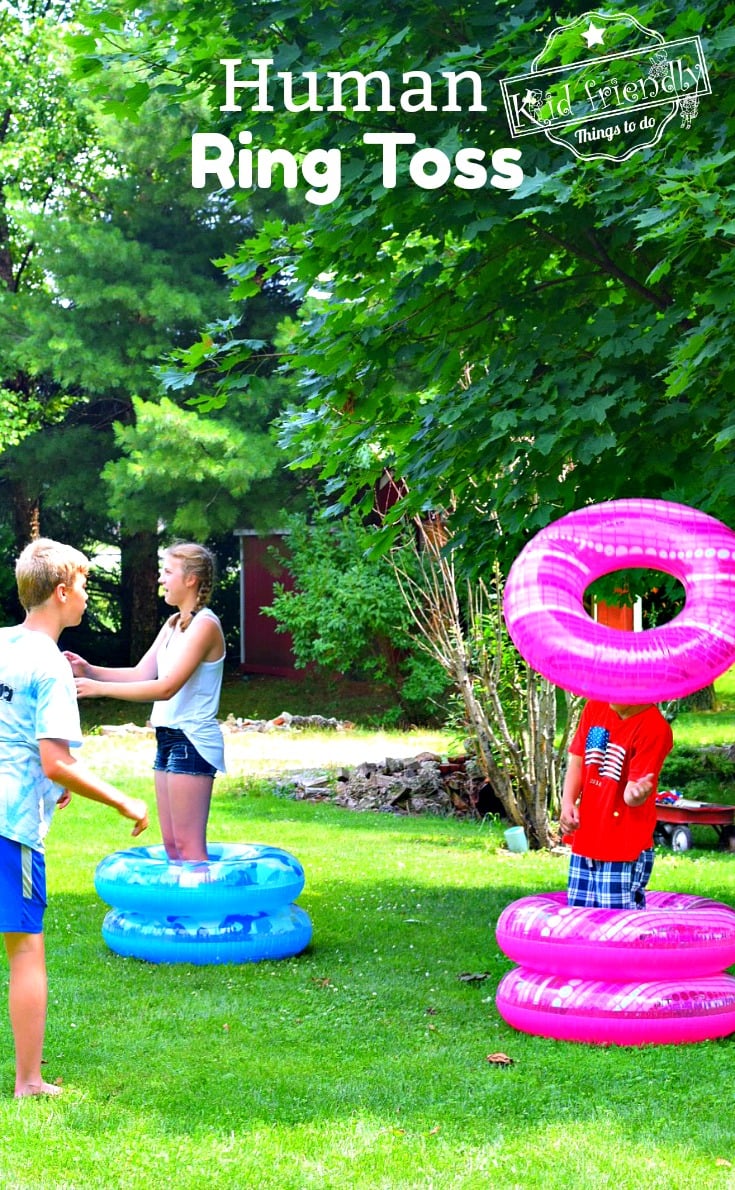 *This would also make a fun Minute to Win it Game. Just see who can toss all 3 rings in less than a minute and ring their teammate with all 3 rings!
Or, you could always play tackle. My kids didn't waste any time ringing themselves as a target while the other kids ran as fast as they could to knock them down. They played tackle for what seemed like forever.
~ Melissa – Kid Friendly Things To Do