These glow in the dark balloons floating in the pool are from an inspired idea from Pinterest. Unfortunately, the link did not lead me to a site. But, this is one idea that wouldn't leave my head. As soon as we settled in at Nana's house, I headed out to the Dollar Tree for supplies. I happened to find plenty of glow sticks at the Dollar Tree, along with bags of latex balloons. This is the fun result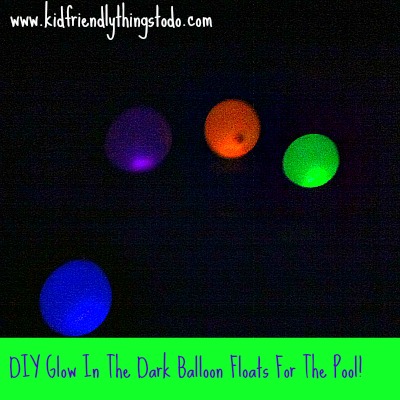 Glow in the Dark Balloons for the Pool
You'll need to activate your glow sticks – It takes a little while to achieve the full intensity of the glow. You may want to activate them about an hour before your party, or night-time fun!
Insert them into light-colored balloons
Blow the balloons up and tie them
Toss them into the pool!
Turn all of the lights off and enjoy the glowing, floating balloons
The kids even turned these balloons into fun floats!
Melissa – KidFriendlyThingsToDo.com – party ideas, fun foods, recipes, kid-friendly crafts, and fun ideas for the whole family