Hublein Tower is a beautiful place to get out in nature, with your family.  To see the tower, it requires a mild to moderate climb.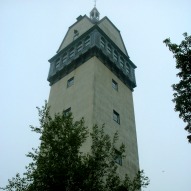 You'll hike from Talcott Mountain State Park up 1.25 miles (about 30-40 minutes) to the tower.  The climb is not too steep.  The path is nice and wide, with plenty of benches to rest on.  The opportunity to catch up with what the kids are thinking about, sing songs, and just enjoy each other is priceless.  A beautiful museum, picnic tables, panoramic views, and gift shop are all waiting at the top as a reward for your efforts.  If you are not too worn out from your hike up the mountain, let the kids lead you up the six stories, and learn about the time Dwight Eisenhower dined there, and Ronald Regan's visit to the tower.  Wives, tell your husbands to take note of Mr. Hublein's summer retreat.  You never know!  It could happen!
This is a great thing to do with kids in CT.
Mom's Rating:
We don't do this enough.  We always enjoy our time to hang out and love the destination.  The kids love to climb the tower.  They don't even know they are learning a bit of history!  Good Stuff.
Favorite Season To Visit:
Fall-Definitely the fall.  The New England foliage is unbelievable.
Summer and Spring- Are nice, as well.
Activities/Things to Do:
Sight See
Hiking
Picnic
Museum
Shop
What To Pack:
Water
Comfortable Shoes
Change for the Soda Machine
$$$Museum Gift Shop
A Picnic Lunch or Snacks
Camera/Video Camera
Baby-Kid Carrier for hiking- if you are bringing anyone under 3
FYI:
There is no food for purchase
There is a drink machine for cold beverages
There is a water fountain
Yes there are bathrooms, at the top
There are picnic tables
The gift Shop is Open Sat. & Sun. 10-5
Abi's Rating (An 8-year-old kid's take on the place):– A 5 for "pretty fun"
Is There Anything That Made This Mom Nervous?:
I'm not a big fan of heights.  Especially drop-offs.  A little more than halfway up, there is a large opening to the valley below.  The path is not directly on the opening.  You would have to walk over to the next path.  But, it is close enough that I hold on to the younger kids, pretty tightly.  Then I breathe a sigh of relief when we walk past the opening, and back into the forest.  Phew!
Dad's 2 Cents $$$.  What's All of This Quality Time Going To Cost Me?
No Cost.  The parking and admission are free.   Bring a picnic, and maybe some spare change for the cold drink machine.  But, kids can always drink out of the FREE water fountain.  My kind of place!
Location:
Talcott Mountain State Park
57 Gun Mill Rd.
Bloomfield, CT
860-242-1158
Hours:
May 24-End of August/ Thurs.-Sun. 10-5
Labor day-Oct. 31/ Daily 10-5
Our Experience:
I love it when we have a day planned around the tower hike.  The last time we went, we had our 4 kids, the baby in the backpack carrier, and Nana Noodle.  Before we started up, I noticed a large group of men praying, together.  I thought that was a really nice way to spend a Saturday.  If you wanted to feel closer to God, this is a great place to do that.
Finally, we get to the "dreaded" opening where you'll see people admiring the view. Yuck.  Just so I don't pass on my fear of heights to my kids, I grip them tightly and walk with 10 feet or so of the edge.  This is where people will hang glide.
At last, we were at the top.  It really is not a bad hike.  The tower is always fun to explore.  The kids went crazy over the water fountain.  What is it with kids and water fountains?  I only think of the nasty germs from everyone's mouths.  We had a quick bathroom break, chatted with the tower staff, and some other tourists, hung out by the picnic shelter, and we were off on our descent to the minivan!  Good Stuff!
To Find Out More:
Go To:http://www.friendsofheubleintower.org/
Melissa
KidFriendlyThingsToDo.Com – A site dedicated to giving you reviews on fun things to do with kids in CT – reviewed by mom, and kids. Providing fun activities, recipes, ideas, and crafts to do with kids in CT.