I'm sure you are familiar with Yankee Candles. But, did you know that Yankee Candles has a Village in South Deerfield, MA where you'll find one of the best toy shops complete with a full-size sleigh, gifts traveling above you, and a fun boat to explore? You'll also find a candy shop, a fudge counter, a coffee counter, an ice cream counter, ornaments for every occasion, unique household items, unusual foods, candle making activities, a place to write letters to Santa, a chance to meet Santa, and/or Mrs. Claus, a room filled with working snow and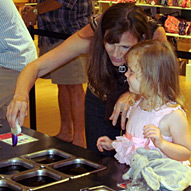 Halloween villages, snow falling every four minutes (in the form of candle wax), a medieval room, a nutcracker room, several props for Kodak moments, and of course candles are galore – all under one roof. If it's fall time, and you're looking for a great fall picture with the kids, Yankee Candle has your back. The outside is elaborately decorated with fall displays! Phew! That's a lot to pack into one place!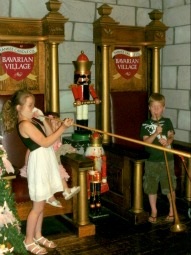 After all of the excitement inside, head outside onto the wrap around porch to sit in one of the many rocking chairs, or relax at a picnic table in the yard. If you're still hungry after sampling the fudge, follow the sidewalk to Chandler's Restaurant and get a bite to eat.
Reviewed By Mom:
This is a place I will take my family again, and again. We have so much fun at the Yankee Candle Village.
You're Review! Did You Experience Something Different, Here?: Please Leave A Comment Below:
Favorite Season To Visit:
Definitely Fall. I love the smell of candles on a nice, crisp autumn day! The fall displays outside to make a great Kodak moment.
Winter is also a great season. Most of the entertainment is in the HEATED indoors. If you celebrate Christmas, the sleigh pulled by a giant, stuffed reindeer make another great Kodak moment.
Activities (Things to do):
To name a few!
•Pretending on the giant boat located in the toy shop.
•Playing with the toy samples. This is not just an activity for the kids. I didn't think I would ever get my husband away from the ball poppers!
•Visiting Santa and Mrs. Claus
•Catching snow. Snowball fights!
•Hand dipping candles
•Shopping
•Eating – Lunch, late lunch, and dinner.
•Pictures, pictures, and more pictures!
What to Pack:
•Camera/Video Camera
•Your wallet – the shopping is extensive.
FYI:
•The best deal on a souvenir and some quality time is the candle dipping. Yankee Candle has several shapes to choose from. The average price is $3.00. What fun!
•Don't forget to look up. There are fun displays everywhere!
•Chandler's Restaurant: Phone: 413-665-1277. Click here to view their menu.
Location:
25 Greenfield Rd.
Routes 5&10
South Deerfield, MA
877-636-7707
Hours:
Open Daily 10-6
Christmas Eve and New Years Eve 10-5
Closed Thanksgiving and Christmas
Kids Thoughts:
Ella's quote for Yankee Candle:  "I like it here because the snow comes down!"
Abi's rating – (An 8-year-olds take on the place)  #9  for Super Fun!
Is there anything that made this mom nervous?
Hot wax! No incident though!
Dad's 2 cents$$.  What is all of this quality time going to cost me?
Free To Enjoy the Village
Chandler's restaurant –  (Kid's menu is $5-$8.50 for a dish)
More Pictures To Get A Better Visual:
Go To http://www.kidfriendlythingstodo.com/2011/10/yankee-candle-village-pictures/
Yankee Candle Village Website: Click Here
~Melissa
KidFriendlyThingsToDo.Com – A site dedicated to giving you reviews on fun things to do with kids in CT, MA, and RI – reviewed by mom, and kids. Providing fun activities, recipes, ideas, and crafts to do with kids!