"It's Snow Secret…You're A True Friend…Happy Valentine's Day!" Cute! Right?! A cute pairing of Snow Caps and a Snowman Craft. Cute Valentine's Day Gift Idea for kids to make and give out.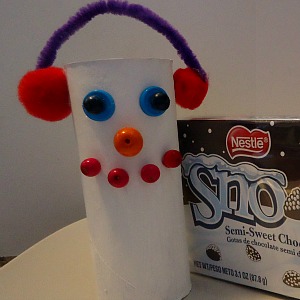 Snowman Craft and Valentine's Gift Idea for kids
Are you looking for fun Valentine's Gift Ideas or Card Ideas? Try some of my other posts, like:
You'll Need:
A toilet paper tube painted white
Various colorful and small wooden beads –  I found a container of them at Wal-Mart – in the craft section
Various colorful buttons
Pom-poms for the earmuffs
Bendy strips/chenille strips for the earmuffs
Hot glue
Now, on to the Snowman:
I glued 2 buttons for the eyes, and then I added little wooden beads for the center of the eyes
Then I added a larger "Orange" bead for the nose, but "Frosty" the Snowman has a red nose – so that's another great color! (If you're doing multiples, and you run out of orange, I would just go with any color – I don't think you can go wrong!)
Then, I added 4 small pink beads for the mouth and curved them upward to make them smile 🙂
Finally, I cut a 3 inch piece of the chenille strip and hot glued a red pom-pom on either side to make earmuffs
I glued the earmuffs on either side of the snowman
That's it!
Enjoy!
~Melissa – KidFriendlyThingsToDo.Com – kid friendly crafts, recipes, party ideas, fun foods, and fun things to do with your family!