Turns out, I did have a fun New Year's Eve with kids' ideas up my sleeve! 😉 This is so easy to do. And, (If your garage looks anything like mine right now)…with all of the cardboard boxes from Christmas piled in your garage  – you probably have the supplies! I painted a box with chalk paint so we can simply erase the time and change it as the night progresses, everyone that stays up until midnight gets to pull the strings and watch as Kisses at Midnight drop down for them to enjoy! (Hershey's Kisses – that is!)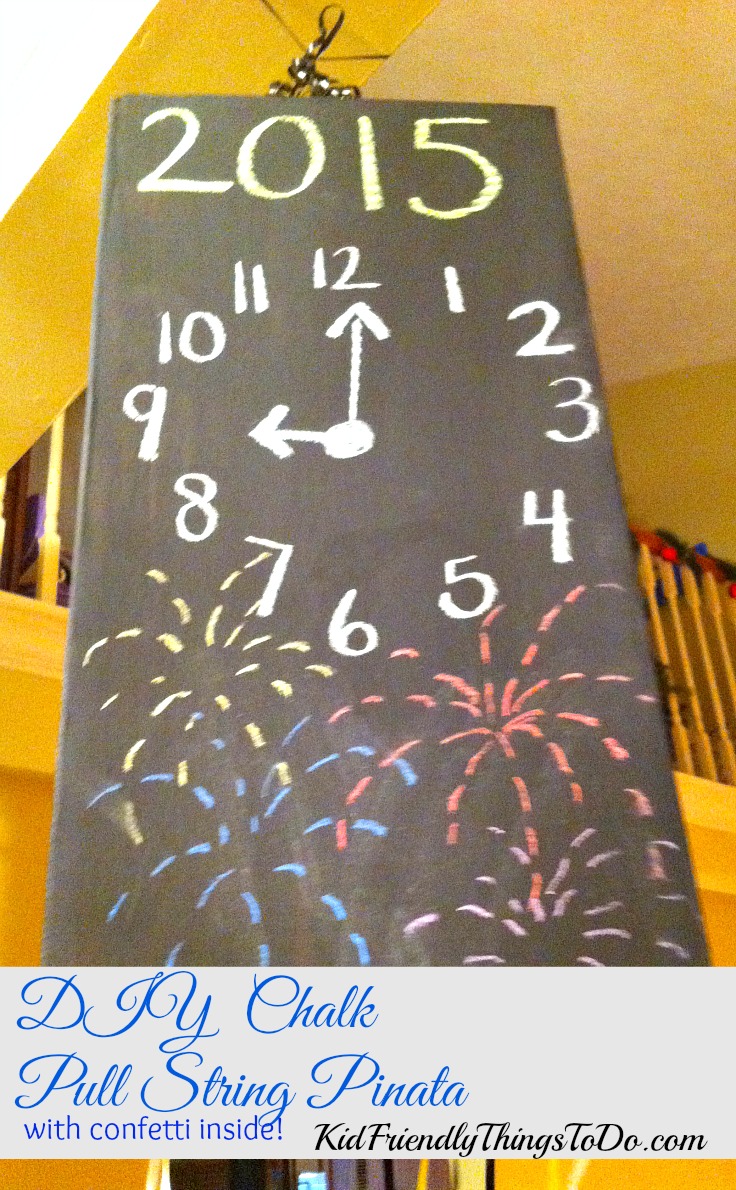 Count down with chalk! Move the hour as the night progresses.
Here's what I did to make this, re-usable pinata.
I grabbed a box that looked like a rectangle – Mine is 3 feet long by 1 ft. in width
In the bottom of the box, I carved a door/hatch with a knife
Then with the same knife I poked tiny little holes all over the bottom
**Don't forget to poke 2 holes into the top of the box. You'll want to loop some strong chord through them to hang the box from
After that was done, I painted the box with black chalk paint
After the paint had dried, I found black, white, and yellow curly ribbon! – A very technical term 🙂
I tied a loose knot on one end of the ribbon pieces, and pushed the knotted ends through the holes into the inside of the box – these are just for fun giving each kid the opportunity to pull a ribbon from the box
In the center of the door – I did something a little different! I tied that string around a toothpick – this will be the string that opens the hatch to release all of the kisses!
**If you want to add more strength in pulling the hatch open – just tie a toothpick around all of the ribbons that you insert into the hatch door – this will ensure the hatch will open with ease!
Don't forget the top of the box – You'll want to hang the box, so add a chord there
If you are going to fill the box with lots and lots of Hershey's Kisses – secure the hatch with a little scotch tape – something strong enough to support the weight but not too strong so that the hatch won't open 😉
I used one bag and did not use scotch tape – so far…so good
I used chalk to design a clock, and decorate the box
**Because it's chalk…you can actually save this box and change the date next year!
I've tested it with one bag of kisses, and pulled the hatch several times! It's going be fun – indeed! – if we can all last until Midnight!
That's it! Happy New Year!
~Melissa – KidFriendlyThingsToDo.com