Summertime Jello Poke Butter Loaf Cake – Kid Friendly Things To Do .com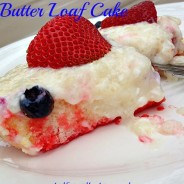 Posted by Melissa in Birthday/Holiday & Celebration Dish, Dessert, Easy Family Recipes, Fourth of July, Game Ideas, Memorial Day, Patriotic - American | 0 comments
This was one of those…"Oh no, I said I would bring the dessert to the picnic!" kind of recipes! I had very little in my kitchen on Memorial Day, and really had to tap into my creative side with this one! With no whipped cream, I tried to make my own. I failed miserably! That's when I saw the tapioca! Thank God for the little Minute box of tapioca pudding staring right at me! I think I found a staple dessert for Patriotic celebrations! Here it is!:
You'll Need:
1 Egg White
6 T Sugar Divided
3 T Minute Tapioca
2 Cups of Milk
1 Egg Yolk
1 t Vanilla
1 Butter Loaf Cake – Cut into large cubes
1 Small Container of Cherry Jello
1 Hot Cup of Water
1 Cold Cup of Water
Fresh Strawberries – Sliced in Half
Fresh Blueberries
Optional – Whipped Cream
Now: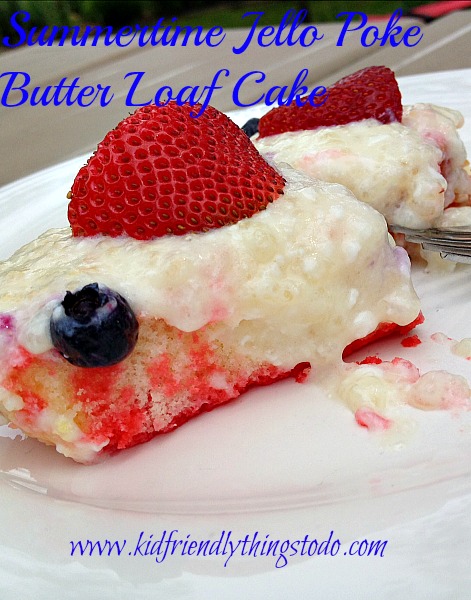 Using the first 6 ingredients, follow the directions on the Minute Tapioca Box to make tapioca pudding
Refrigerate the tapioca
Place the cubes of butter loaf cake into a deep 9×12 serving pan
Using a wooden skewer, or something similar – Poke holes in the pieces of butter loaf cake
Using the hot, and cold water…prepare the cherry jello as the directions on the package state
Pour the jello into the holes of the loaf cake, and over parts of the cake
Place in the refrigerator to allow the jello to set up (about 30 minutes)
When you are ready to serve the cake, spread the tapioca over the top of the loaf cake, and spread the strawberries, and blueberries on the cake
Serve with whipped cream Yield: serves 12
Notes: Notes: Allow extra time for refrigeration of ingredients!
Yields – 12 servings
Prep Time = 10 minutes Cooking Time = 30 minutes
This is a recipe I submitted to Taste of Home this month! Find this and more at TasteofHome.com!
~Melissa – KidFriendlyThingsToDo.com