Paper Mache Halloween Lanterns or Night Lights! – Kid Friendly Things to Do .com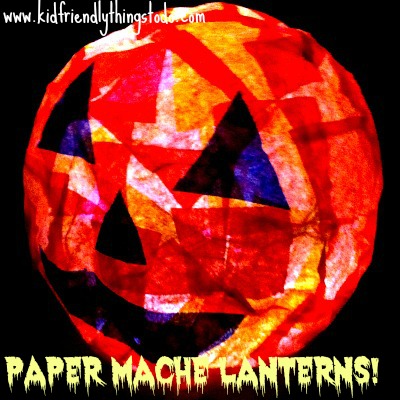 Posted by Melissa in Arts & Crafts, Crafts, Game Ideas, Halloween, Halloween | 0 comments
You can go on and on with this idea! Make ghost lanterns, Frankenstein lanterns, Witch lanterns, Black Kitty Cats, Owl lanterns, and of course Jack-O-Lanterns!  These are super fun, inexpensive, and easy to do. Here's what I did to make paper-mache Halloween Lights!:
You'll Need:
An equal mixture of glue, and water paste!
A paint brush
Assorted tissue paper – colors will depend on your intended design. Cut into squares for the base
Assorted tissue paper cut into shapes for eyes, nose, mouth, etc…. i.e. I cut dark colors into triangles for my Jack-O-Lantern lights!
Latex Balloons blown up to the size you desire, and secured with a knot
A large Solo Cup to hold your creation
An LED light – I found mine at the Dollar Tree – It works perfectly!
Scissors
Now, on to the light!:
Before you begin you will need to put something into the bottom of the cup to give it some weight. I used water, but you can use rocks, marbles, or if you're really brave sand.
Set the bottom of the balloon onto the cup – this will help hold your balloon for you
Paint the glue paste onto a section of the balloon
Apply the tissue paper  to the wet paste – If it is not completely sticking to the balloon surface, dab a little bit of paste over the tissue paper
The tissue paper should be wet
Cover the entire balloon in this way with 2 layers of tissue paper
Add your detail pieces (eyes, mouth, etc…) with the contrasting colors of tissue paper
Let the balloons dry for about 24 hours
When they are completely dry, use your scissors to cut the tip off of the balloon. The balloon will deflate, and pull away from the paper
***Your paper-mache might start to sink in. Don't worry! You can push it gently back into the balloon shape it once was
Cut a level and small circular area out of the bottom of your project. This will help it stand up, and  gives you a placed to set your light
Now you can pull the balloon out and if needed reshape your paper-mache by gently pushing the shape out
When you're ready, place your paper-mache project over your LED light!
That's it! Enjoy your spooky lights!
~Melissa – KidFriendlyThingsToDo.com – crafts, recipes, fun foods, party ideas, DIY, Home & Garden, and fun things to do with your whole family!