Thanksgiving Dinner Recipes – Kid Friendly Things To Do .com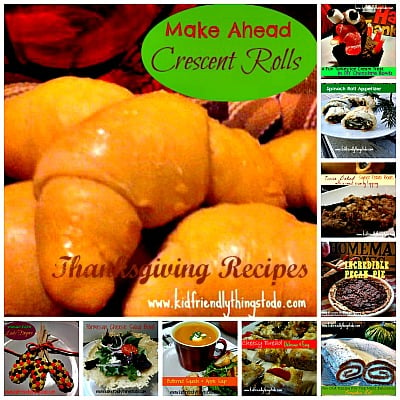 Posted by Melissa in Birthday/Holiday & Celebration Dish, Easy Family Recipes, Game Ideas, Recipe, Thanksgiving, Thanksgiving | 0 comments
Oh boy! Thanksgiving is already just around the corner! Why does that stress me out?! Here at least 10 delicious Thanksgiving recipes, including appetizers, sides, make-ahead recipes, and desserts from KidFriendlyThingsToDo.com that might help alleviate the stress of what to cook on the special day!
Start the meal off with this delicious, and easy Cheese & Garlic bread! This is a definite crowd pleaser! Change the toppings to include everyone's favorites! Here's the recipe:
Another appetizer that I absolutely love is this Phyllo Rolled Spinach and Feta Cheese Bites! You can make these ahead, and freeze until the big day! Here's the link to that!
Don't let the Parmesan Bowl intimidate you. It's actually pretty easy to do. Here's the how to:
Oh yum! Crescent rolls are definitely one of my favorite on holiday dinners. These are make ahead crescent rolls, saving lots of time to enjoy more on the special day! Here's  the recipe:
One of the most delicious Sweet Potatoes I've ever eaten! These have a sweet & crunch cereal topping!
These pumpkin shaped rolls, are made from frozen bread dough. Just roll the dough into a ball, and have fun shaping them into pumpkins! Here's how!
Slice a pumpkin roll for a scrumptious dessert!
And, who doesn't love pumpkin bread? This one has a sweet cinnamon crunch topping!
I know pumpkin pie is a Thanksgiving Favorite, but my favorite pie at Thanksgiving is Pecan Pie!
Want to impress the kids?! They will go Gobble, Gobble over this turkey dessert!
If you want something less complicated than my little turkey, try these Indian Corn Lady Fingers made from already made lady finders, frosting, and M&Ms!
Or…keep it simple with a Pumpkin Spice Flavored Milk Shake!
Want to warm up with a delicious drink? Here's a recipe for Pumpkin Flavored Hot Cocoa!
I can't believe how close we are to Thanksgiving! Wow! I hope these recipes will help you narrow down your wonderful meal! You can find more recipe ideas here:
Happy Thanksgiving!
~Melissa – KidFriendlyThingsToDo.com