Pumpkin Pie Milkshake – A Kid Friendly Thing To Drink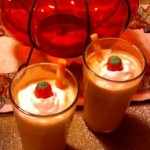 Posted by Melissa in Drinks, Drinks, Easy Family Recipes, Fun Food Crafts, Milk Shake | 0 comments
This milkshake packs the warmth and spices of this fall season into a cool and refreshing dessert. Try this Pumpkin Spice Milkshake for a fun seasonal treat! Here's The Recipe:
For those of you that have been to the Beautiful Covered Bridge Festival in Southern Indiana, this will remind you of the delicious pumpkin ice cream sold there! When I was a kid, I looked forward to that ice cream each year. Yum!
You'll Need:
1 cup of canned pumpkin pie mix
1/2 cup milk
1/2 t of vanilla
1/2 t of nutmeg
1/2 t of allspice
1/2 t of cinnamon
1/2 t of ground cloves
1/2 t of ground ginger
2 T of brown sugar
5 cups of vanilla ice cream
Now, To Get Started: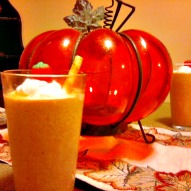 Combine pumpkin pie mix, milk, vanilla and spices in the blender or processor until smooth
Add ice cream, and blend until smooth, again
Enjoy in a nice tall glass with whipped cream! Yummy!
Depending on how tall the glasses are. 🙂 – This makes 2 – 4 servings
~Melissa – KidFriendlyThingsToDo.Com – A site providing kid friendly recipes, crafts, and ideas for the whole family! Plus, lots of fun things to do with kids in Connecticut, Massachusetts, and Rhode Island are reviewed including pictures.