This was my first attempt at a Slow Cooker Cake. I don't know why I had my doubts about Slow Cooker Desserts. I have to say, seeing, or maybe seeing and tasting is believing. This sucker is pretty darn tasty! My poor kids waited patiently as I took about twenty pictures for the blog, before they devoured it, and gave it an enthusiastic thumbs up! Here's the recipe for Peach Gingersnap Upside-Down Slow Cooker Cake:
You'll Need:
2 cans of peaches – drained
1 tsp. of ground ginger
1 tsp. of ground cinnamon
1 Tbsp. honey or agave nectar
1/4 cup + 2 Tblsp. unsalted butter softened
3/4 cup of brown sugar
8-12 gingersnap cookies, crumbled
2/3 cup of granulated sugar
2 Tblsp. of butter flavored shortening
2 eggs
1 tsp. vanilla extract
1 cup of bread flour – you can substitute all purpose
1 tsp. baking powder
1/2 tsp. salt
Serving Suggestion: Whipped Cream, or Vanilla Ice Cream
Equipment Needed:
Parchment Paper, or Reynolds Pan Lining Paper
Paper Towels
Instructions: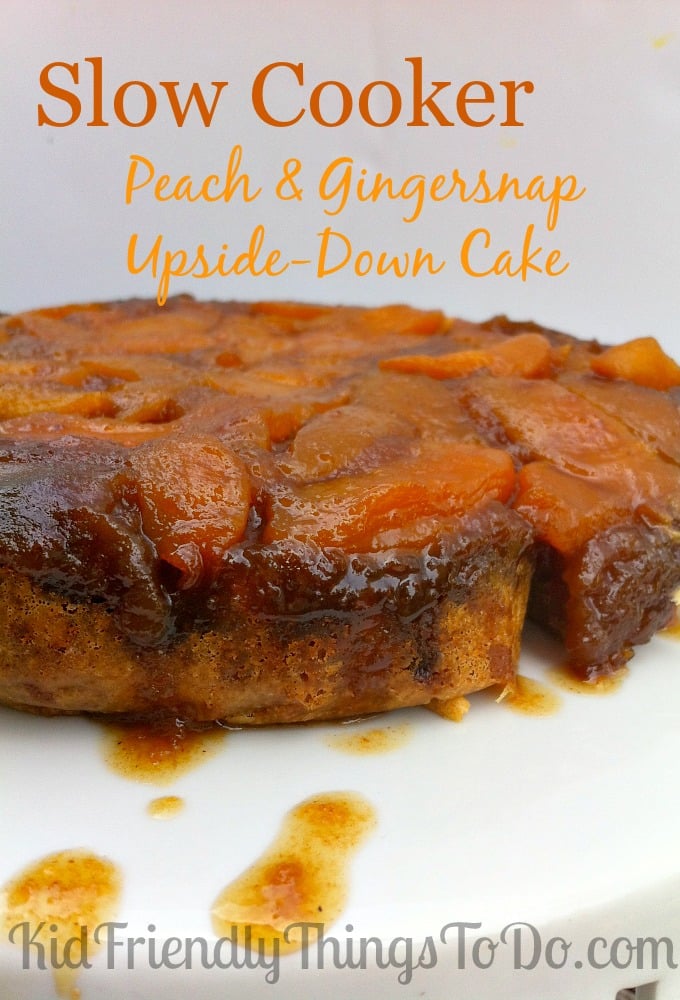 Line the slow cooker with pan lining paper – such as parchment
Make sure you cut a big enough slice of paper so the ends are hanging over the lid
Pour the peaches into a medium sized bowl
Add the ginger, cinnamon, and honey or agave – let it sit
In a medium sized skillet, over medium heat, melt the butter, and stir in the brown sugar
Spread your brown sugar mixture into the bottom of the Slow Cooker
Add the peaches to the top of the brown sugar, spreading those around too
Add the crumbled cookies aa the third layer
In a medium sized bowl, whisk the sugar, shortening, egg, and extract together
In another bowl, mix the dry ingredients – flour, baking powder, and salt
Add the dry ingredients to the wet ingredients in your other bowl, and mix together
Pour the mixture over the cookies, and spread around
Place paper towels over the top of the Slow Cooker and set the lid down
Set the temp. to high, and cook for about 3-4 hours. Time may vary with slow cookers. Insert a toothpick into the middle, and when it comes out clean, it is ready.
Optional – Serve with whipped cream, or vanilla ice cream
Enjoy!
[box] [/box]