DIY Butterfly Straw Decorations For Fun Summer Drinks – Kid Friendly Things To Do .com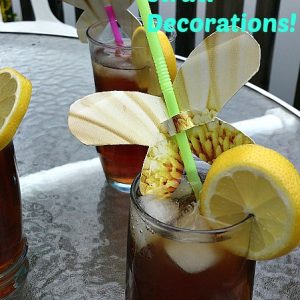 Posted by Melissa in Arts & Crafts, Birthdays, Game Ideas, Home & Garden, Summer | 0 comments
These paper butterflies are a simple way to add some extra fun to your summer drinks!
I used a paper plate to cut out these simple butterflies!
I just folded the paper plate, and cut out two butterfly wings
Then in the middle of the wings, I cut two slits about 1/2 inch long, and about 1/2 inch apart – this will where the straw slides in
Unfold, and Volia'…you have a fun summertime drink!
~Melissa – KidFriendlyThingsToDo.com