This Chicken Gravy Recipe is an easy recipe that is tried and true. You don't need chicken drippings to make this flavorful gravy for your chicken or turkey meal. Come on in, and I'll show you how easy it is to make a delicious gravy.
Homemade Chicken Gravy Recipe
There are always those times when there aren't enough drippings to make gravy from. Sometimes, you have some chicken you bought at the store and need a quick gravy to go over some mashed potatoes. I've even found myself with a small amount of gravy that I am positive will not feed my crew and I've used this method to add to the gravy.
Whatever the case, this is a great way to make gravy from scratch with little or no drippings at all. You'll want to save this recipe for just those occasions.
This gravy would be excellent with my recipe for Classic Sage Stuffing, Make-Ahead Mashed Potatoes, or my Recipe for Roasting a Turkey Breast
Here's what I love about this recipe:
easy to make
the flavor tastes great over chicken and turkey
ingredients are easy to find and you probably have most at home
always a big hit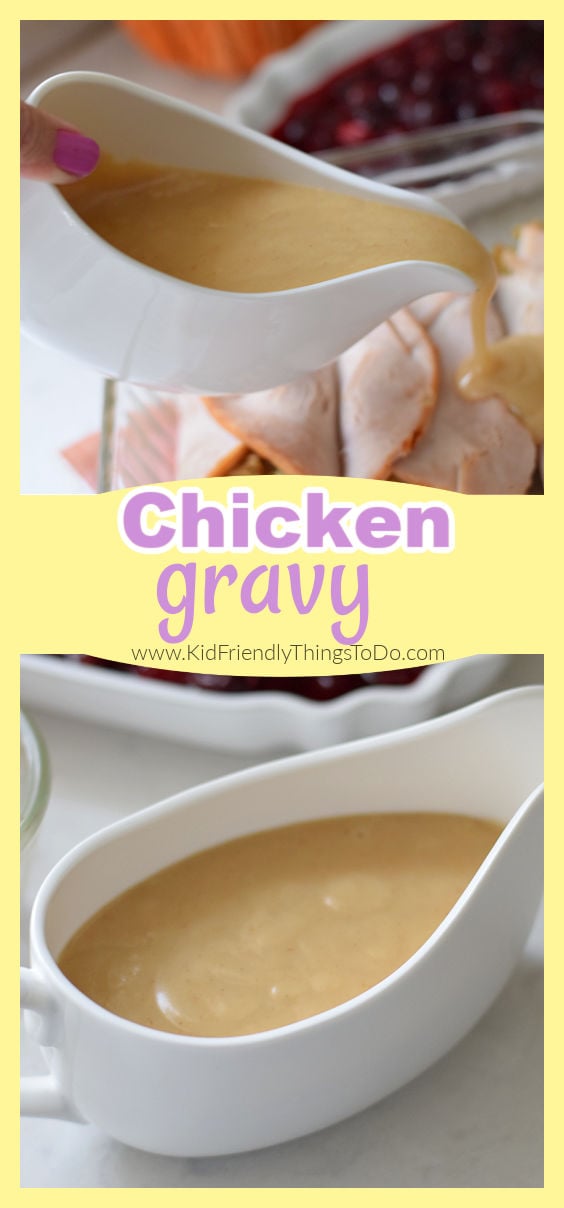 FAQs
Make Ahead and Storage:
Can I make gravy ahead of time?
Yes! You can make the gravy a day or two in advance. Store covered in the refrigerator.
Reheating: Reheat in a saucepan on low heat, with the lid on
Can I Freeze Gravy?
Yes. Gravy is a great recipe to freeze. Let it cool completely and store it in freezer bags, containers, or ice cube trays. When ready, place it in a saucepan with the lid on and warm over medium-low heat until heated through
Storing: Store leftover gravy in an airtight container in the fridge for a couple of days
What can I do to flavor bland gravy?
Use bouillon cubes! If it's a chicken or turkey gravy, use a chicken bouillon cube. If it's a meat gravy, then use a beef bouillon cube
What foods go well with chicken gravy?
open-faced turkey or chicken sandwiches
mashed potatoes
biscuits
meatballs
Tips and Tricks:
making a roux is easy to do. Just melt butter in a pan, and then add an equal amount of flour to the butter. Whisk until it is mixed in
If you find lumps in your gravy, which is usually the case, then you can strain your finished gravy into your gravy boat
adding another bouillon cube to the gravy is a great way to add flavor to the bland gravy
if you can't find the rotiserrie seasoning, just shake in some salt, ground pepper, onion powder, and a little bit of garlic powder
thin out the gravy by adding chicken broth or water
Are you ready to make this easy chicken gravy recipe? Then, let's make sure you have everything you'll need:
Here are my top Amazon Picks
(affiliate links)
Ingredients: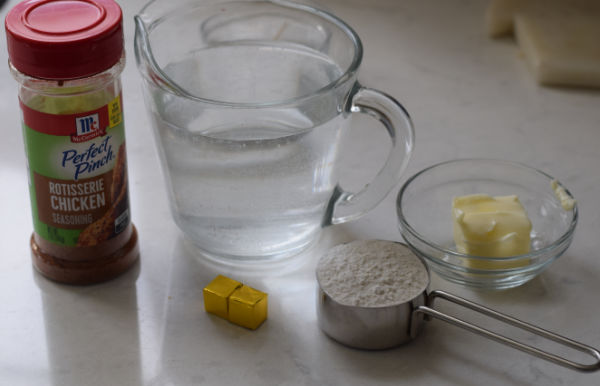 unsalted butter – I use unsalted so I have control over the amount of salt in my gravy. If you think it needs more salt, then you can always add it
all-purpose flour – this is going to be added to the melted butter to make a roux
water – this will thin the roux out
chicken bullion cubes – used for flavor and color
rotiserrie chicken seasoning – for a little extra flavor
How do you make Chicken Gravy without drippings?
In a nonstick skillet, melt butter over medium heat
Whisk in an equal amount of flour
Thin out the flour mixture by adding water and whisking constantly to avoid lumps
Add bouillon cubes and seasoning – continue to whisk
Strain any lumps out by pouring the gravy through a strainer over your gravy boat