Gingerbread Ornament Recipe – A Kid Friendly Thing To Do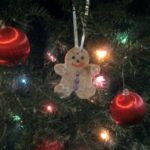 Posted by Melissa in Arts & Crafts, Christmas, Christmas, Craft, Craft, Easy Family Recipes, Game Ideas, Ornament Dough | 0 comments
These gingerbread ornaments would make a great gift tag for holiday presents! You can also use the gingerbread boy or girl as ornaments for your Christmas Tree! What a great keepsake ornament for you and your family. And, so easy to do with kids for the holidays! Here's a step by step instruction on  how to make these wonderful keepsakes!
This is a NO COOK Dough, and it drys hard.
Here's what you'll need:
1 c. flour
1/4 cup, plus 2 Tablespoons of salt
1/4 cup, plus 2 Tablespoons of hot tap water
1 Tablespoon of cinnamon -or more to add a darker brown color, and wonderful scent!
Food coloring is optional
*This recipe yielded 9 ornaments for our tree.
Decorating Supplies:
Puffy paint
Markers
Instructions:
Combine flour and salt. Add hot water, & food coloring if you want. (without food coloring, dough will turn a nice brown color with bits of cinnamon throughout).Knead for 5 minutes on floured board.
Now, to make your dough into ornaments for your tree!:
Here's what you'll need:
rolling pin
Gingerbread shaped cookie cutters.
Straw
Instructions:
Roll out your dough, just like play dough. Use your cookie cutters to make shapes. Once you have made your shapes, ***take the straw and make a hole for your ornament. Push the straw into the desired location. Some dough may be left in your straw. Just, tap it or squeeze it out before each ornament.
 Drying your ornaments:
You can let them air dry for 1-5 days. But, to speed up the process, bake them on a cookie sheet at 200-degrees for 3 hours.
Decorating your ornaments:
Before you get started! **Don't forget to put names on the back and the date for a keepsake!
Help kids by giving them a picture of a gingerbread boy and girl for inspiration.
Let kids use the puffy paint to create their own gingerbread boy or girl.
**Room Parents – Classroom Party Idea
These would make a great gift for kids to take home to loved ones! Just make the shapes at home, and bring things to decorate them for the party! Let the kids add their special touches, and don't forget name and date.
~Melissa
KidFriendlyThingsToDo.Com – Providing fun activities, recipes, ideas and crafts to do with kids! A site dedicated to giving you reviews on fun things to do with kids in CT – so you are not disappointed when you get there! Reviewed by mom, ,and kids.