DIY Garden Labels With Kid's Artwork Displayed – Kid Friendly Things To Do .com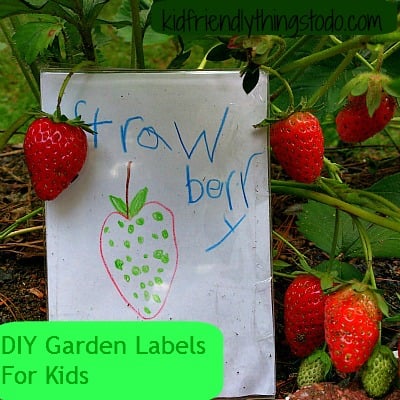 Posted by Melissa in Arts & Crafts, Home & Garden, Summer | 0 comments
Let the kids draw garden labels and display them in these see through plastic picture frames! I found these little plastic 3×5 picture frames at Wal-Mart for around $1.00. I thought they were perfect for the garden! I love the kids writing and drawings in the garden. Sure, from time to time, a little condensation creeps it's way into the frame. But, the water drops dry and the picture is still perfectly fine. Here's what the kids did to make these frames.
I first replaced each shiny picture insert with a sheet of white drawing paper
The kids then drew their version of the various plants that we had in the garden with the name of each plant
I used packaging tape to seal the open edges, but you could go as far as gluing the edges with water-proof glue to better seal them
That's it! we set them in the garden as sweet little labels that make me smile! 🙂
~Melissa – KidFriendlyThingsToDo.com – crafts, fun foods, recipes, party ideas, recipes, and fun things to do with your family!