Chocolate Covered Mummy Spoons – A Halloween Fun Food!
Posted by Melissa in Birthday/Holiday & Celebration Dish, Easy Family Recipes, Fun Food Crafts, Game Ideas, Halloween, Halloween, Halloween, Holiday Fun Foods | 0 comments
Halloween has got to be one of my all time F-A-V-O-R-I-T-E holidays! So, forgive me for being way early on this post! A little hint of fall in the air, just gets me so excited for Halloween. I made these Mummy spoons last February, and I've been dying to show them to you. Weird you say? Making Halloween food in February? Yep…I know. Taste of Home, a cooking magazine that I work with, was requesting Halloween food ideas. So, I switched gears in the middle of Valentines stuff, to Halloween. I've got 2 more spooky chocolate covered spoons coming your way long before the Halloween parties start up. Stay Tuned for those! Until then…here's the easy, peasy tutorial on these Halloween Chocolate Covered Mummy Spoons for your hot chocolate:
You'll Need:
White Chocolate Melts – Wilton Preferred and can be found at Michaels Stores
Plastic Spoons
Candy eyeballs
Squeeze tube for candy, or zip-tight bag
Wax Paper
Glass bowl with handle preffered

This is so easy, that it's only a 3 picture tutorial!
Melt the white chocolate melts in a microwave proof bowl, using the package directions
Place wax paper on a plate, and reserving at least 1/2 cup of melted chocolate, dip each spoon into the bowl of melted chocolate, carefully placing each spoon down onto the wax paper to dry
To speed up the drying process, you can pop the plate of spoons into the freezer for a few minutes
Once the chocolate has set up, grab your googly eyes. Dip one end of a toothipick into the melted chocoalte, and use that to place a dab of chocolate on the back of the eye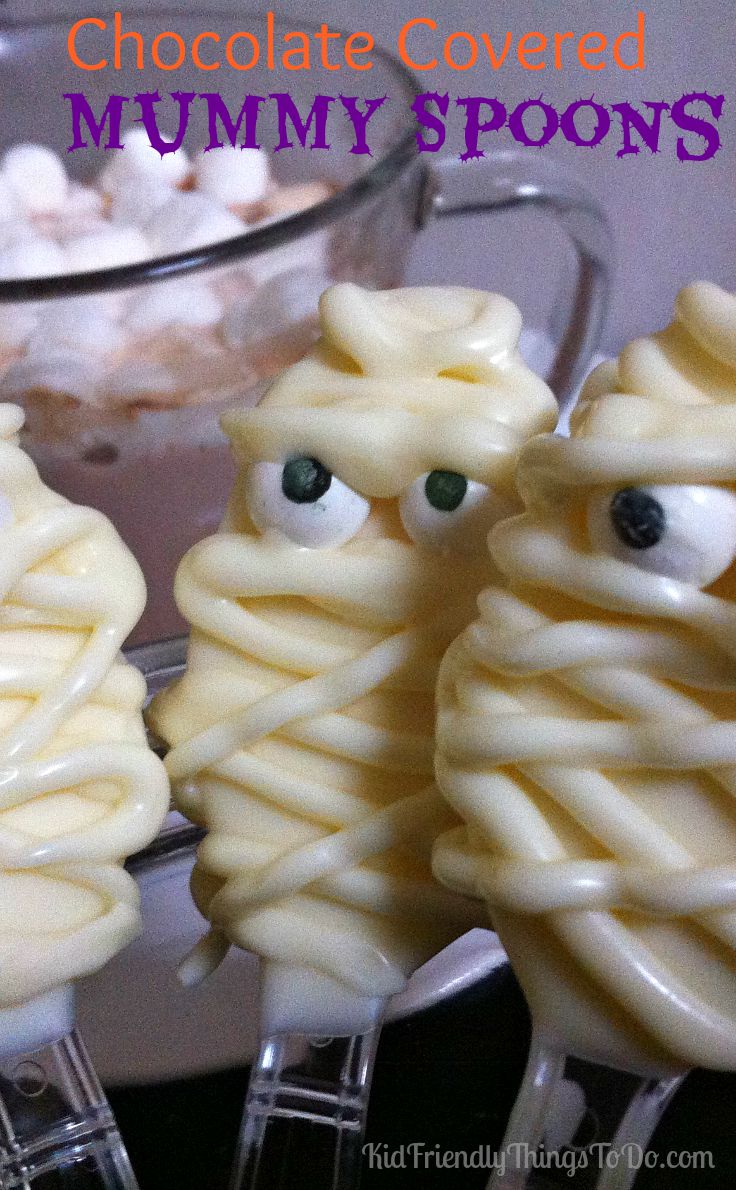 Place the eyes with the dabs of melted chocolate onto the spoons for eyes
Now, use the rest of the chocolate to make the mummy wrap. Place the melted chocolate into a candy squeeze bottle, or a zip-tight baggie with one corner cut off to dispense chocolate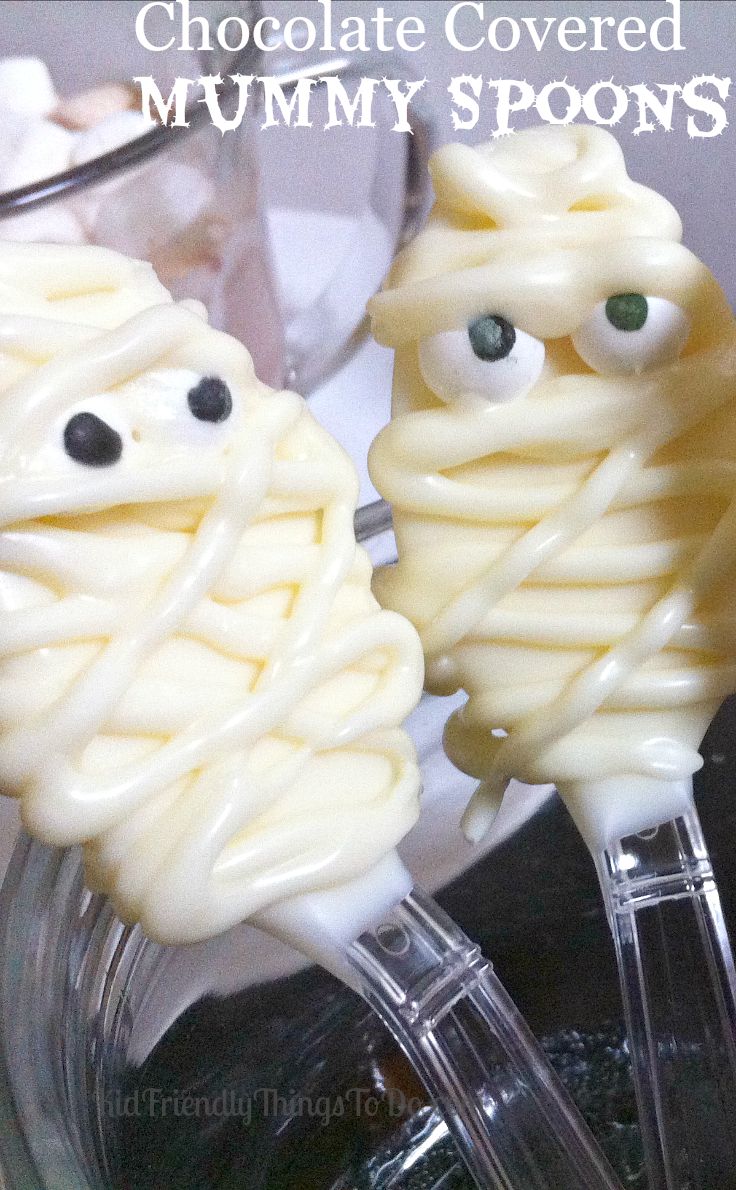 Make lines going back and forth across the spoon for the mummy wrap
You can let this air dry, or again, pop it into the freezer to set up
Store in an air tight container, in a cool place until you're ready for some Halloween Fun, or Spooky Hot Chocolate!

Some equipment you might need, or even want for this fun food:
~Melissa – KidFriendlyThingsToDo.com