It's about time that I showed you the Castle Cake that I made for my little guy last fall. Connor absolutely loves knights, dungeons, and anything midieval. So, it was only fitting that his birthday be a midieval theme, and of course we would need a castle cake!
Let me tell you, 99.9% of the castle cake ideas I searched for looked complicated and more fitting for a princess than a prince. It took some determination to find a simple, scary dungeon cake. Thankfully, I found a picture of a candy castle similar to this one. I couldn't find instructions to go with my picture, so I just used it as inspiration to make this Candy Castle Fortress! Any prince or knight would go crazy over this dungeon like castle. Scary, I tell ya!
You'll Need:
A box of cake mix + whatever the cake mix requires
2 Containers of Chocolate Frosting
1 Container of Oreo Cookies
Mini Hershey Bars -Honestly, I was in such a hurry that I did not pay attention to the amount 🙁
Kit-Kat Bars
Blue Sugar Crystals, such as Wilton
Equipment Needed
A Cake Pad – I used a silver one
Spreader for frosting
9×9 cake pan
[box] [/box]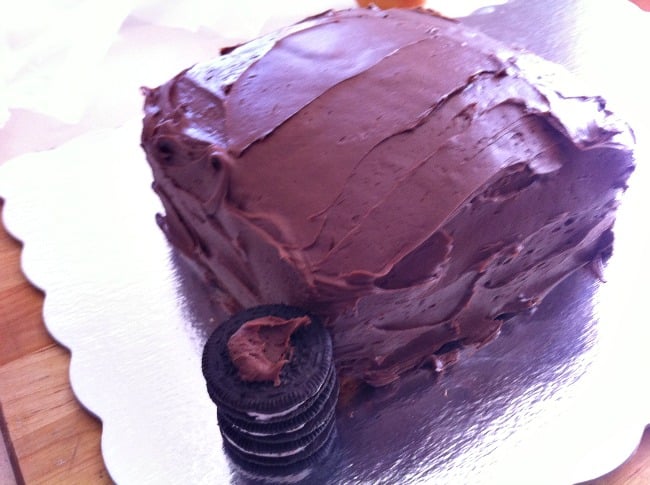 This is a little embarassing. Really, I could have used a better spreading knife to make this a little less sloppy looking, and took more time on pictures for you all. Sorry, that's me rushing, rushing, rushing! 🙁
First off, you'll bake your cake in 2 square 9×9 baking pans. Just follow the directions on the box
Once those have cooled off, stack them on your serving platter
I used a long rectangle cake pad, and I set the cake toward the back to allow for decorations and a bridge
Frost the cakes with plenty of chocolate frosting
Once your done frosting the cake, start stacking the Oreo towers – 1 for each corner – using chocolate frosting as glue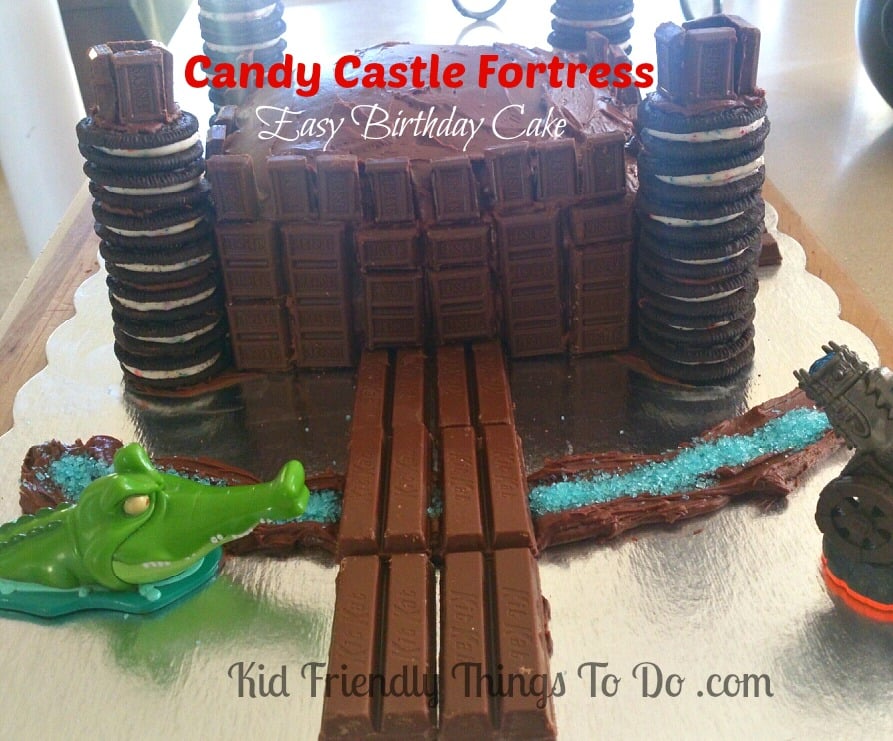 Spread a chocolate moat in front of your castle and sprinkle some blue sugar crystals on the chocolate. My moat was a last minute decoration. If I had to do it again, I might color some white frosing blue. Just a thought for you!
Next up, decide where you want your bridge and place your Kit-Kat bars (2 sets of 2) down as your drawbridge and bridge to your castle
Next up, your Hershey Bars. The amount might vary, depending on the height of your cake. With my cake, I basically used a column of 4 all around the cake. I only had room for 3 on top of the bridge
Then, I broke off individual rectangles of Hershey Bar and place them all around the top of the cake, and used 4 on top of each tower
This might take a little patience, and a lot of frosting, as some might topple off! But, you'll get there!
Finally, I used some toys the kids had around the house to finish off the scary fortress! That's it!
If you enjoyed this post on A Candy Castle Fortress Birthday Cake Decorated With Hershey Bars, Oreo Cookies and Kit Kat Bars!- then don't forget to follow along for more recipes, pary ideas, crafts, DIY, and so much more!
[box] [/box]