Make this unique treat holder for your Halloween party – or- classroom party!
I'm so excited at how pretty this one turned out! I think I'm going to try to make a dozen more for our Halloween party, this year! If you want to give this fun Halloween craft a go, take a look at what we did to make this one 🙂
You'll Need:
Glitter Paper – 1 sheet for the cone. We used silver for the cone, but purple would also be a great display!
Glitter Paper – 1 more sheet for the bottom – We used purple to contrast the silver
1 sheet of card stock or scrapbook paper for the brim of the hat – We used a great Halloween patterned piece of scrapbook paper with spider webs. If you want yours to be more durable, you could use felt, foam, or a stronger card stock here.
Scissors
Hot glue
Hole Punch
A round template to use for the brim
A ribbon to tie it all together
A bag of treats to go inside! 🙂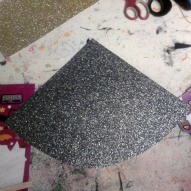 We started out by making a large pie piece shape from our silver glitter paper. It's kind of like a triangle with a curved bottom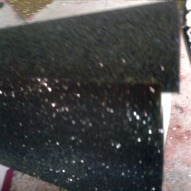 We rolled it up into a cone and secured it with hot glue, then trimmed the uneven ends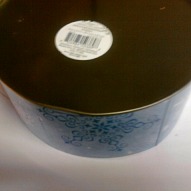 Then, we used an old circular tin that was larger than my cone by a few inches around, and traced it onto the back of the designed scrapbook paper – This will be the hat brim
We also used the same template to trace a matching circle in the purple glitter paper for the bottom of the hat.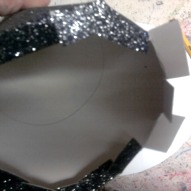 Then, we cut tabs into the bottom of the cone, and folded them inward. We traced the cone onto the center of our brim circle. This gave us the right size hole to cut out of the center of the larger brim circle.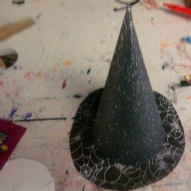 After cutting the brim out, and the middle circle, we slid it over the cone. The brim is a little wrinkled on ours. I left it, because I like the wrinkled look.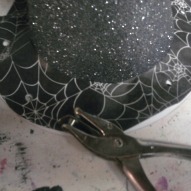 We placed the bottom together with the witch hat brim so we could punch holes that would line up together to thread the ribbon through, later.
 After placing the treat bag inside, (leaving a couple of inches of the ribbon hanging at the first hole for a bow) we pulled the ribbon through and around each hole, then tied it together with the piece we left at the beginning, making a little bow on top. I hope that makes sense?!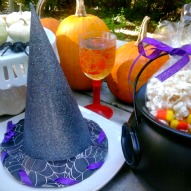 It's so pretty displayed on a plate! Think of different shades of witch hats all lined up on a party table! It would make such an impression! Send me a picture if you do it! I would love to see it! [email protected]
~Melissa – KidFriendlyThingsToDo.Com – A site providing kid friendly crafts, recipes, and ideas for the whole family! Plus, lots of fun things to do with kids in Connecticut, Massachusetts, and Rhode Island are reviewed, including pictures for a better visual!