Add some simple embellishments to a classic gift bag, and Voila', you have the cutest gift bags for your Halloween party. Try these ideas to make your own Gift Bags for Halloween – a bat, ghost, and owl bag for this Halloween.

Gift Bags for Halloween
Are you looking for Halloween crafts? Check out some of my other fun Halloween projects…
For The Owl: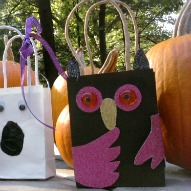 Supply List –
Purple glitter paper
Silver Glitter paper
Gold glitter paper
Warm Glue gun and glue sticks
Orange glass beads – these come in bulk, and are sold as vase fillers – usually found in the floral section
Black paper bag
Little black paper dots – I used some from a bag of confetti. You can also use a hole punch to punch out black circles from black construction paper
I flipped the purple paper to the back and drew wings with a pencil, and then cut those out.
I used gold glitter paper for the nose – It's just an oval that's a little wider on the top
I used silver glitter paper for the two ears, and glued those to the backside of the front of the bag, on either side of the handle
Eyes:
Using the purple glitter paper – I cut out a circle a little larger than orange glass beads
I used orange glass beads for the eyes
I used black confetti dots for the center of the owl eye
For The Ghost: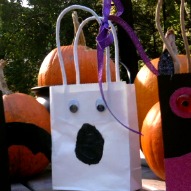 Supply List:
Craft clue
Black Glitter
Eyeballs
Ribbon
White Paper Bag
I used glitter for the mouth – I used glue to make an oval shape for the mouth, and sprinkled black glitter
I used oval google eyes for the ghost eyes and hot glued them
I finished this ghost off with a purple hair ribbon tied to the handle of the bag
For The Bat: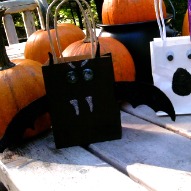 Supply List:
Liquid Craft glue
Black felt
Spray adhesive
Green glass beads – find these in the floral department. They are usually called vase fillers
Silver glitter
Black paper bag
I used green glass beads for the eyes – I hot glued them in place
I used a black confetti dot for the center of the eye, and embellished it with silver glitter
To make the fangs and the eyebrows, I drew the shapes of fangs and eyebrows on the bags with glue, and sprinkled silver glitter over the glue
For the wings and bat ears, I cut black felt pieces to resemble bat wings, and black felt ears (basically a really tall and skinny triangle), then I sprayed – spray adhesive (you can also use hair spray) onto the felt, and sprinkled black glitter onto the felt pieces.
Let those dry before gluing them on with hot glue
Here's a template for bat wings from DLTK
There you have it! A Scary Bat, Cute Ghost, And Mischievous Owl for your party! Enjoy!
~Melissa – KidFriendlyThingsToDo.Com –