Woo! Hoo! My recipe is on the stands! Chocolate Lover's Strawberry Shortcakes is in the April/May issue of Taste of Home Magazine! I'm so excited to be part of such a great magazine. Taste of Home is such a wonderful group of people, and I'm proud to call them my Taste of Home family!
*Fair Warning! This is the longest prelude to a recipe, I've ever written! Feel free to bypass the story, and go straight to the recipe card. I won't be offended. I promise. However, If you want to hear my story about this dessert, then read on: 🙂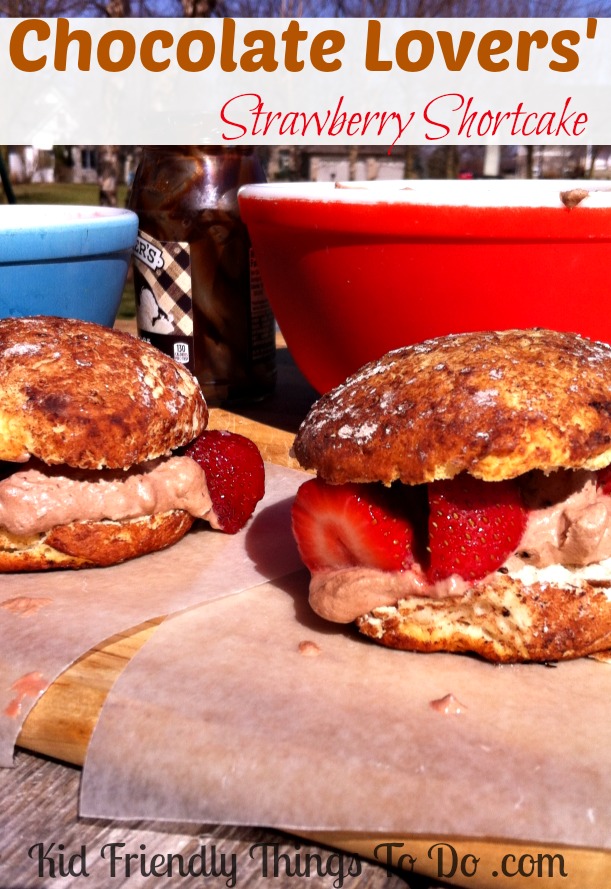 Before last February, I had only emailed back and forth with different editors from the Magazine. I had never actually met anyone in person. That all changed when I attended a Taste of Home session at the Build Your Blog Conference in Salt Lake City. I sat in the audience listening to tips and techniques from James Schend, an Editor from Taste of Home. I fervently took notes on how to improve as a food blogger. James had a wonderful slide presentation with many great pieces of advice for us bloggers.
After the session was over, I waited in a long line to introduce myself to James. I had spoken to James through emails, and I couldn't pass up the opportunity to say hello in person. I also wanted to let James know that I was in driving distance of Wisconsin. You know, just in case Taste of Home ever needed my personal assistance! I'm so glad I did. Because, when I rattled James' brain on who I actually was, and, after we talked recipes for a moment, he said something like this…"Melissa, your Shortcake recipe was in my slide presentation, today!" It took a few moments to process what he was saying. I'm pretty sure my mouth was hanging open, and I looked pretty dumbfounded. James took me up on stage and using his computer, brought my recipe up on the big screen, one more time! Wow! What are the odds that recipe would be displayed at the show I was attending? I was beyond excited. So…
of course, I quickly ran up to a perfect stranger and asked them to take a picture of me under the slide.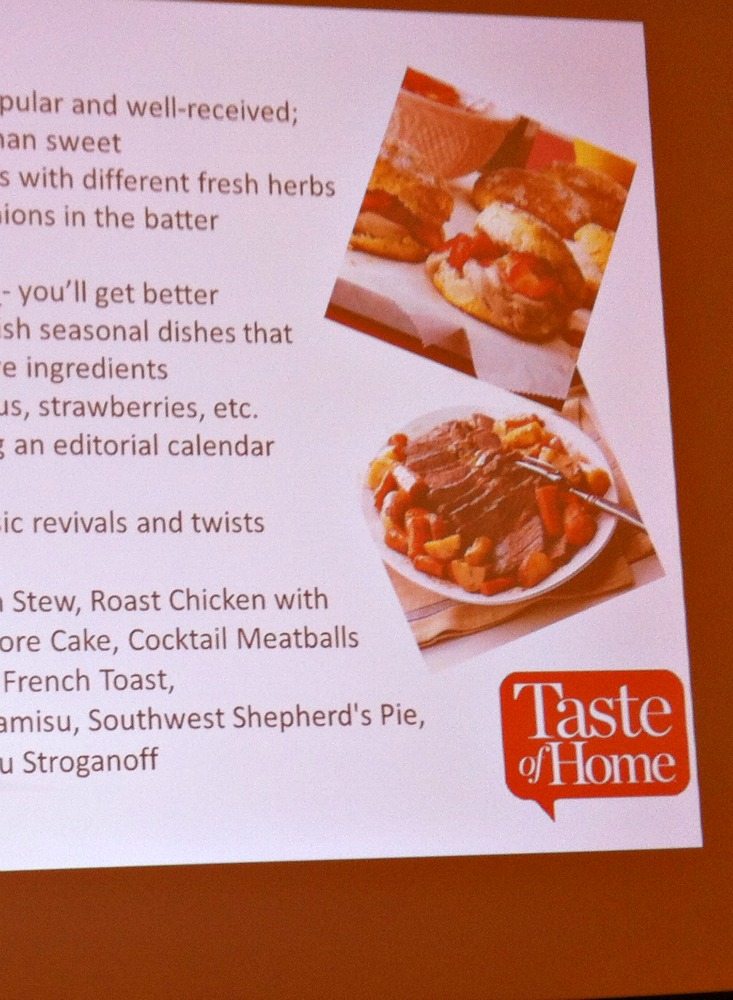 Then, I promply posted these two pictures on Facebook for my family and friends to see!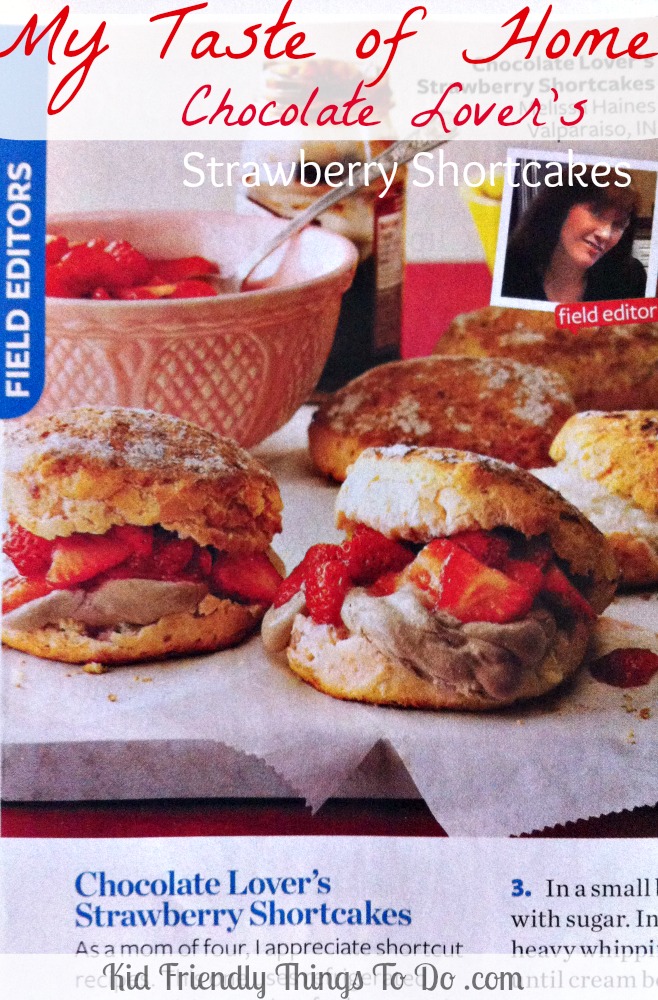 When I got back home, I emailed James to thank him, and he emailed me the photo the magazine would use. Here's a link to the photo on their site. Boy, do they do a beautiful job. The food photography is just gorgeous. The April/May issue is full of delicious "warm weather is coming" recipes! This post is NOT an advertisement. I won't get any payment if you buy their magazine. I just truly love their recipes. Nothing but the best comfort, home cooked meals from Taste of Home! Here's a link to their website.
And, here's the recipe for Chocolate Lovers' Strawberry Shortcake!
Chocolate Lover's Strawberry Shortcake
Author:
Prep Time:

20

Cook Time:

15

Total Time:

35 minutes
Biscuits
1/4 cup

of confectioners' sugar

1 Tbsp

. of baking cocoa

1

(16 oz.) tube of large buttermilk biscuits such as Pillsbury
Strawberries
2 cups

of sliced fresh strawberries or

2 cups

of frozen, thawed and drained

1 Tbsp

. of sugar
Chocolate Whipped Cream
1 cup

of heavy whipping cream

2 Tbsp

. of baking cocoa

1/3 cup

of confectioners' sugar
Optional Topping
Hot Fudge Sauce, such as Smuckers
Instructions
Preheat the oven to 350 degrees
In a medium sized bowl, mix the cocoa and confectioners' sugar together
Dip the refrigerated biscuits into the chocolate mixture
Bake according to the package directions
Allow the biscuits to cool off a little bit
Meanwhile, place the strawberries in a large bowl and toss with sugar, leave the strawberries alone to absorb the sugar
In another mixing bowl, make the chocolate whipped cream by beating the whipping cream and chocolate together until it thickens up
Add the confectioners' sugar and continue to mix until you see soft peaks
Assemble the biscuits by, splitting the biscuits open, scooping out some whipped cream onto one side, adding a scoop of strawberries, and closing it up with the other half of the biscuit
Serve with additional whipped cream, strawberries, and hot fudge
If you liked this Chocolate Lover's Strawberry Shortcakes recipe, then follow along with me, and sign up for my free newsletter to get free recipes, crafts, and more right to your inbox!
[box] [/box]