Last week, I was in a panic trying to get this fun food idea made, photo shoot done, and ready for the kids to come home from school. It's so hard to make fun treats with them stalking me. Thankfully, my mission was accomplished…just in the nick of time! These little Rice Krispies Treat Lambs are going to look just downright adorable sitting out at your parties! They are the perfect treat for Easter, Spring, or your Farm Animal Party! Come on in, and I'll share the how to: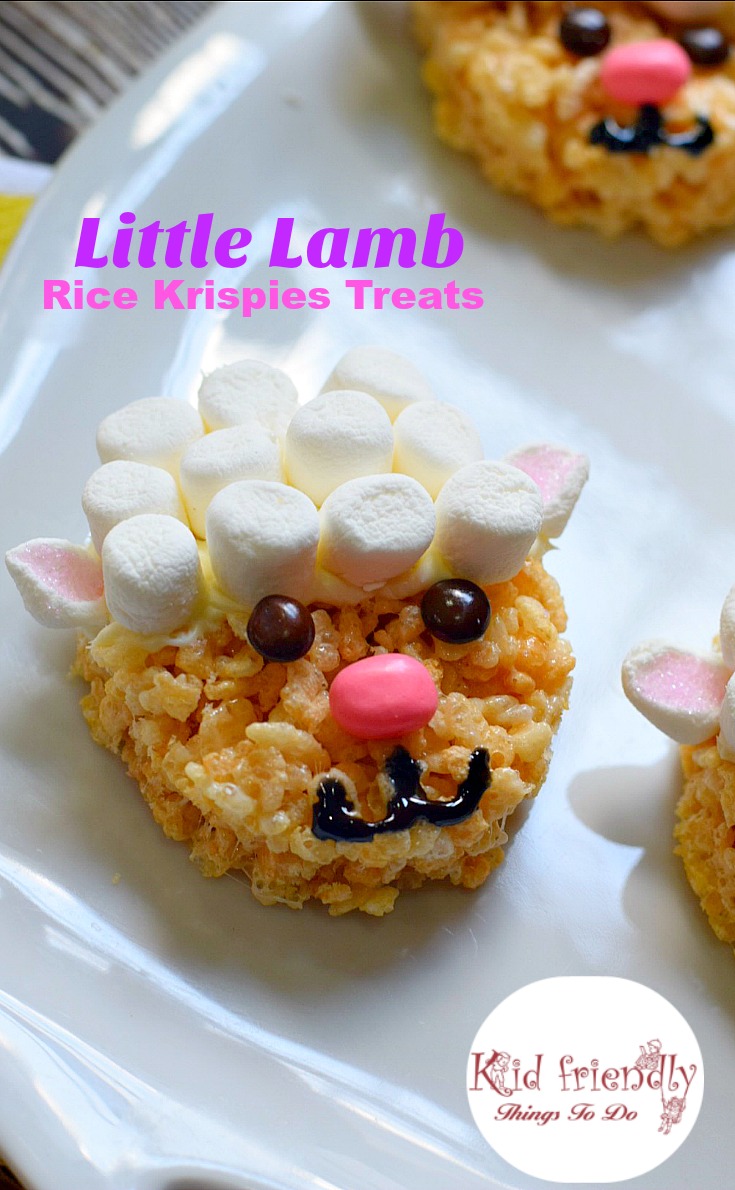 Here's What You'll Need To Make These Little Lamb Rice Krispies Treats:
You should get about 1 dozen lambs
To make the Rice Krispies
3 Tbsp. of unsalted butter
4 cups of fresh mini marshmallows – plus the ones for decorating – *just grab a couple of bags
6 cups of rice Krispies cereal
For Decorating: In no certain order from my random brain
wax paper
9×13 pan
a 3-inch circle cookie cutter
spray butter
brown mini M&Ms
pink jelly beans
a tube of black frosting or gel
vanilla frosting – store bought is perfect
more mini marshmallows
pink sugar crystals
scissors
Now that that's over with…onto the fun!
Making the treat and forming the circles:

melt the butter in a medium saucepan
add the 4 cups of marshmallows and stir until smooth
remove from heat
pour your cereal in a large bowl and quickly add the hot marshmallow
Stir, stir and stir some more, until it's all folded in
line the baking pan with wax paper, I always spray it with the butter just to be safe
pour the warm rice Krispies mixture into the wax lined pan and spread out
use a silicone spatula to even the top out
now that the rice Krispies has formed to the pan, lift the wax paper out and onto a work surface
spray the cookie cutter with butter and start cutting out circles
you'll have leftover rice Krispies. You can mold them to make more or eat them 🙂
Decorating the circles to make them into lambs:
The really fun part!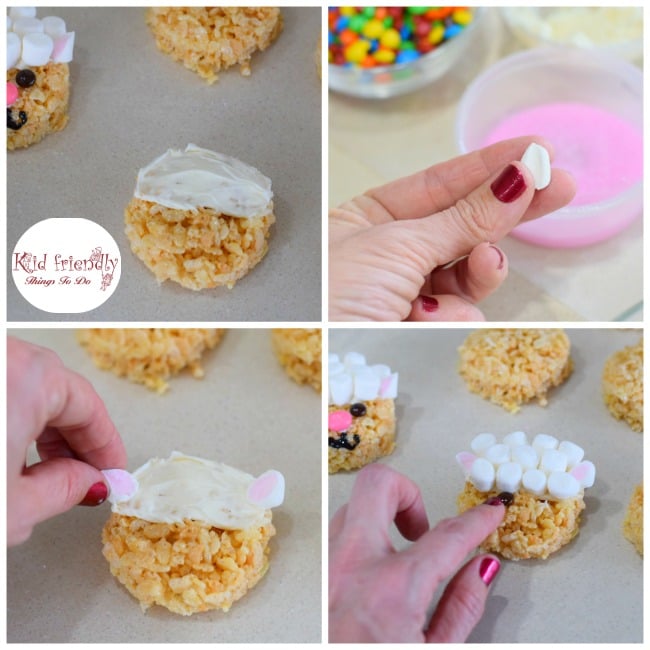 grab some more wax paper and set it out on the counter to place the circles onto
Ears:
cut 1 dozen mini marshmallows at a diagonal, and stick the sticky part from the center into the pink crystals
Putting it all together
Fluffy hair:
spread vanilla frosting over the top 1/2 of your circle
Place the lamb ears a little above the bottom of the frosting
place the mini marshmallows upright all across the vanilla frosting
Face:
use a dab of vanilla frosting as glue for the mini M&M eyes, and the pink jelly bean nose
Use your black frosting to make a smile under the nose – basically an uppercase J and a backwards one

That's it! I love simple and fun! Happy Easter!

Don't forget to follow along with me on my social channels and join my newsletter group for instant updates.