How To Dye Easter Eggs with RICE {Super Fun and Easy!} | Kid Friendly Things To Do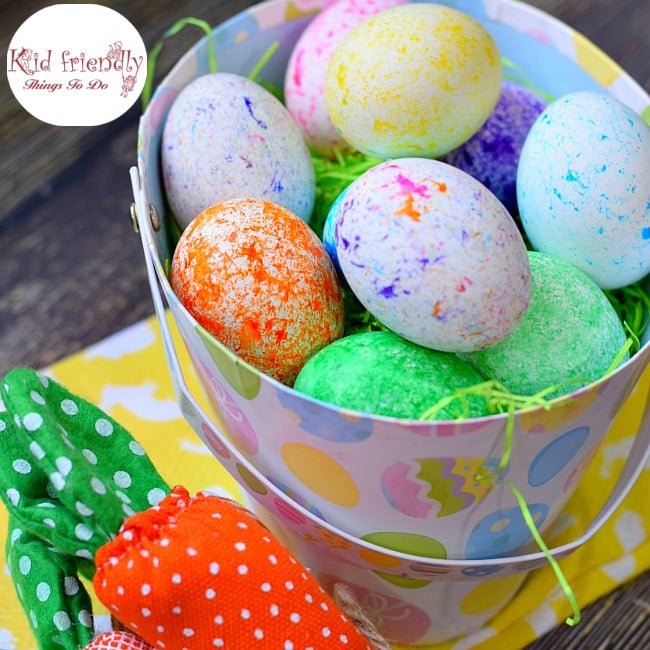 Posted by Melissa in Arts & Crafts, Easter, Easter, Game Ideas | 14 comments
I'm so excited to share this post on How To Dye Easter Eggs With Rice. I love, love, love this technique. Little kids could totally do this, and big kids will absolutely have a ton of fun. Come on in and I'll show you my super "over the top detailed" how to on using rice to dye Easter eggs.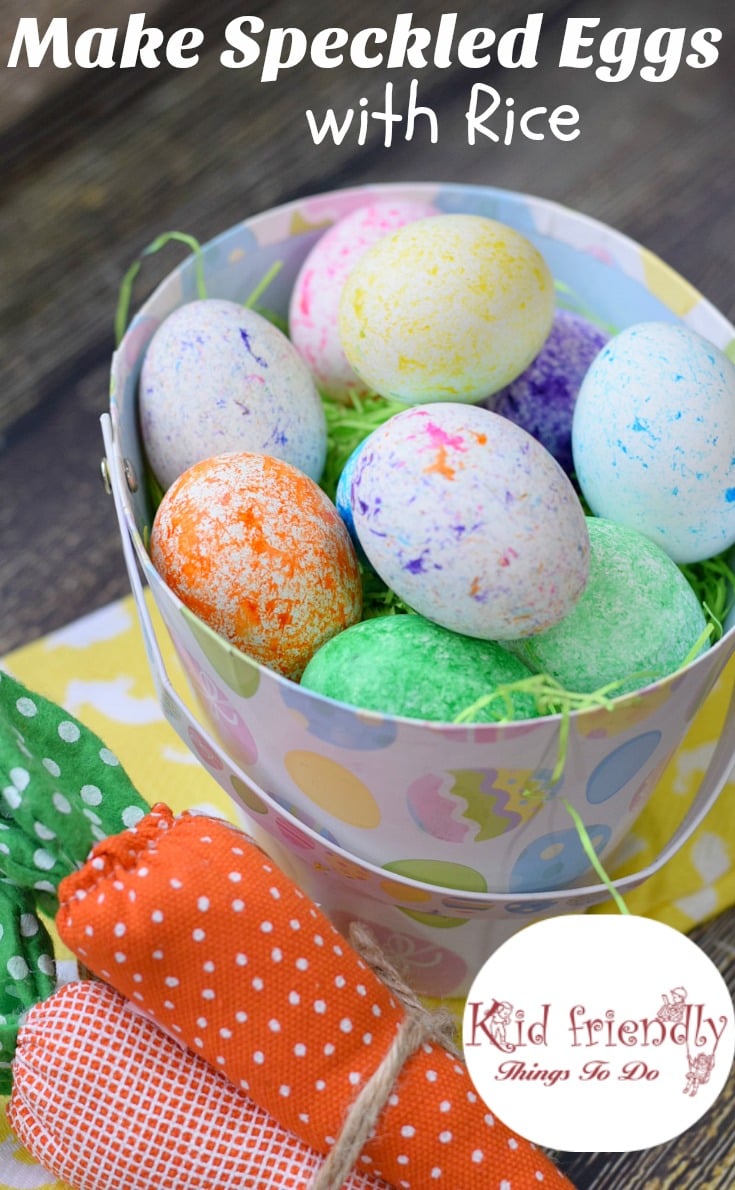 Dyeing Eggs with Rice is so much fun to do, and requires so little cleanup. That last part is a huge bonus.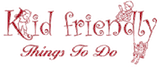 MY LATEST VIDEOS
Here's a little video tutorial to help get you started on Using Rice to Dye Easter Eggs…
(I'll show you how to combine the rice colors to make a multi-colored Easter Egg in the next Video – below)

Here are my top Amazon Picks for this fun idea:
Here's What You'll Need To Dye Easter Eggs With Rice:
dry rice – (uncooked) get a big box. You're going to want to do a lot of different colors
food coloring – I used gel. I haven't tested it with liquid
several bags to bounce the egg around in (paper or plastic bags zip tight bags) *Plastic is my new preferred way

something to stir the rice with – Straws are easy and disposable.
* The video shows me shaking the color in, but I also sometimes used a long plastic straw (rinsing it between colors)
boiled eggs
*if you don't have rice, you could probably get the same effect from dried beans
(optional) gloves to keep your hand free of the food dye

*(a good *substitute for paper bags would be Gallon size zip-tight plastic baggies) – we used gallon baggies the last time we tried this technique and it made life so much easier.
Instructions on How to Dye Easter Eggs with Rice with a Paper Bag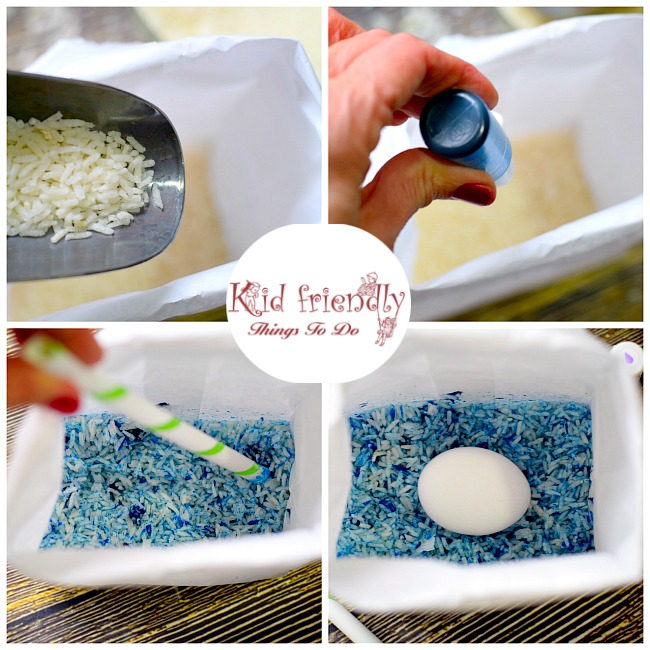 For Paper Bag Users…
If you use paper bags…Just because you're working with kids and we all know how unpredictable that can be…a safe bet would be to double your bags for added strength. I only used 1 bag and it was fine, but better safe than sorry, right? After 1/2 dozen uses, you'll want to switch out to a new bag. The seams start giving out in the bottom and some grains of rice sneak out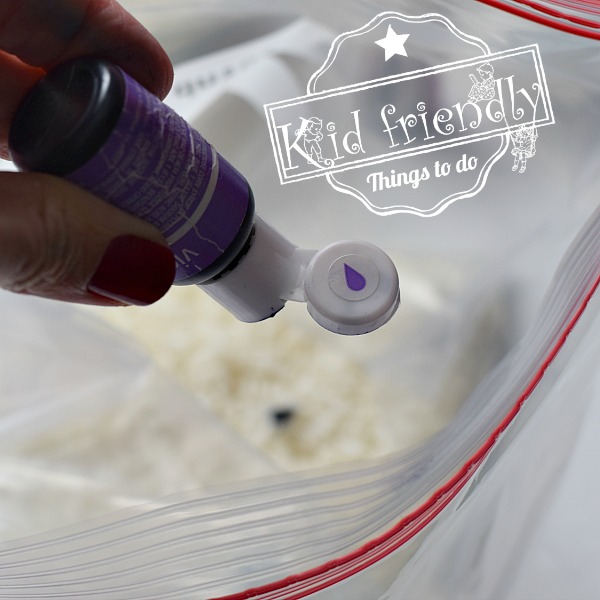 *Another (more carefree) alternative to paper bags is a disposable zip-tight baggie (Instructions for plastic baggies will be posted below the paper bag tutorial)
Pour about 1 cup of uncooked rice into the bottom of a paper or plastic bag
*For paper bag users – I actually think that it's better if you don't fold the bag over like I did in the photograph. The egg needs to have room to bounce around in there so it can turn around and get coated. Just experiment with it and do what works best for you and your kiddos
squeeze a liberal amount of food coloring onto the rice. I squeezed 4 to 5 drops of gel onto the rice
use a straw or spoon to stir the color – coating the rice. It's ok if it's not evenly dispersed and the gel has a few clumpy patches. That actually makes for a better pattern
place the egg onto the rice in your bag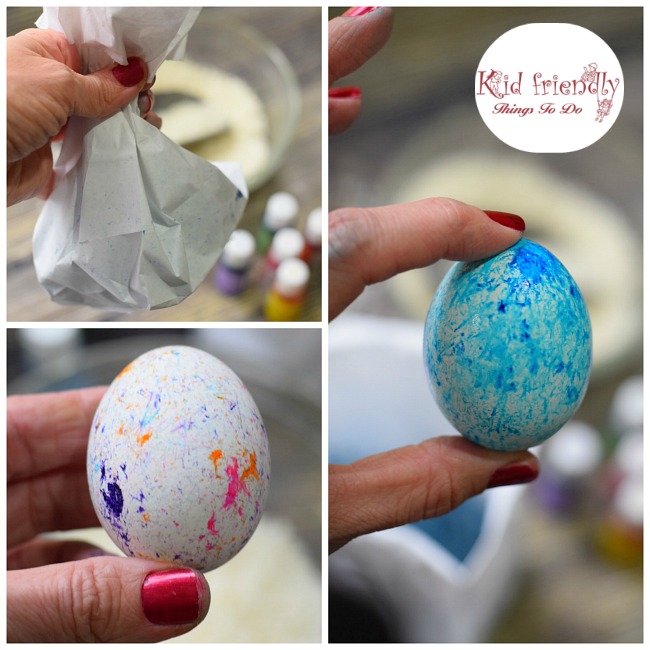 Do you see how the bag has some space between my hand and where the egg is probably sitting? You want some room for the egg to bounce around. My kids had a tendency to choke down on the egg. Try to give the egg room to bounce around
Put one hand under the bag, close the bag up. Hold the top with your other hand and shake – bouncing the egg around on top of the rice. The longer you shake the egg around the more color you'll transfer onto the egg. You can control it. Shake less for a speckled egg, more for an all over color.
Open the bag and see your creation!
You'll have some rice to pick off of the egg, and you might get a little food coloring on your fingertips
The dye will still be wet at first. Use your fingertips to pick the eggs up as I show in the pictures above. You don't want to smudge your creation. Put the egg back into the carton to dry before you handle them.
Also, when you're done admiring your fun eggs and are ready to eat them, rinse them before peeling. There will be some excess dye that will wash off. The eggs actually take on another cool design when rinsed.
*THE HOW TO ON A MULTI-COLORED EGG is below…
When you're done, just throw the bags in the trash, or find a fun use for colorful rice – you could place it in glass vases for a spring decoration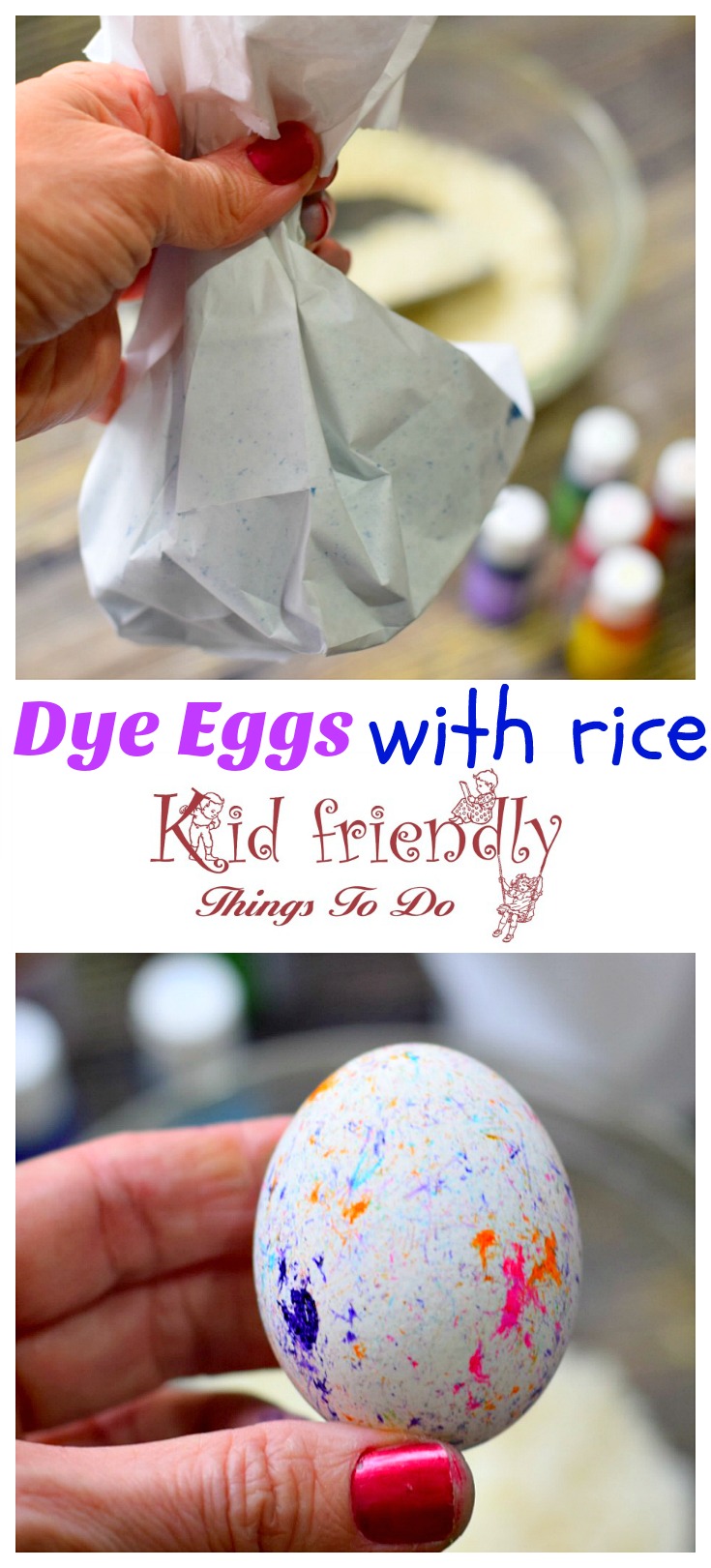 Now…I'll share the how-to on making the multi-colored egg
Here's a quick video to show you how to easily combine the colored rice and make beautiful Multi-Colored Speckled Eggs…
I first made several bags all with one different color of rice per bag
I loved getting the speckled look from each color, but I thought it would be really fun if you could get a multi-colored egg, too
So…I took an extra bag, and I poured a little bit of rice from each of the single colored rice bags into one. Does that make any sense at all? I hope so
I shook the egg around just as I did with the previous eggs
You could mix and match colored rice all day long. I know my Ella Bella would love to pair purple with pink, and the boys might even do superhero colors together, like black and yellow. The possibilities are whatever you can imagine.
For kicks and giggles…After some of our eggs sat in the fridge for a couple of days we rinsed them. The designs were fun that way, too. They took on a more polished look
*One more note – Sorry…I worry that's what I do. I mentioned this before, but in case you missed it…I did notice that after 1/2 dozen times, the seams in the bottom of the bag started to give out a little. A small amount of rice started sneaking out of the seams as we shook the bag. It's a good idea to have extra bags, so when this happens you can just transfer your colorful rice into a new bag. Voila'
Instructions on How to Dye Eggs with Rice in a Plastic Bag…
Now, Those that want to use Gallon Zip tight Bags to dye Easter Eggs with Rice…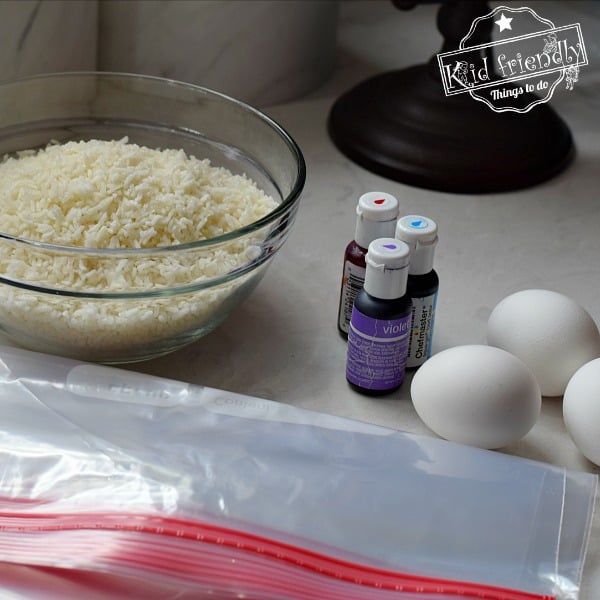 You'll still need boiled eggs, food coloring, and dry rice. You'll also need gallon size zip tight bags.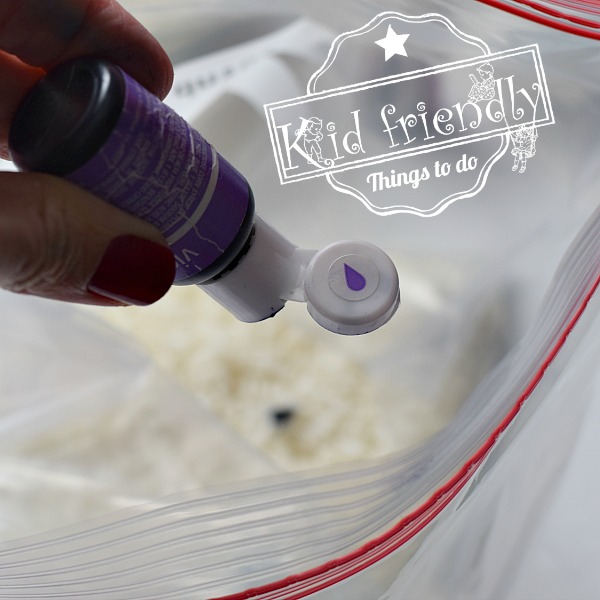 You'll do the same exact thing as you would a paper bag, but you don't have to double up the bags and you'll have less risk in the bag breaking open
Place about 1 cup of dry rice into the plastic bag
squeeze a liberal amount – a good 3 drops or more of food coloring. I used gel colors and usually ended up with a few globs that wouldn't mix in. That's fine if you don't mind more vibrant and larger areas of color. If you want true specks than use a straw or spoon to really transfer the color around so you don't have more in one area than others on the rice.
Place a hardboiled egg on the colored rice
Zip the bag up and have fun shaking it around – just be sure not to crack the egg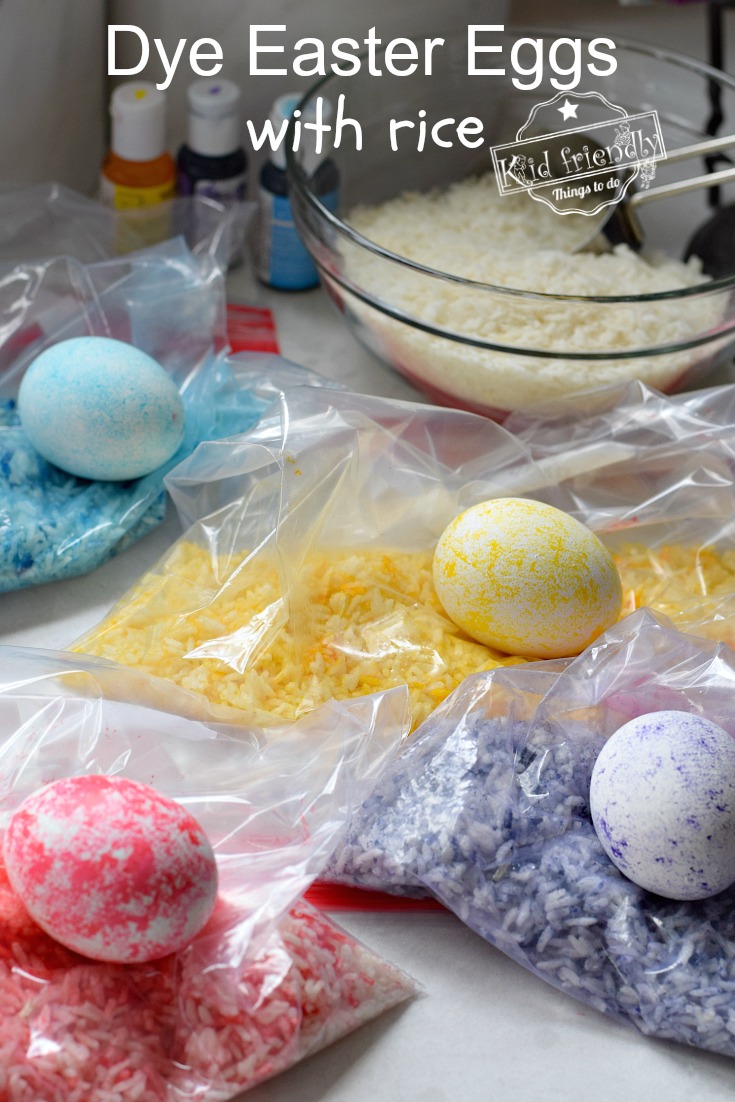 You can do several colors. Just follow the above instructions per color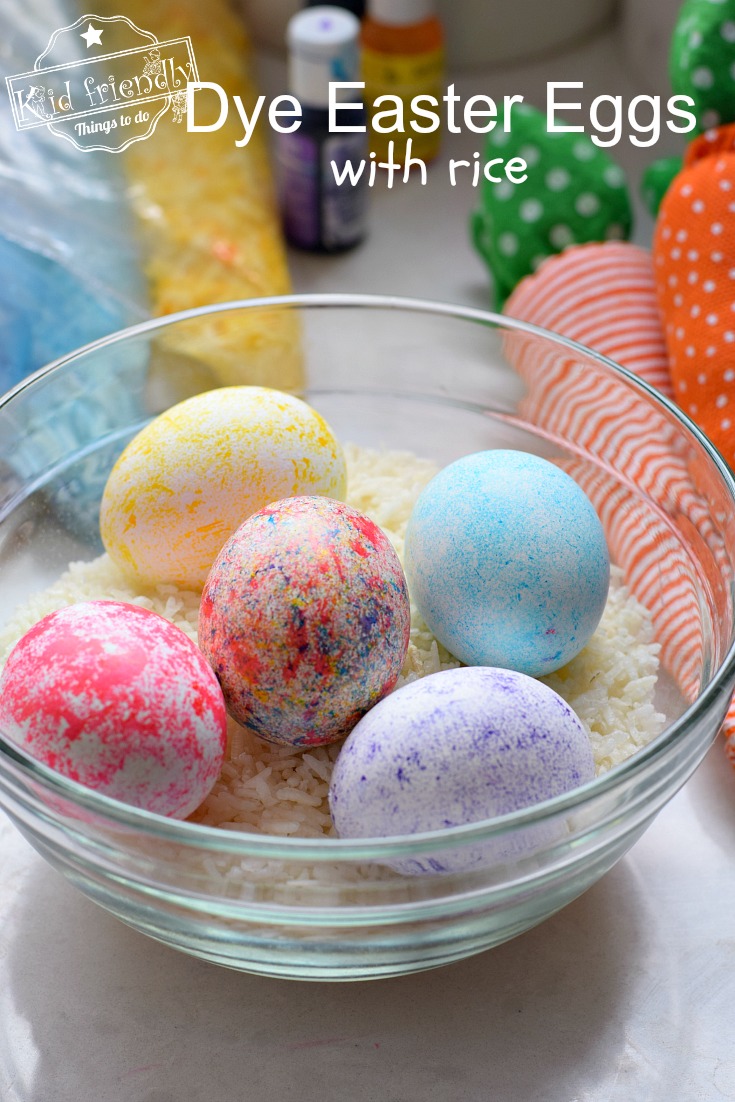 Now, onto a multi-colored egg with rice…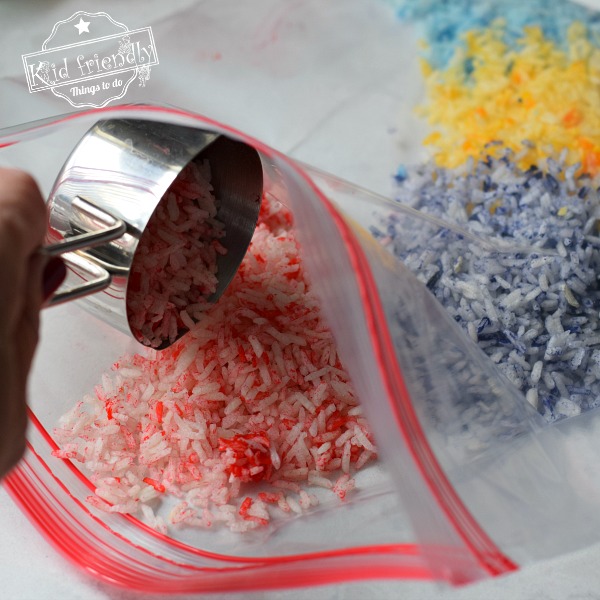 Place some of the colored rice from each color into one bag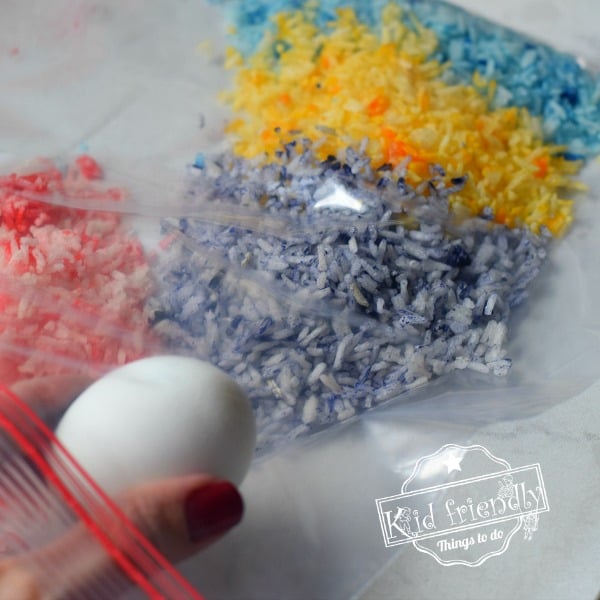 Place an egg in the bag and shake it around the rice. Give it some good shakes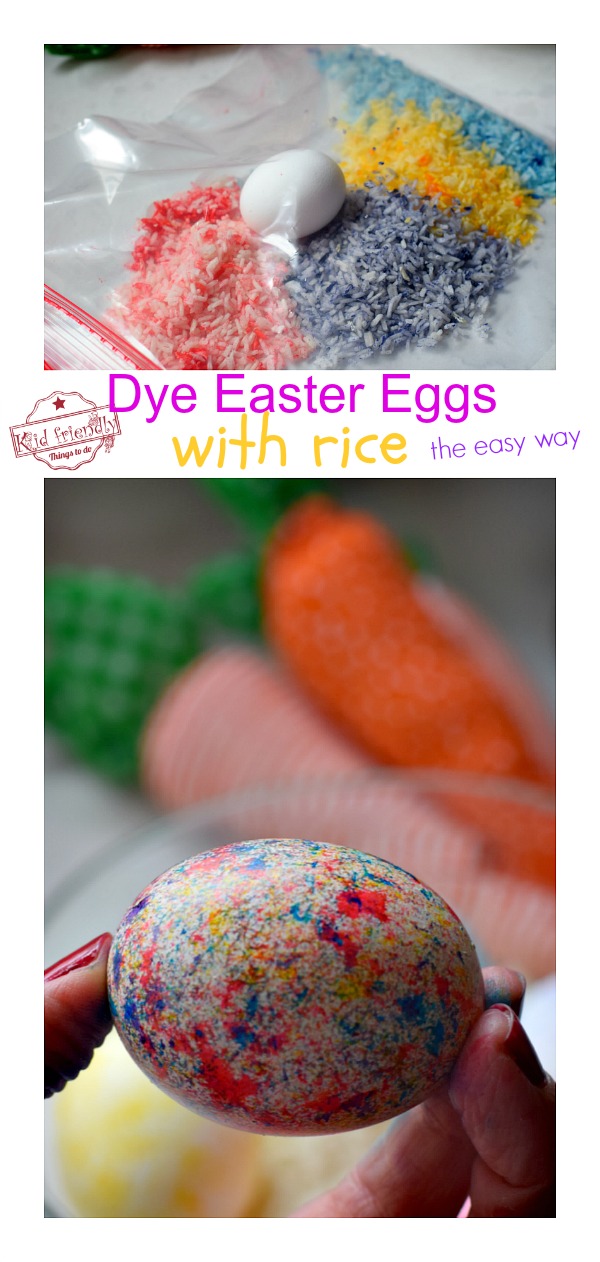 How Many Times Can You Use the Same Bag of Rice to Dye the Eggs?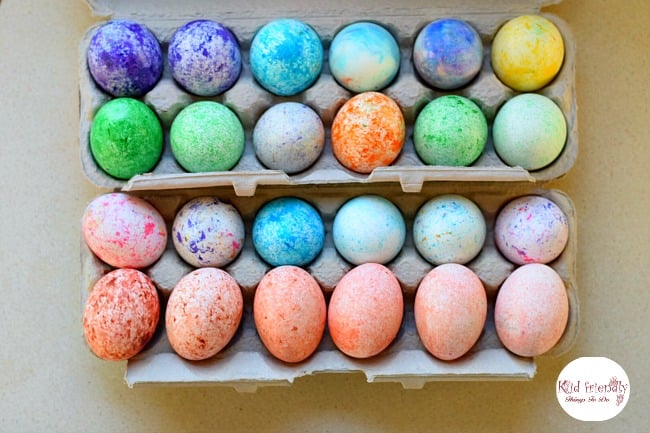 The bottom row is red colored rice from the first egg to egg number 6 in the same bag – (Going from left to right). The color gets less vibrant each time, but it's still pretty. I actually kind of like the less intense colored eggs
As you can see, we've gotten a little carried away with egg decorating. The kids are having too much fun. I see some deviled eggs, egg salad sandwiches and whatever else I can whip up with boiled eggs in our future.

*Note – if the rice stops transferring color onto the eggs, then the dye has dried or it's being absorbed into the rice. This might happen after 1/2 dozen egg colorings or so. Just add fresh food coloring and stir into the rice. You're good to go again
Can you Store the colored boiled eggs?
You can store boiled eggs in the refrigerator for up to one week.
Happy Easter Everyone! Thank you so much for stopping by. I hope you'll have as much fun as we did with this new dye Easter Eggs with Rice technique.
~Melissa – Kid Friendly Things To Do