Normally mice in the kitchen – a bad thing. But, these guys are so darn cute! They can stay a little while. At least until the kids discover them, that is. Then, I don't think they'll have a fighting chance. With a Red Velvet Oreo Cookie as the base, a Hershey kiss as the head, and a chocolate covered Maraschino Cherry as the tail, this mouse contains all of the kids favorite sweet treats in one! Here's the step by step for these Chocolate Covered Cherry Valentine Mice On A Red Velvet Oreo Cookie :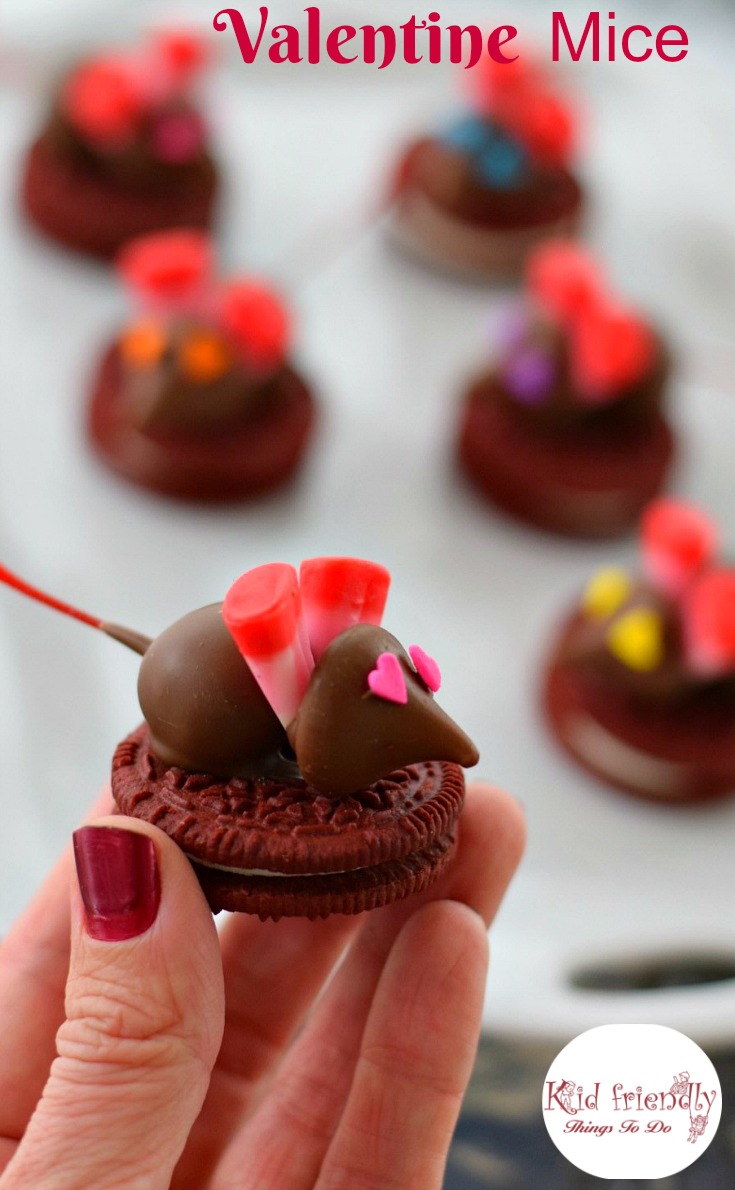 Here's What You'll Need For These Valentine Mice:
(makes a whole lot, but you can adjust the amount to whatever you need)
A bottle of Maraschino cherries
Wilton chocolate melts – Milk Chocolate color – melted according to package directions in a bowl for dipping
Red/Pink/White Candy Corns
Heart Sprinkles
A Bag of Hershey's Kiss – * you could substitute the cherry Hershey's Kiss – that would be yummy
Red Velvet Oreo Cookies, or your favorite Oreo
Extra Equipment Needed:
glass microwave proof bowl
wax paper
paper towel
On To The Mice: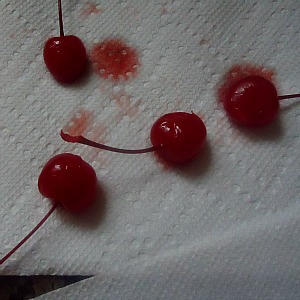 Dry the Maraschino cherries with paper towels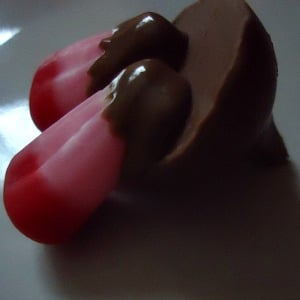 Dip 2 candy corn tips into the melted Wilton Chocolate and place on the Hershey's Kiss – set down to dry
Dip a cherry into the melted chocolate and place on the Oreo base
While chocolate on the cherry is still warm and melted, quickly add the Hershey Kiss head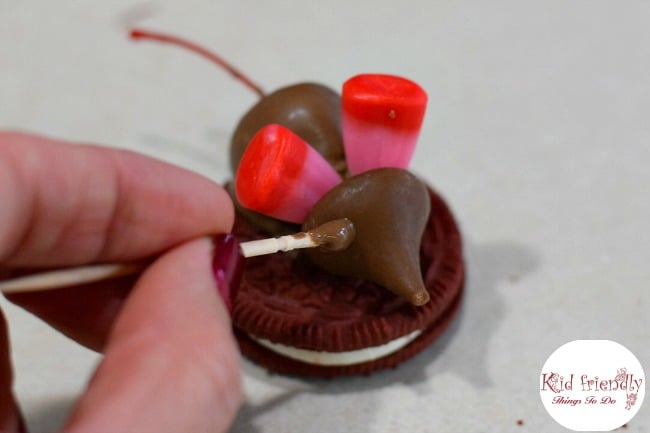 Place a toothpick into the melted chocolate and dab the chocolate onto the Hershey Kiss face in the place where eyes would go
Add the sprinkles to the melted chocolate to make little eyes

Here are my top Amazon picks for this fun Valentine Mice treat:
(affiliate links)
[box] TRS&linkId=e82e25e97e9e519130edfc564d1a5da8&show_border=true&link_opens_in_new_window=true"> [/box]
~Melissa – KidFriendlyThingsToDo.Com – Fun Food, Recipes, Party Ideas, Kid Friendly Crafts, and fun things to do with the whole family.