Making A Leprechaun Hat For St. Patrick's Day – A Fun Craft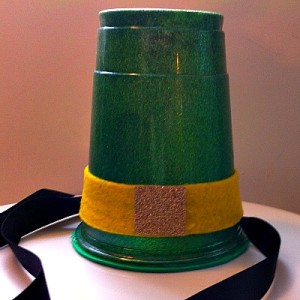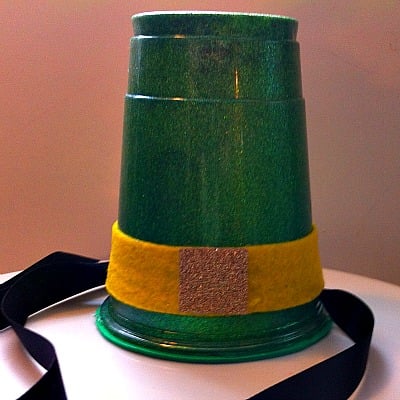 Posted by Melissa in Arts & Crafts, Craft, Game Ideas, St. Patrick's Day, St. Patrick's Day | 2 comments
These are so darn cute! I can definitely see this as a great activity for the classroom on St. Patrick's Day. Or, add these leprechaun hats to your St. Patrick's Day dinner party! They're simple to do. Here's the step by step with pictures.:
The NO GLUE NEEDED version is at the bottom of this post!
You'll Need: you can find all of the items – minus the solo cup – at Michael's Craft Store
Clear solo cups
Elmer's Spray Adhesive
Green Glitter – Extra Fine
Ribbon for the strap – 2 pieces cut about 12″ each (you can substitute elastic cording which can be found in the jewelry making section)
Green Foam Pieces
Hot glue and glue gun
Yellow Felt with adhesive backing
Gold Glitter paper (you could also substitute green felt with adhesive backing to skip a hot glue step)
Now, on to the cute little hats!:
First, spray the inside of the entire cup with spray adhesive
Sprinkle a generous amount of glitter into the bottom of the cup
Set a piece of foam over the mouth of the cup. Holding the cup and foam together, shake the glitter around the cup until it covers the inside.
You can repeat with more spray and glitter in places that aren't quite green enough
**An adult may want to do this part of the process – this adhesive spray is super sticky and gives off strong fumes
Now, using some muscle, punch 2 holes into either side of the solo cup for the straps to go into
Tie a knot in your ribbons and slide them through the holes with the knot on the inside of the cup.
**If you use and elastic strap then just use one piece and slip through the holes on either side – tying a knot to secure each side.
Now turn the cup upside down onto your green foam and using a marker outline the outside of the cup
Cut this circle out of the foam and glue it onto the opening of the cup with hot glue
Place the cup upside down and cut an inch wide strip of yellow felt. Place it around the bottom of the hat
Cut a little 1″x 1″ square of gold glitter paper and hot glue to the yellow strip
You're done!
A super easy version for the classroom:
Substitute clear cups for  green paper cups in the Paper Goods party section of the Dollar Tree , Wal-Mart, or a Party Store
You won't need to add the green foam to the bottom of the cup, because you won't have any glitter inside
Substitute the gold glitter paper for a green felt piece with adhesive backing 🙂
No gluing required!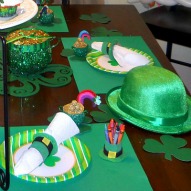 Find more St. Patrick's Day Crafts under Crafts/St. Patrick's!
~Melissa – KidFriendlyThingsToDo.com – kid friendly crafts, party ideas, recipes, fun foods, and fun things to do with the whole family!