Hand Print Flower Bouquet Valentine Holder and Keepsake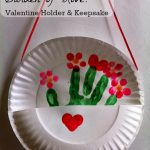 Posted by Melissa in craft, Game Ideas, Valentine's Day | 0 comments
I love hand print crafts. So, when I saw this idea in a craft book Valentine's Day by Kathy Ross, I was all over it!
This Valentine hand print craft would be a cute Valentine Card Holder and then a treasured keepsake. The flowers are even made from thumbprints. Here's what I did to make this paper plate craft:
You'll Need:
Green Paint – I used glitter green paint
Red, Yellow, and Pink paint – another good color would be lavendar
2 Paper plates
Ribbon – about 2 ft. long
hot glue
scissors
Instructions:
I painted my little boys hand green and pushed it down onto the middle of a paper plate
I let that dry
Then, I took the red, orange, and pink paint out and we made hearts with thumbs and flowers with finger tips
Flowers are just 5 fingertips with an orange fingertip in the center of the circle
Hearts are 2 thumbprints to which I painted the point at the bottom with red paint
The cover is a paper plate that is cut in half and then one half is flipped over and glued to the bottom section of the hand print plate – so the rims are facing each other
We made one more thumbprint heart in the middle of the outside plate for a simple Valentine decoration
I added ribbon with hot glue to the back of the hand print plate, so I can hang it on the wall
That's it!
Happy Valentine's Day
~Melissa – KidFriendlyThingsToDo.com
Linking Up To