This Pop-Tart Valentine House is possibly one of the cutest gingerbread houses we've ever made. It's perfect for any age and so easy to make. Adults will love how quickly this cute house comes together and the kids will have so much fun making it. A great idea for any holiday party or just a fun craft at home.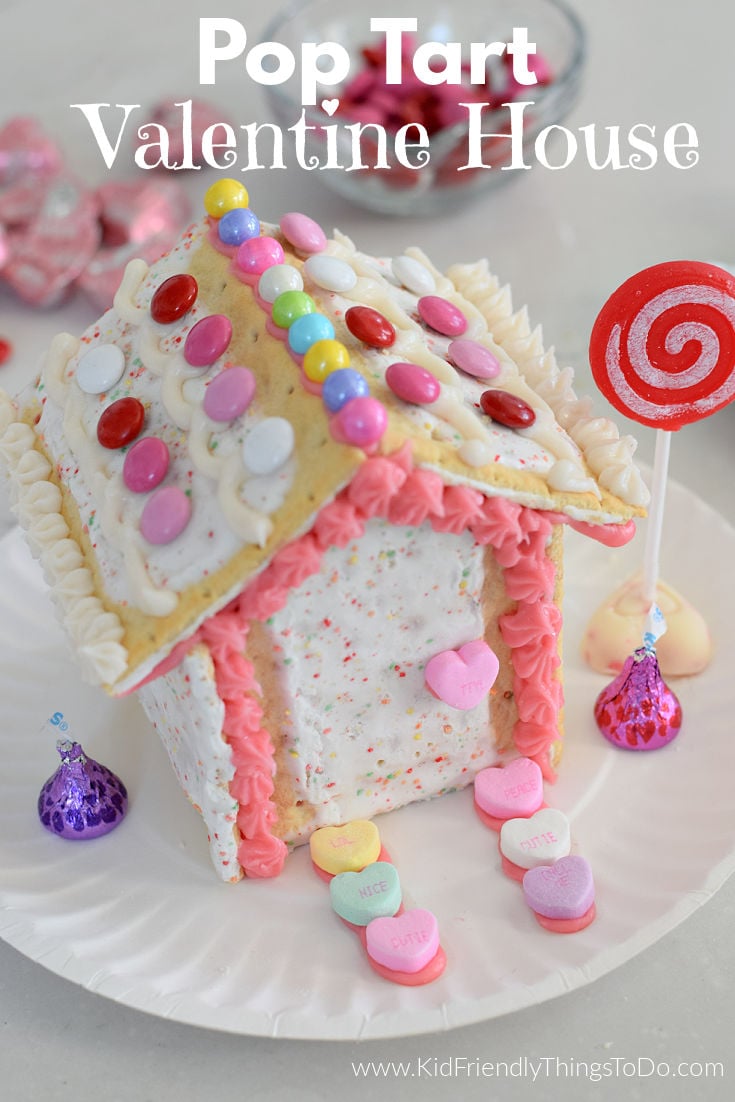 Pop Tart Valentine House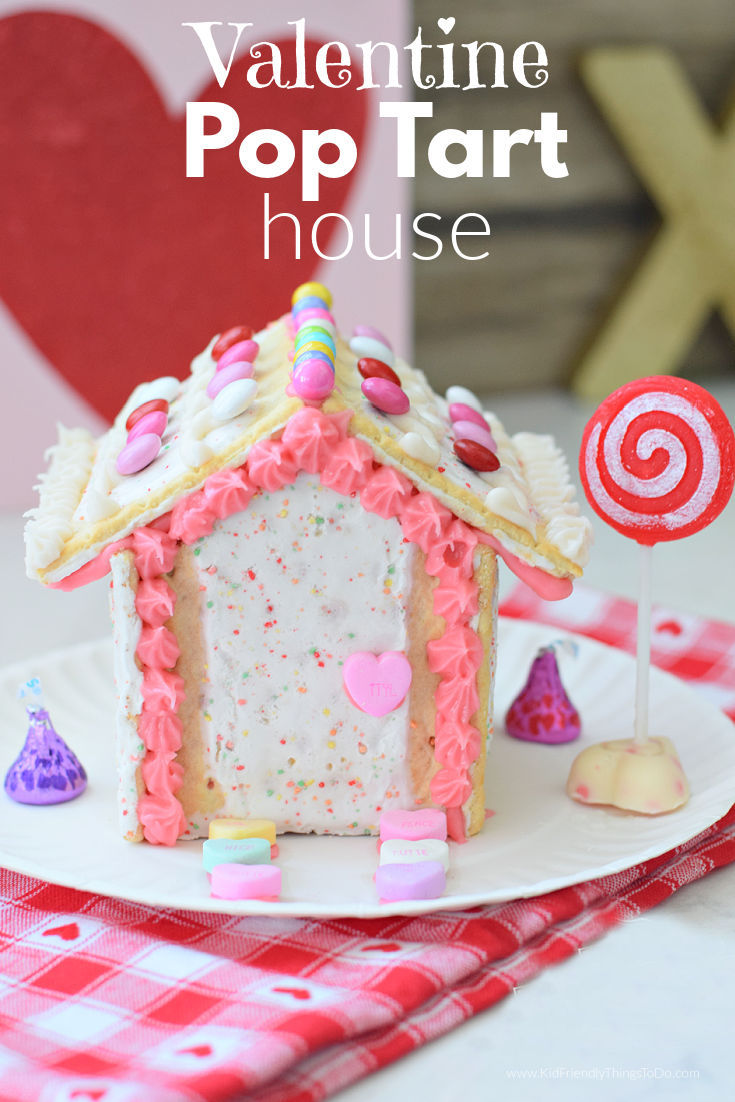 If you are looking for cute Valentine's Day craft ideas to make with the kids, you might like some of my other posts, like – Easy and SweetLollipop Flower Idea for Valentine's Day, How to Make a Flower Pen, How to Make a Flower Pen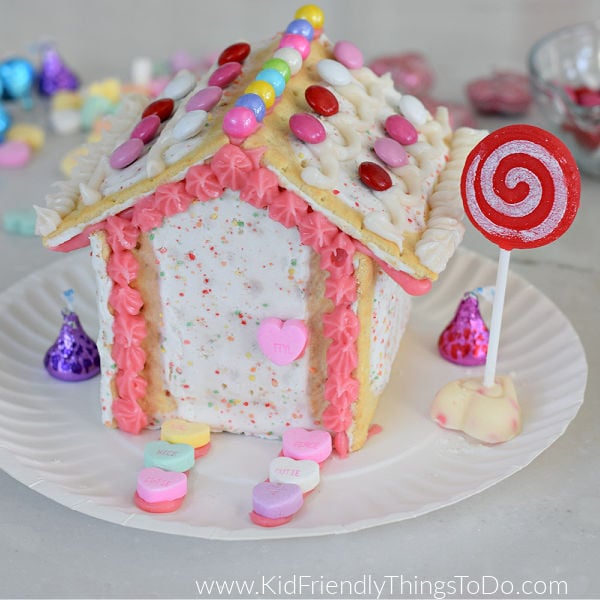 How Many Pop-Tarts Do You Need for a Pop-Tart House?
You'll need 6 pop tarts for a Pop-Tart House
How many Pop-Tart Houses can you get out of One Box of Pop-Tarts?
The number of pop tart houses you get from one box will vary. Smaller boxes containing only 8 pop tarts will yield 1 house, but a 20 oz. box of 12 pop tarts will yield 2 houses. You can find larger boxes of pop tarts at most warehouse markets where you can purchase them in bulk. For example, Costco sells a large box of 48 pop tarts which you can get 8 houses from.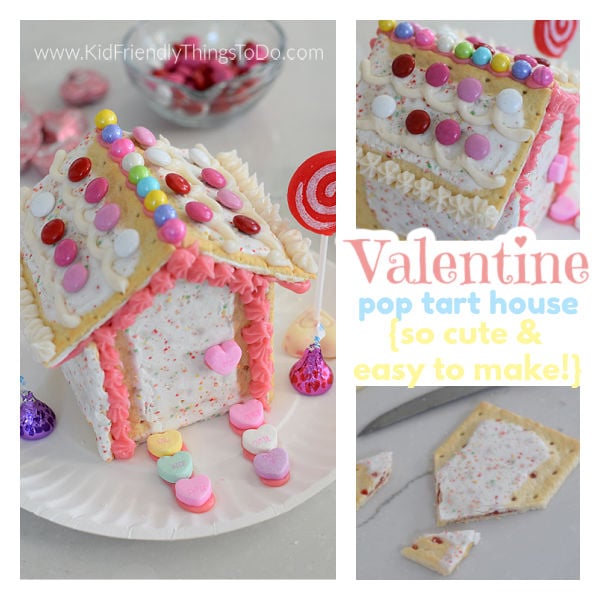 Tips and Tricks for making Pop-Tart Houses
use pre-packaged icing bags. I found mine in the baking aisle. Wilton makes them and they come with 2 plastic tips which are perfect for decorating and creating
you can get candy from multiple sources. I found a lot of my grocery store, but the lollipops and sixlets were found on Amazon
paper plates or trays are perfect for holding your pop tart houses – so note below
*get strong paper plates or a paper plate holder to go under normal paper plates for added strength
I found that large chocolate candy was perfect for holding lollipop trees. I tried marshmallows as a base, but the lollipop kept tipping
using the star tip on the icing bag makes a fancy cover-up the seems – where the edges of the pop tarts meet
Why Make a Pop-Tart Gingerbread House instead of a Graham Cracker Gingerbread House?
The biggest reason to use pop tarts instead of graham crackers is the ease of cutting
edges of the pop tarts stay up when glued together with icing where graham cracker tends to be a bit harder to get to stay up during the first stages
pop tarts are already decorated with icing – just add more icing and some candy for more crafting fun
Here are my top Amazon Picks for these houses:
(affiliate links)
Are you ready to make these cute Pop-Tart houses? Let's make sure you have everything you'll need…
for 1 house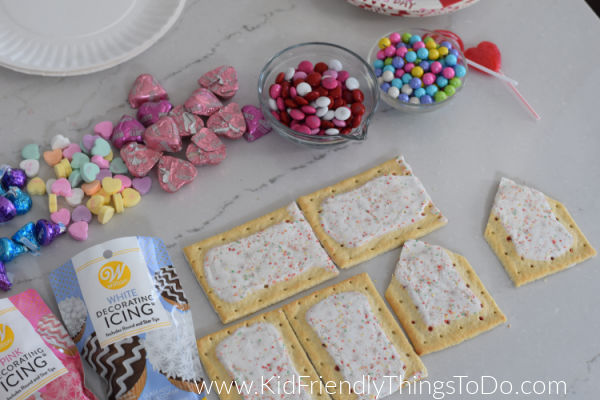 6 pop tarts
knife
decorating icing in a piping bag
writing and star tips are suggested
various candy to decorate with
paper plates or tray – it is suggested that you use a strong paper plate that can be moved easily with the weight of the house or a paper plate holder
Instructions for the pop tart house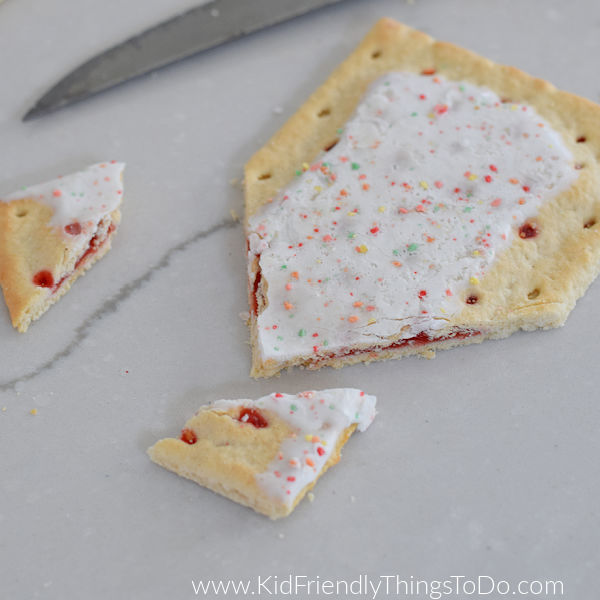 Cutting the pointed pieces for the roof
adults – use a knife and a sawing motion to cut the corners off of 2 pop tarts – making a point for the peak of the roof
Assembling the house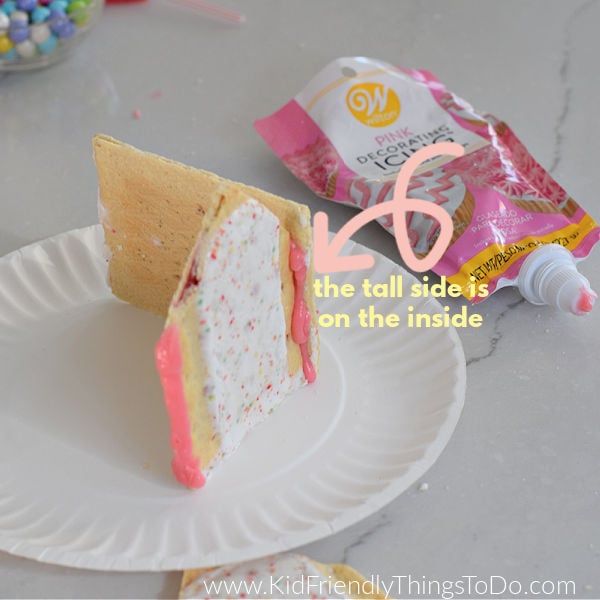 *This order is important so the roof pieces will fit properly
use a writing tip to place the icing on one or both sides of the peak (tall roof ) pieces you just cut
on your plate, push the icing onto the inside of another pop tart piece with is setting on its longer side
you should now have a tall (peak) piece connected to a short piece making an L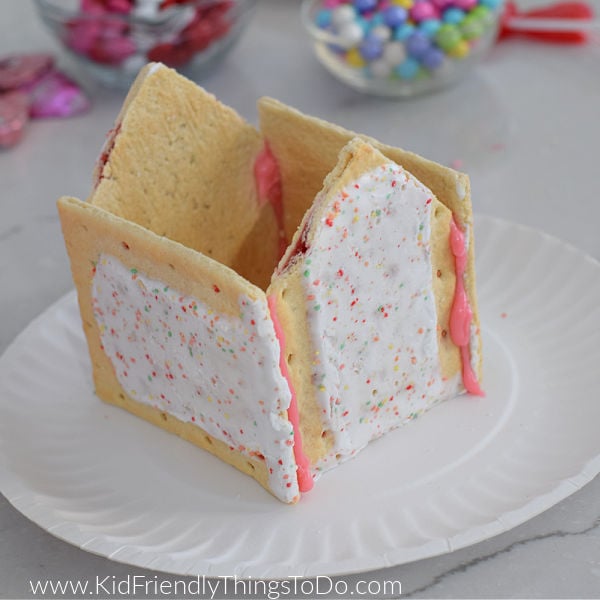 continue going around with icing, gluing the pieces together to make 4 sides (2 tall, 2 short sides)
continue around until you have a frame of the house
pipe icing onto the roof peaks and place 2 more pop tarts onto the roof
Decorating:
the star tip can be used to make fancy corners of the house – simply squeeze icing through the tips. The tip will form a pretty star type decoration
use your Valentine's Day candy, assorted candy, and more icing as glue to decorate your house
Lollipop Trees
twist the end of a lollipop stick slowly – back and forth into a sturdy piece of chocolate
Walkway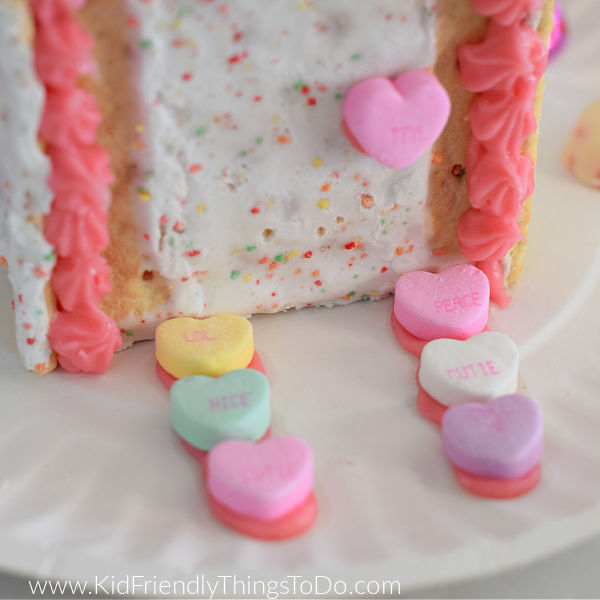 make 2 strips of icing inf front of the house and push candy onto it for a cute sidewalk
Rooftop Idea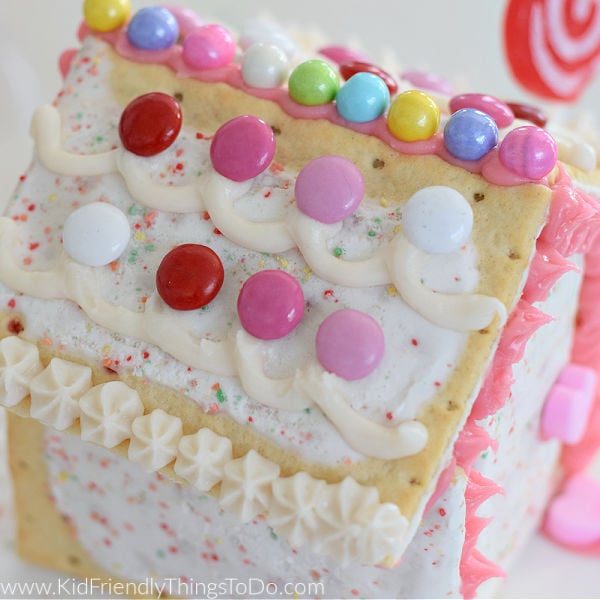 you can make a scallop with the icing and push M&Ms or some other candy onto the upward points of the scallops
place icing down the seam of the roof and decorate with candy – I used pastel Sixlets that I ordered from Amazon