This Cookie Crab and Mini Pound Cake Treasure Chest is an adorable snack idea or dessert idea for Ocean or Sea parties with kids.  The perfect easy-to-make dessert for an Under the Sea Party Snack Idea, Arial birthday, Spongebob birthday, Beach Themed, Summer, or a Pirate birthday. Easy to make and so cute.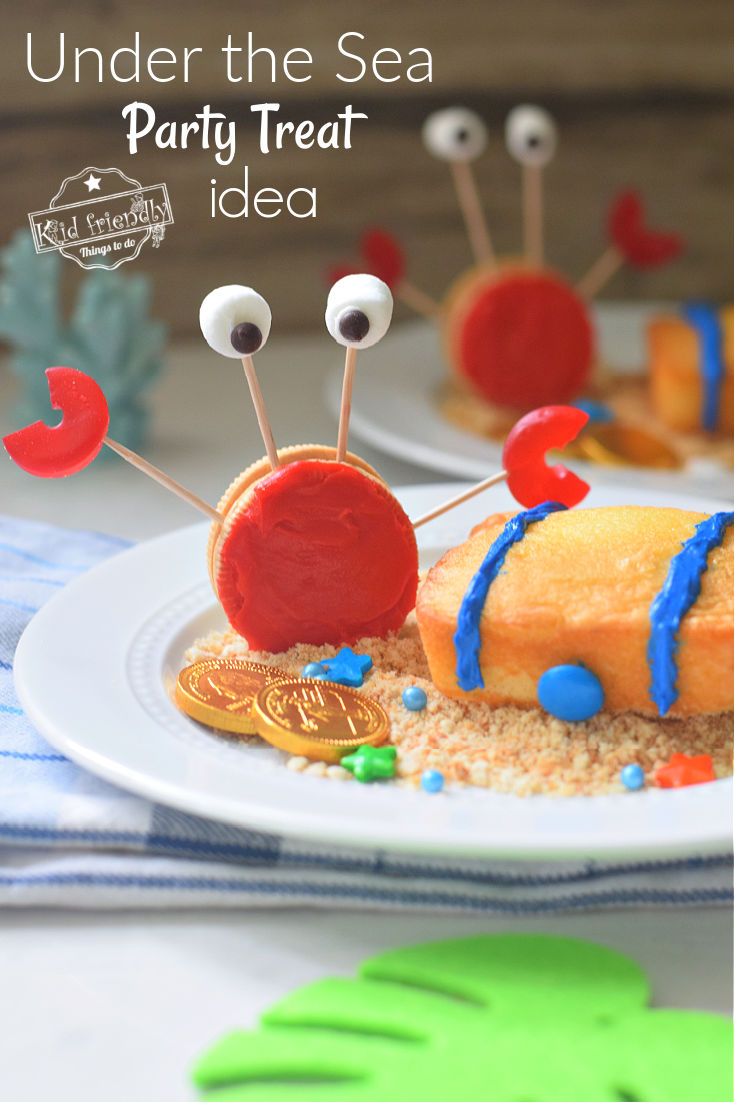 Under the Sea Party Treat Idea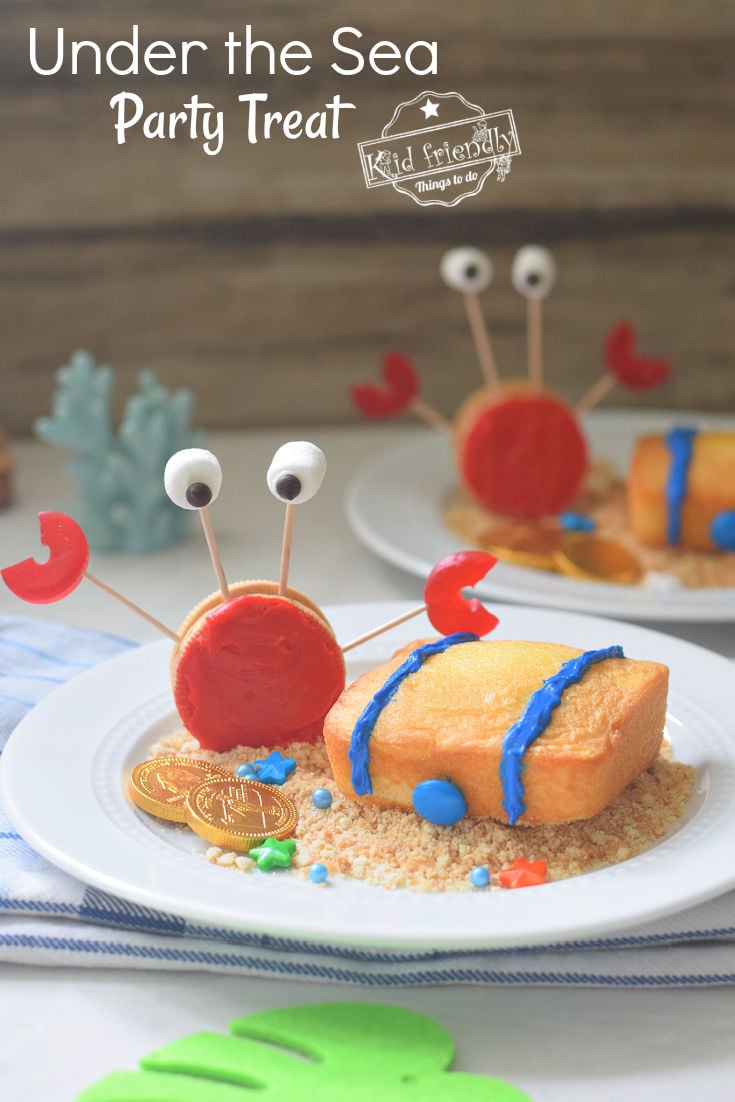 Other Under the Sea or Beach Themed Snacks for kids…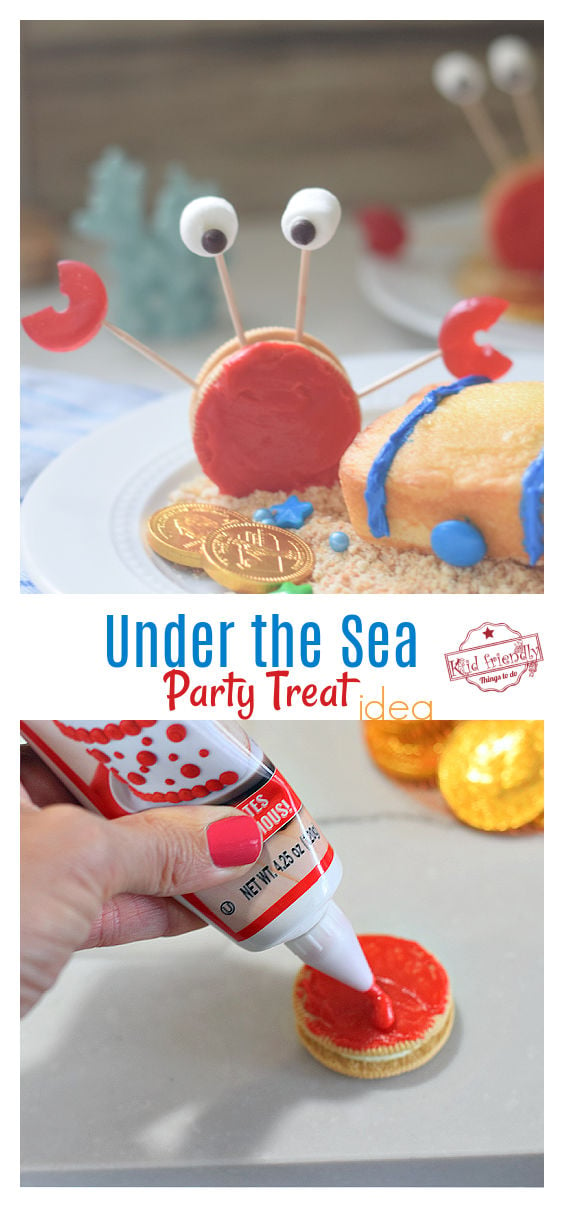 Easy to make with my fun shortcuts.
Are you ready to make this cute Ocean Snack? Let's make sure that you have everything you need…
Crab –
Items Needed: 
Oreo double stuffed cookies – I used vanilla but you could easily use the chocolate – 1 per crab
red frosting
For each crab…
4 toothpicks
2 red gummy lifesavers
2 mini marshmallows
2 mini chocolate chips
Treasure Chest –
Mini Pound cake – Find these in the bread aisle. 6 typically come in one box
Frosting tube – I used blue
Writing tip for frosting1
M&M – I used blue to match my frosting
optional – mini pearls to sprinkle around the treasure chest, candy coins, star-shaped sprinkles
Sand: 
Crushed vanilla wafers – about 4 per dessert
Print
Under the Sea Themed Dessert Idea
A cute ocean, sea, or summer birthday party treat for kids.
Author:
Prep Time:

15 minutes

Cook Time:

none

Total Time:

44 minute

Yield:

varies
Crab –
Items Needed: 
Oreo double stuffed cookies – I used vanilla but you could easily use the chocolate – 1 per crab
red frosting
For each crab…
4

toothpicks

2

red gummy lifesavers

2

mini marshmallows

2

mini chocolate chips
vanilla frosting
Treasure Chest –
Mini Pound cake – Find these in the bread aisle. 6 typically come in one box
Frosting tube – I used blue
Writing tip for frosting
M&M – I used blue to match my frosting
optional – mini pearls to sprinkle around the treasure chest, candy coins, star-shaped sprinkles
Sand: 
Crushed vanilla wafers – about 4 per dessert
Instructions
For the Crab:
spread read frosting on one side of the cookie
twist the cookie apart
Claws:
cut aV out of 2 red life saver gummies
insert 1 toothpick into each gummy – now, you have claws
push the toothpicks into the sides of the creamy center of the cookie pointing up and out for crab claws
Eyes:
spread a little vanilla frosting onto the end of a mini marshmallow
attach a mini chocolate chip
insert a toothpick into the bottom of each marshmallow eye
push the toothpicks into the creamy center of the cookie so they are pointing up
spread vanilla frosting over the creamy center
gently push the red frosted top back onto the cookie
Treasure Chest:
with your blue frosting and writing tip, squeeze 2 lines – one for each end of the pound cake coming all the way across the top and front of the cake
dab some frosting onto the back of an M&M
push the M&M onto the front center, between the 2 blue lines
Putting it together:
pour the crushed vanilla wafer onto the serving plate
add the treasure chest to the wafer sand
carefully place your crab beside the treasure chest – use the chest as a prop if the crab tries to topple over
REPEAT for each treat
Notes
Storing:
These can be made several hours in advance and left out at room temperature
To make them a day in advance…
Carefully, so the crab doesn't tip over, place in an airtight container and store at room temperature for up to one day before your party
Treasure Chest:
Using a writing tip for your blue frosting to make 2 lines on each side of the cake, and a little loop in the front center for a lock
I placed a little M&M for an added feature. Just put some frosting behind it to glue it to the pound cake
Sand:
~Melissa – KidFriendlyThingsToDo.Com