Cute Carrot Rice Krispies Easter Treats for Kids – A Fun Snack Idea

Posted by Melissa in Easter, Fun Food Crafts | 0 comments
I am so excited to share this fun idea for Carrot Rice Krispies Easter Treat for Kids. Brighten the Easter Buffet with these cute little carrots just waiting to feed your little bunnies. Come on in and I'll show you how to make these fun Easter treats…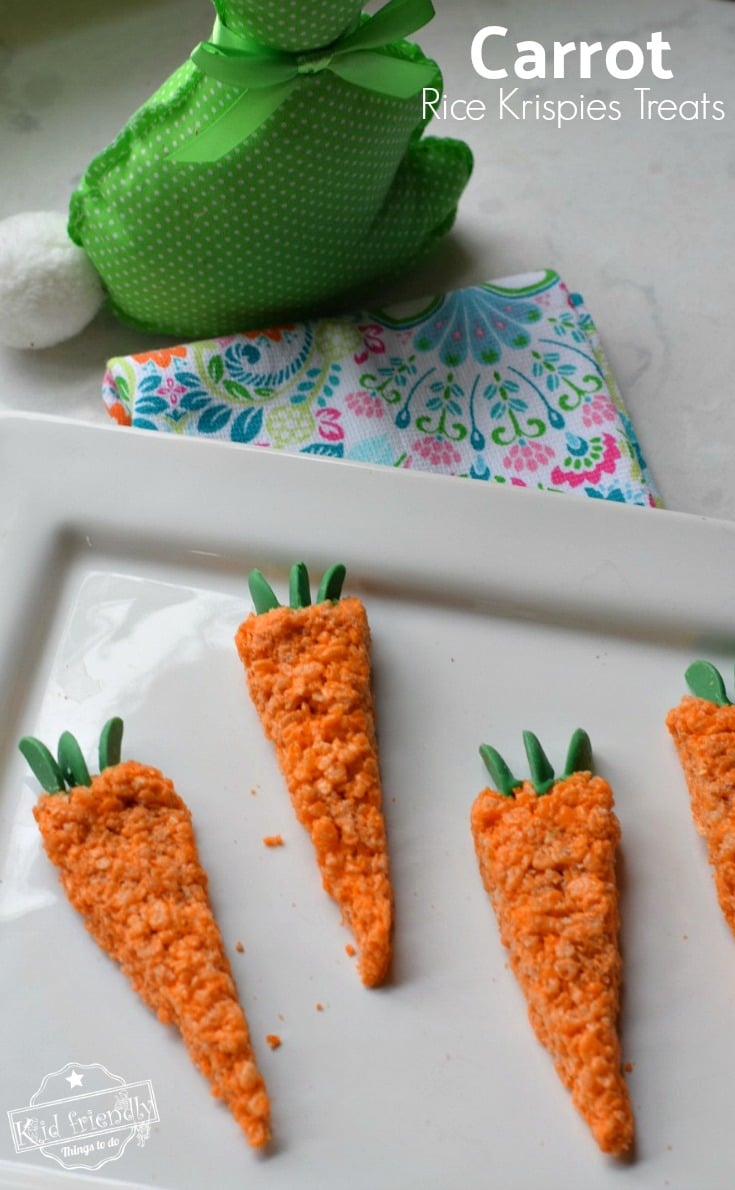 This is such a fun and easy Easter treat for kids. The little ones and (who am I kidding?!) the adults will absolutely love these cute carrots.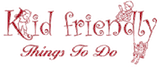 MY LATEST VIDEOS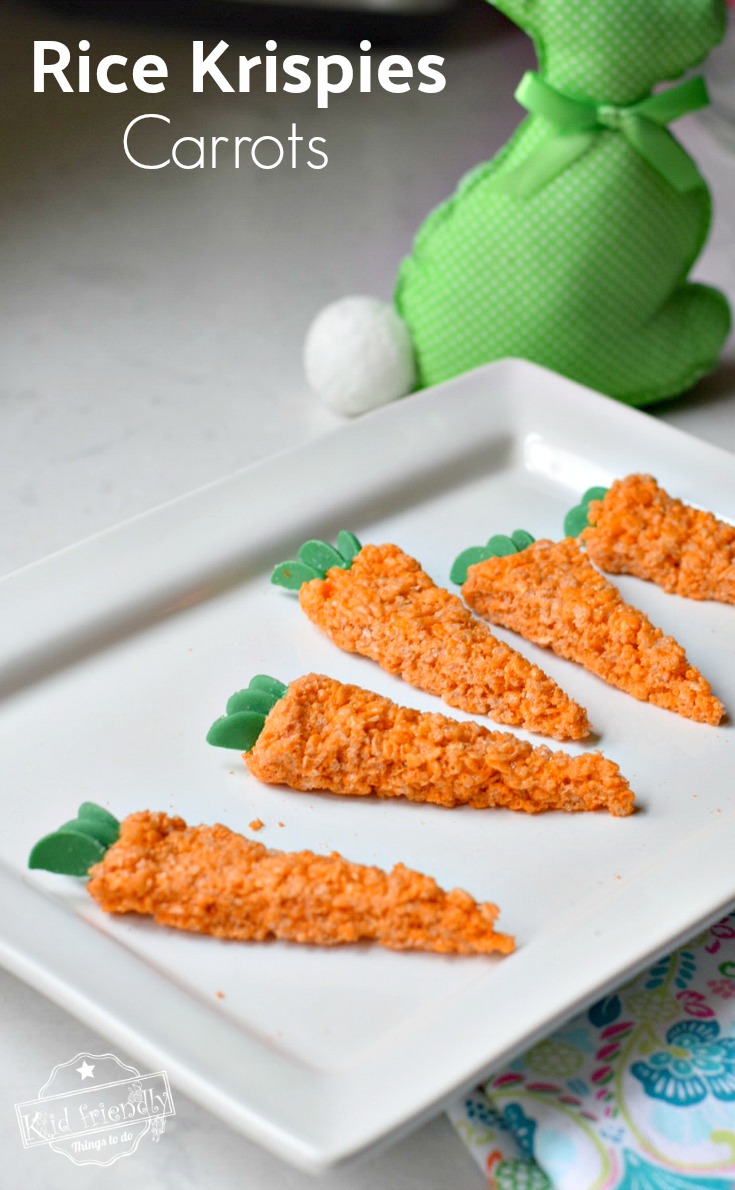 You'll love how easy they are to create. 1 batch easily makes 2 dozen carrots, so you'll have plenty to go around.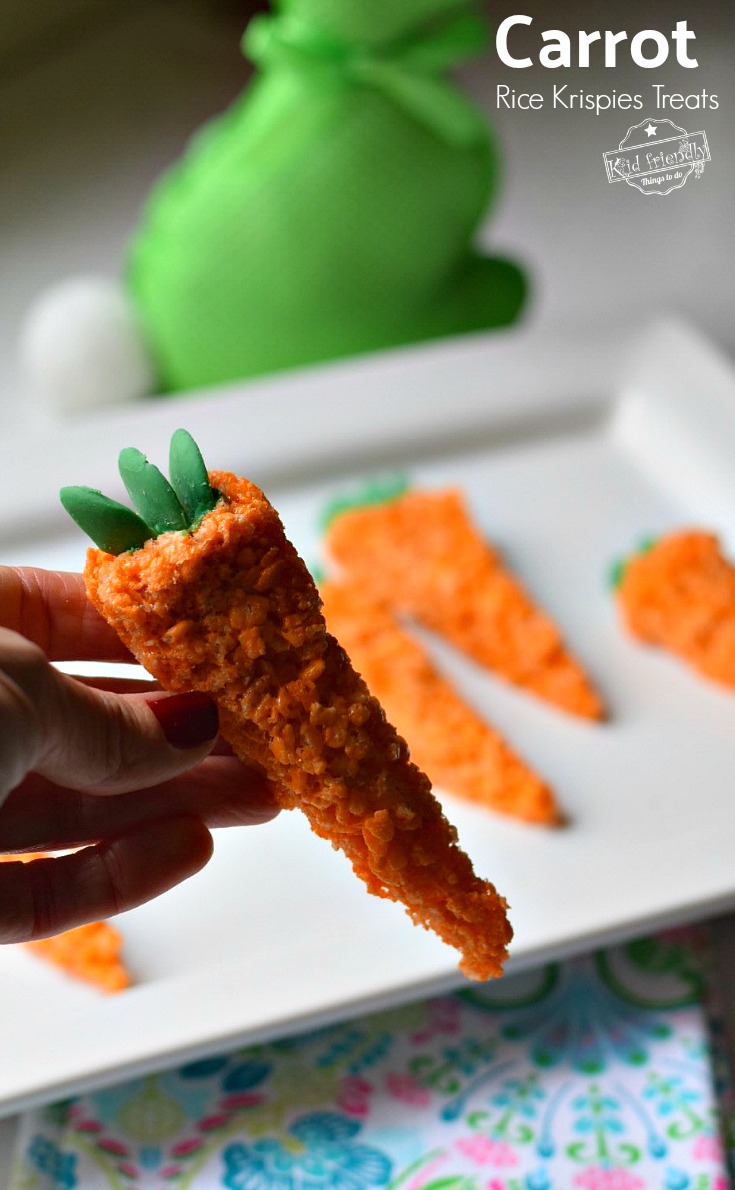 These fun treats would also be adorable at a garden party or just for fun!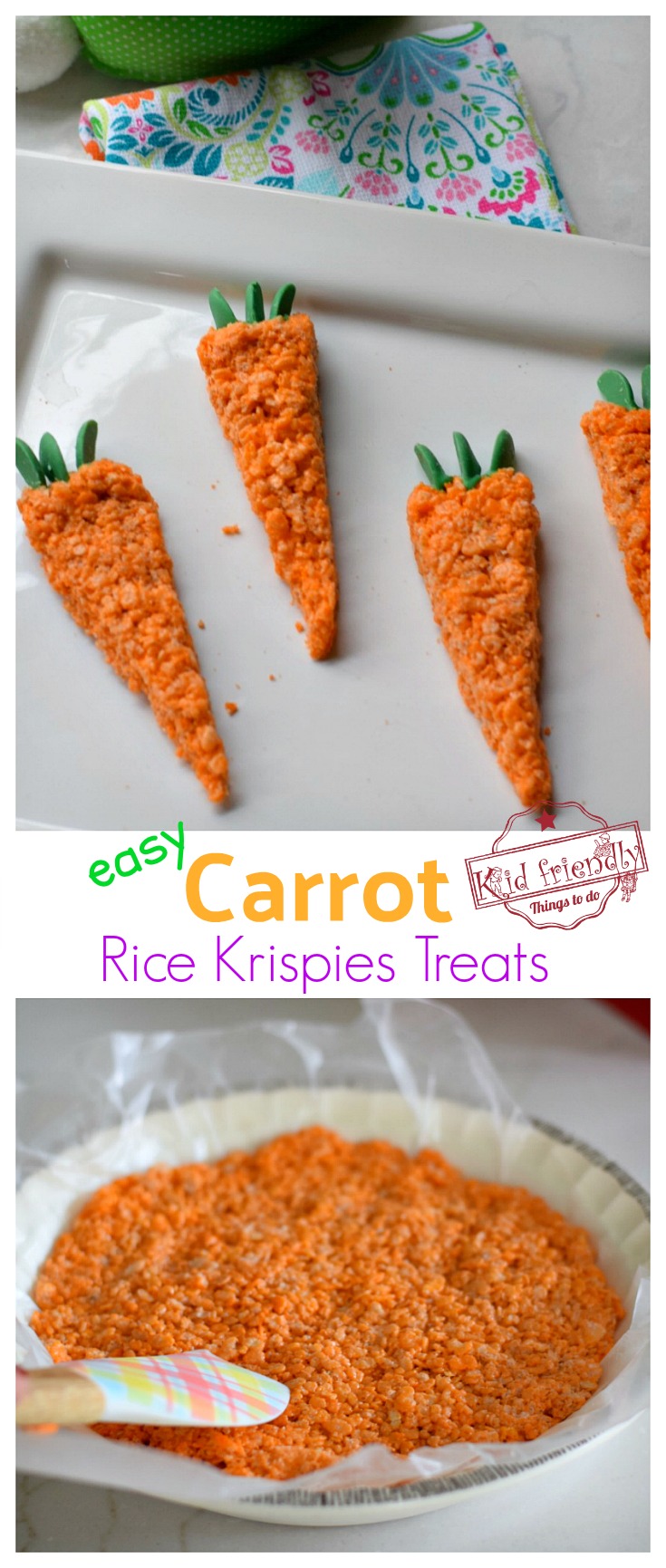 Here's What You'll Need for these fun Carrot Easter Treat for Kids…
3 Tbsp. of unsalted butter
4 cups of mini marshmallows
6 cups of rice cereal
orange food coloring – I like to use the gel
dark green chocolate melts
Extra Equipment
large saucepan
large mixing bowl
wax paper
silicone spatula
2 pie plates
small microwave proof glass bowl
Instructions for these Easter Treat for Kids…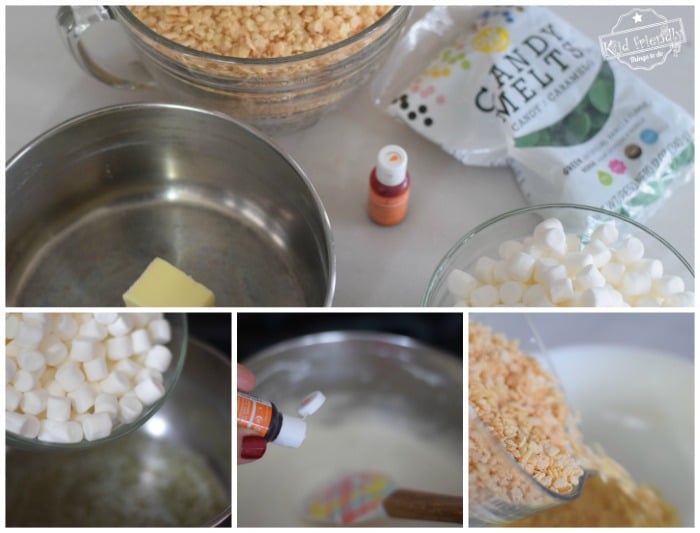 melt the butter over medium heat
add the marshmallows and stir until smooth
remove from heat and add the colorant to the marshmallows
grab your big bowl and add the cereal, pour the orange marshmallow and stir until the cereal is coated with the orange marshmallow mixture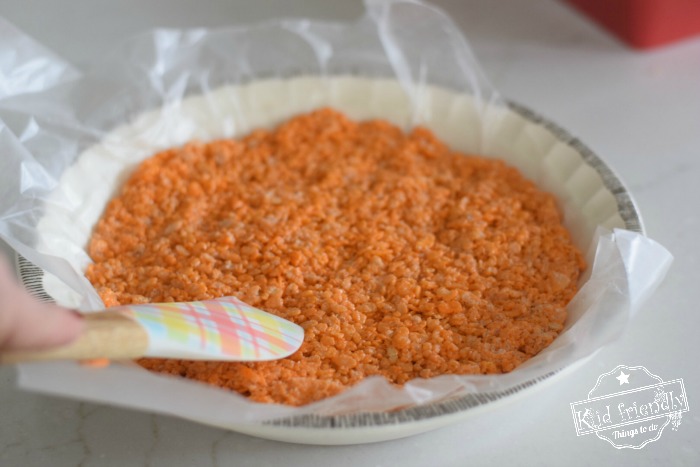 Grab your pie plates and place some wax paper over them
Divide the rice krispies mixture evenly between the two pie plates and press down
remove the molded rice krispies from the pie plates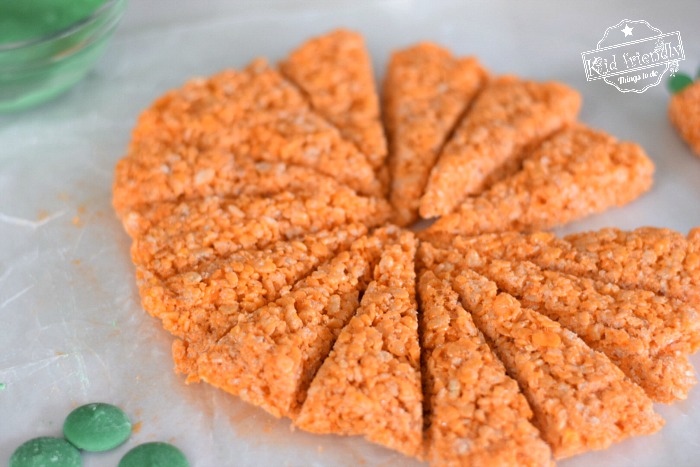 cut each round rice krispies treat into 16 triangles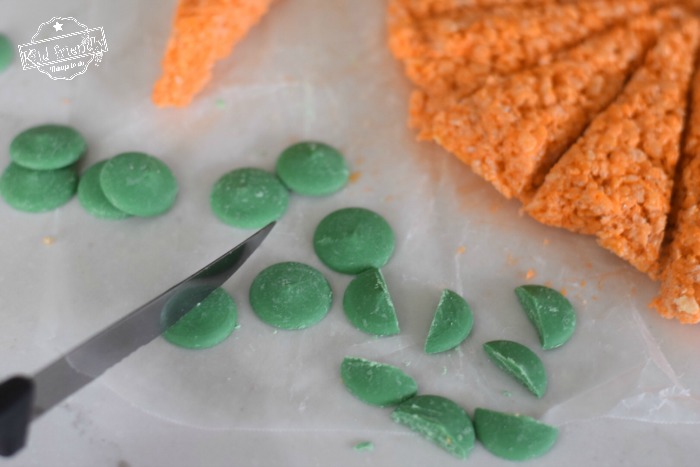 Grab your chocolate melts and pour about 1 dozen into your small glass bowl
Microwave them for 1 minute and stir until smooth
cut 50 of them in half to make your leaves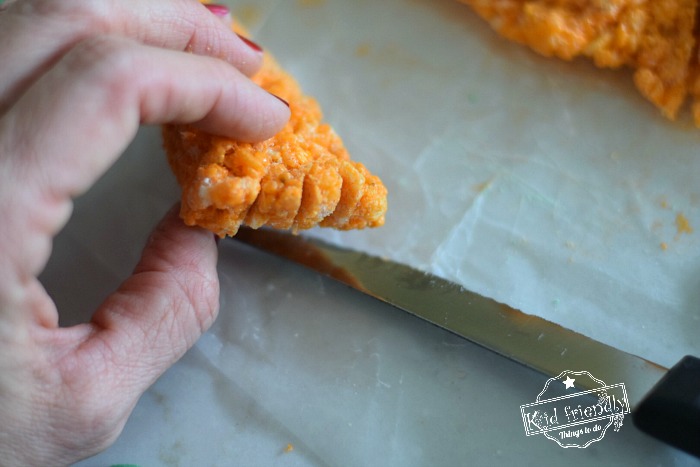 poke or cut 3 slices across the top of the triangle pieces – (you can also mold the top by curving it a little with your hands)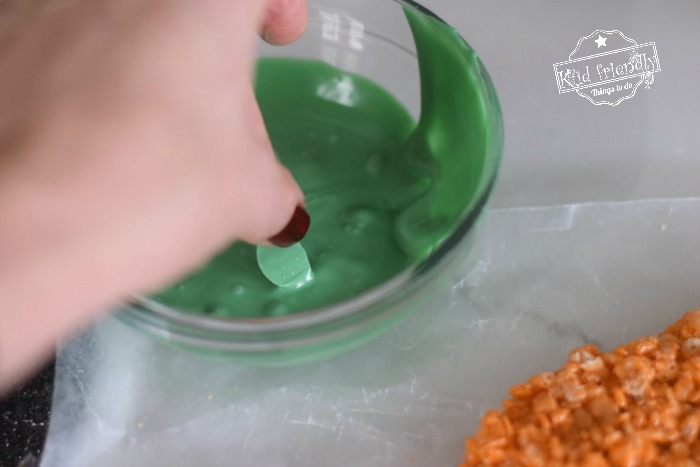 dip the chocolate halves into the melted green chocolate and place them into the slits on the carrots
I faced mine all with the flat edge at the back
set the carrots onto wax paper for the chocolate to dry and set up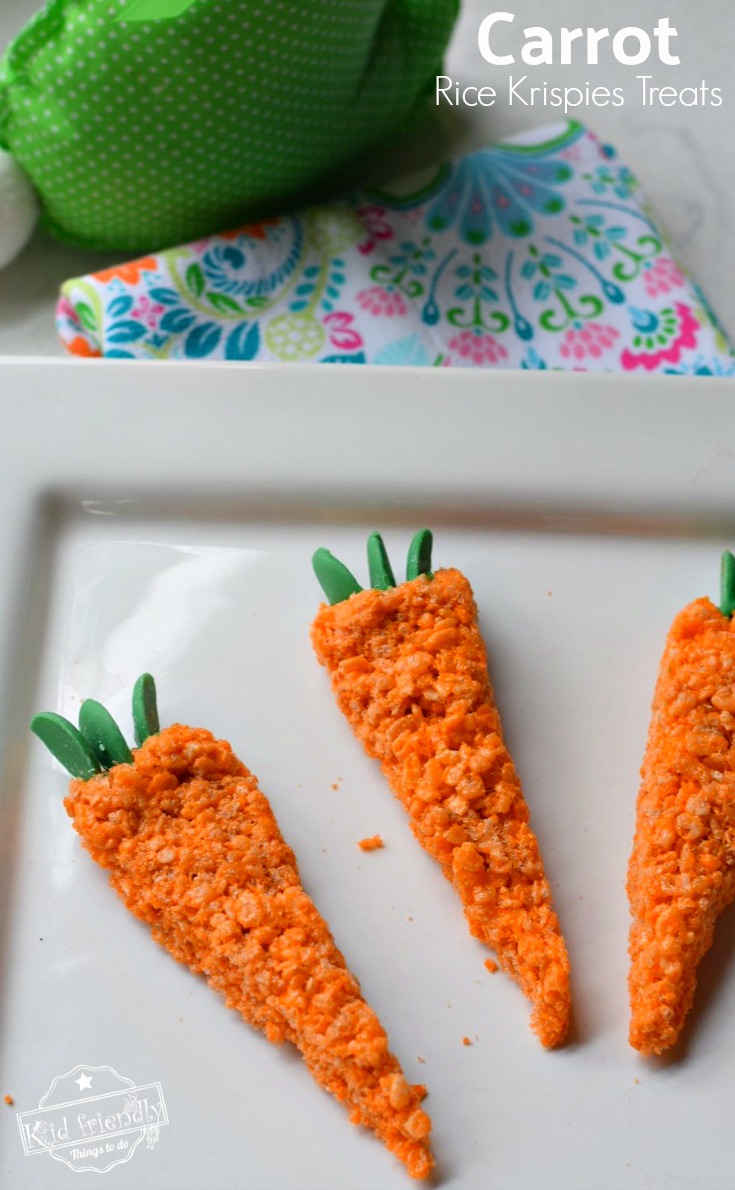 store finished carrots at room temperature in an airtight container for up to a few days
That's it!
Happy Easter!
~Melissa – Kid Friendly Things To Do