How to Make Roasted Garlic. It's so, so easy to do, and you'll look so impressive the next time company comes for dinner. Here's how you can roast up some garlic to use on a variety of dishes.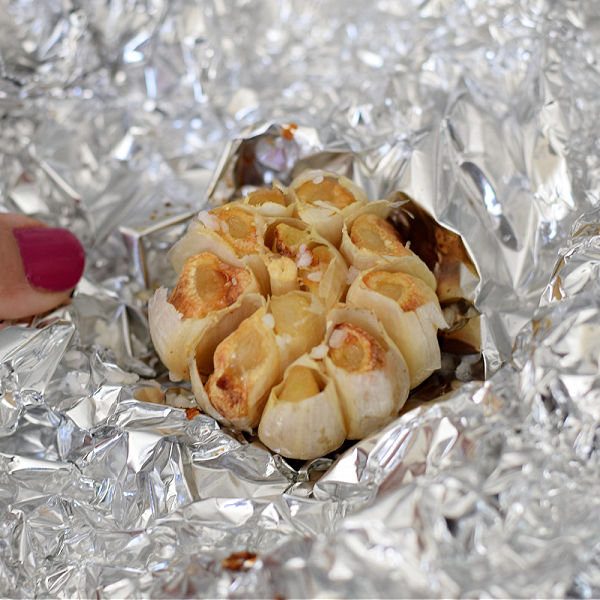 How to Make Roasted Garlic
I'm having a "thing" for roasted garlic, lately. I love it on bread, in bread, whipped in mashed potatoes, as a pizza topping, and mixed with creamy goat cheese! It's probably a phase I'm going through, so before I forget about my roasted garlic passion, I'm passing along the addiction to you.
Are you looking for easy snack ideas or appetizers? Check out some of my other posts, like:
You'll Need:
A Garlic Bulb
Olive Oil
Salt and Pepper
Roasting Pan
Foil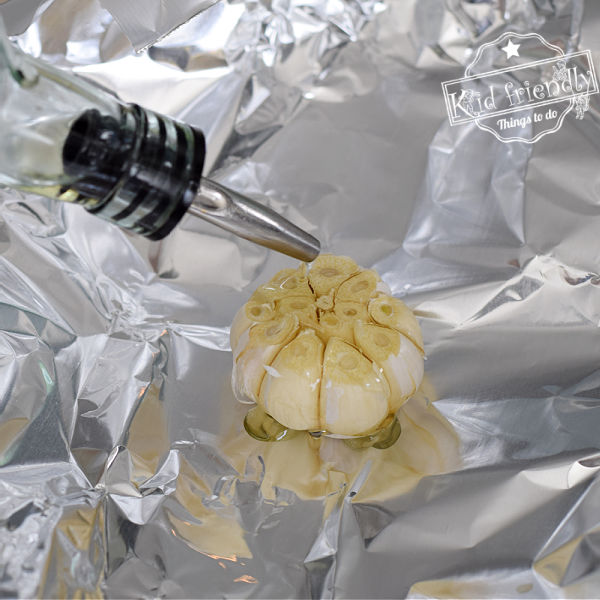 Print
How To Make Roasted Garlic | Kid Friendly Things To Do
Author:
Prep Time:

2 minutes

Cook Time:

25-30 minutes

Total Time:

9 minute

Yield:

1
A Garlic Bulb
Olive Oil
Salt and Pepper
Roasting Pan
Foil
Instructions
Peel the loose skin off of the garlic – only the loose skin
Chop the top off of the garlic – exposing the garlic inside
Place the garlic with the top chopped off facing up inside a roasting pan
Dowse it with olive oil, making sure to get oil inside the tops and in between
Add a little salt and pepper to the top for some extra flavor
Place foil over the pan, sealing the garlic inside
Pop it in the oven at about 250 degrees – 300 degrees
Roast for about an hour, or until the garlic is mushy and golden
Squeeze the garlic out into a container and add the oil from the pan – seal, and refrigerate until you're ready for it
Notes
Delicious served on toasted bread or in cream cheese spreads
Welcome to my roasted garlic addiction!
~Melissa – KidFriendlyThingsToDo.com – kid-friendly crafts, recipes, party ideas, fun foods, and fun things to do with the whole family!