Last weekend we hosted a wrestling birthday party for my 9 year old boy. I was lucky enough to find a wrestling event close to home. So, when I invited some kids over for a wrestling birthday party; it also included a real wrestling show! But…not before a wrestling – DIY Pro Wrestling Birthday Cake. A "WWE"- cake! A No Fondant Cake –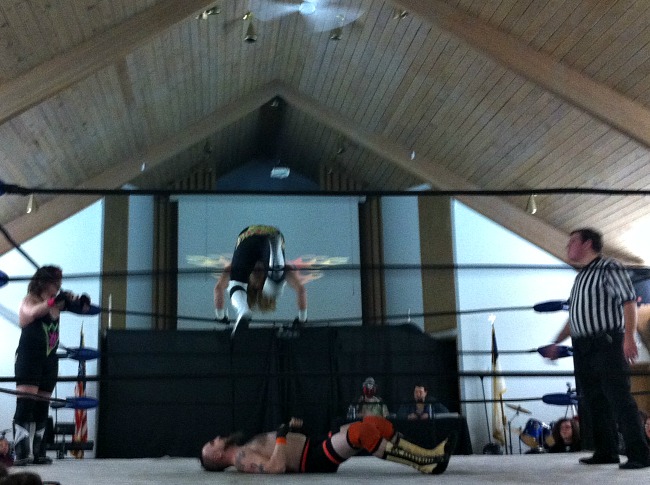 Fire Pro Wrestling in Northwest Indiana is a Christian based pro wrestling team. They keep the show family friendly, and they do many charitable wrestling matches for kids. This particular night's show was to raise money for a little baby in need of heart surgery. What a great group of guys!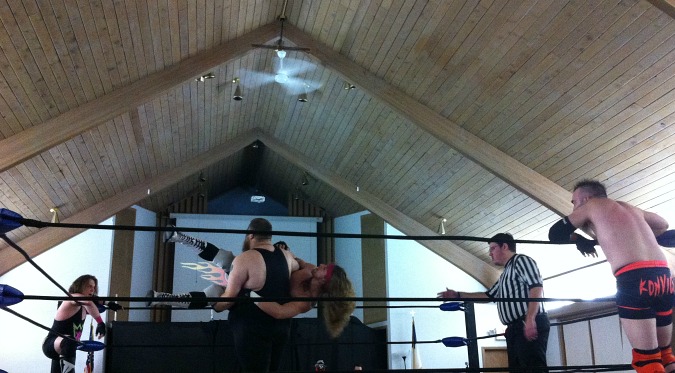 I forgot how much leotard action is in Pro Wrestling!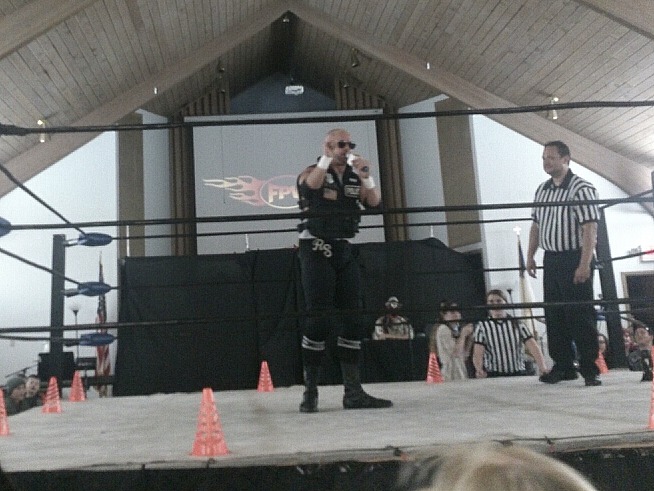 And…the drama! This guy was my favorite! He was the king of smack talk. Then, he cried that he wanted to just go home the whole match. Hilarious!
The wrestlers were nice enough to pose with the kids during intermission. This is the birthday boy posing with a champion! Fun stuff!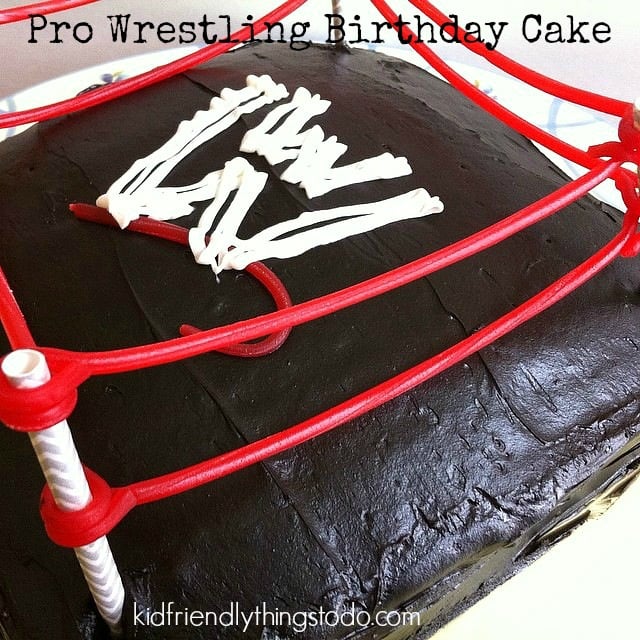 But…the real reason for this post is to show you how I made this wrestling cake.
You'll Need:
Square cake – 2 layers
Black frosting
Silver or Black paper straws – I found mine at Target
Red Pull and Peel Licorice
White Frosting
#67 Wilton Leaf tip and piping bag
You'll want to start out by baking two square cakes and stacking them on your serving platter.
I am not a huge fan of fondant – I have not had the best results working with the stuff. One of these days, I'll take a course in working with fondant. Until then…I'm happy with my imperfect birthday cakes.
I have found that if you want a true black color, it's best to start with a dark color like brown (chocolate frosting works great), and add black food coloring
The result is a rich black color
After I frosted the cake with black frosting, – I used Pull and Peel Licorice to make a little candy cane shape in the middle of the cake
I then used a #67 Wilton Leaf Tip and a bag of white frosting to make 2 Ws in the middle of the cake. the leaf tip did all of the work for me – instant layers of W!
The bottom section of the larger W overlaps the licorice piece in the middle of the cake
The smaller W goes inside of the larger W
I then used silver paper straws that I found at Target for the rope support
I just cut them to the size I wanted with scissors and inserted one into each of the four corners of the cake
I then attached pieces of pull and peel licorice around the straws to look like rope
I just squeezed the licorice ends around the straws until it stuck together in a nice tight loop
I used 8 pieces and trimmed them to fit the length of my cake
That's it – my amateur Pro Wrestling Cake!
~Melissa – KidFriendlyThingsToDo.com