Just when you thought the celebration was over…In six short days, we'll be ringing in the New Year! If you plan on including the kids in your New Year's Eve festivities, you might be looking for a simple but fun treat for them to enjoy. Today, I'd like to share this super easy, and fun idea for a kid friendly New Year's Eve Treat – New Year's Eve Rice Krispies Treat Party Hats.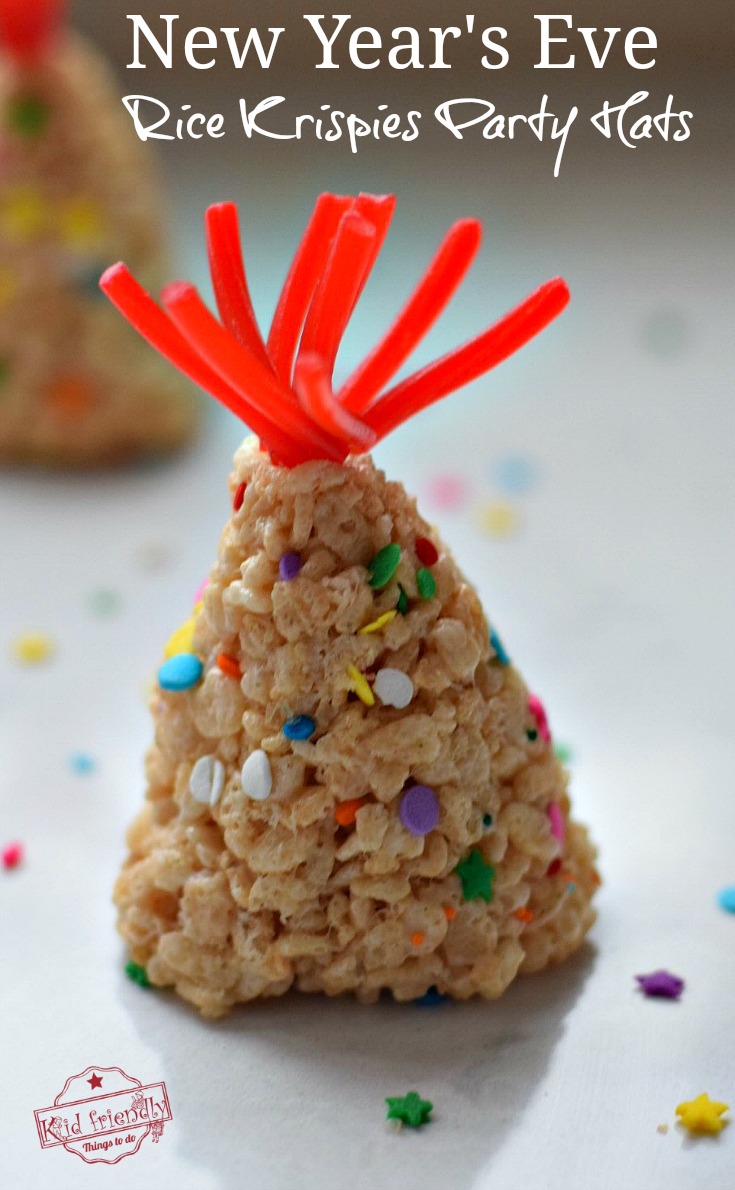 Here's What You'll Need for these New Year's Eve Rice Krispies Treat Party Hats for a Fun Kid Friendly Treat
(should make 1 dozen party hats)
6 cups of rice krisp cereal
4 cups of mini marshmallows
3 Tbsp. of unsalted butter
*optional – snow cone paper cup (link below)- an alternative would be 1/4 cup measuring cup
licorice pull n peel – any color or flavor will do
toothpicks
Fun sprinkles for the New Year
Extra Equipment:
wax paper
large saucepan
silicon spatula
oil spray
Instructions: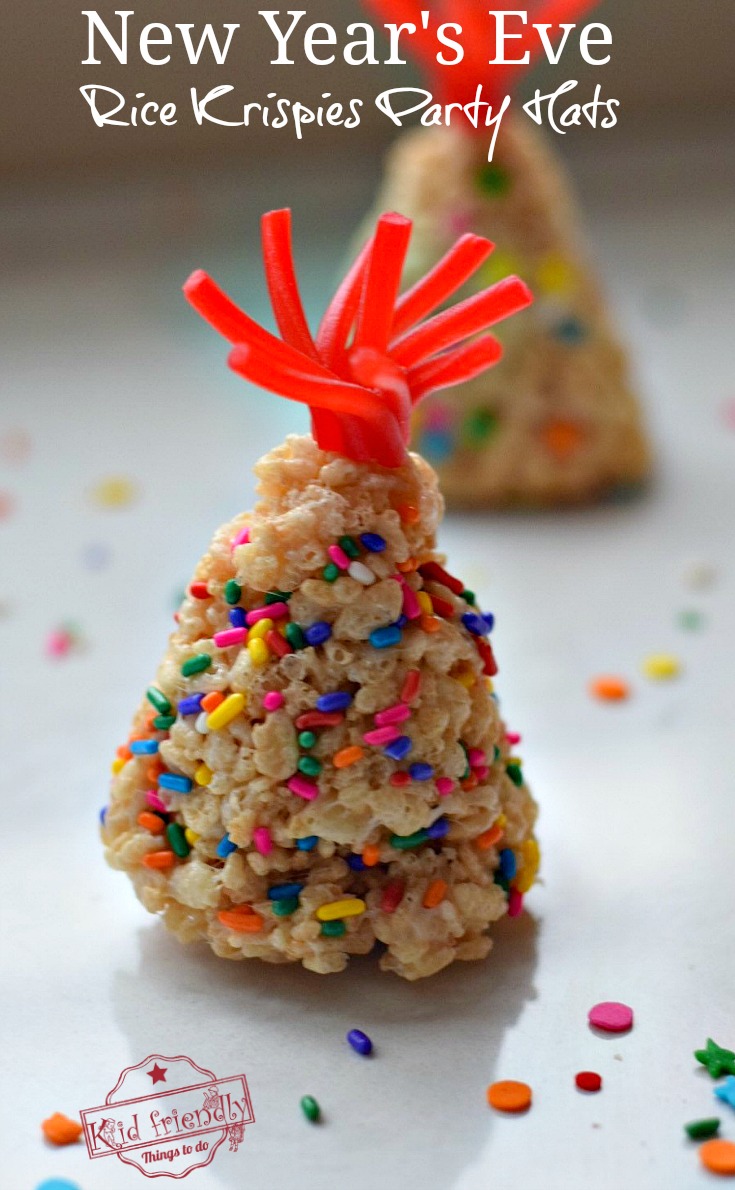 Melt the butter in a saucepan over medium heat
Add the mini marshmallows and stir until they are melted
Remove from heat and pour the cereal into the marshmallow mixture – stir and stir and stir some more until the cereal is completely coated
Grab some wax paper and set it on a work surface
Spray your mold and quickly scoop warm mixture into the mold and push it out onto the wax paper
Add sprinkles while the marshmallow is still warm and sticky
Repeat with the rest of the cereal mixture
*If the mixture gets too cold, the sprinkles will not adhere as well. Warm the mixture up over low heat while stirring or transfer it to a microwave bowl and microwave on high for about 30 seconds
Once you have all of your triangle shaped hats decorated, you can move onto the licorice topper
Cut 1 inch pieces of licorice and insert a toothpick into one end
pull and peel the opposite end until the licorice fans out
insert the other end of the toothpick into the top of the cereal hats
*the licorice will try to pull itself back into a single rope – just keep pushing it back outward into a fan. This gets easier as the licorice sits out for a bit. It loses its' elasticity
That's it!
*A decent alternative to a snow cone mold would be to use a measuring cup that measures 1/4 cup. Spray oil on the inside of the measuring cup. Just scoop out the mixture into the cup and out onto the wax paper. Mold the hats with your hands into a pyramid shape and decorate as instructed above
Here are My Top Amazon Picks for
[box] [/box]

Happy New Year!