These Mickey Mouse Cupcakes with Mickey's suspenders and Oreo ears are super cute and easy to make. Ther is literally No fondant. With only frosting, Red fruit roll-ups, cookies, and marshmallows, they are easy to make and adorable. Perfect for a Disney or Mickey Mouse birthday party.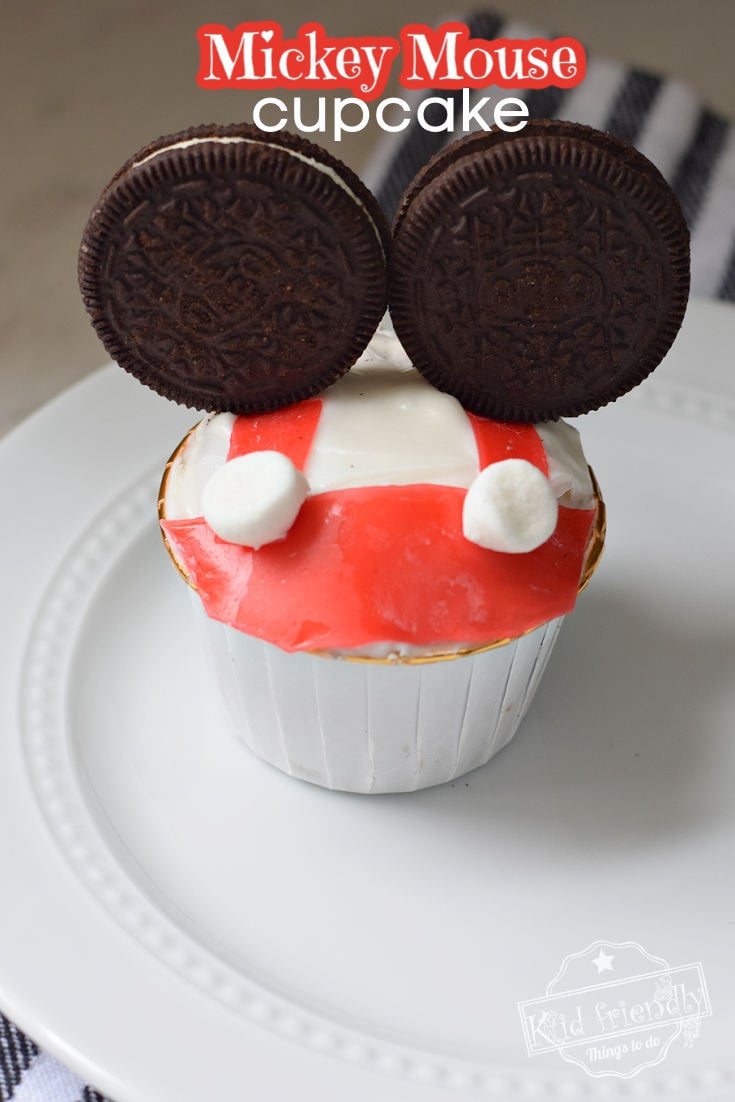 Easy Mickey Mouse Cupcake Idea
Poor Mickey Mouse. With two girls in our house, he's taken a backseat to his girl, Minnie Mouse. I thought he deserved a cupcake idea, too. I love that this cupcake doesn't require fondant. I tried making it once, and it was ok. I'm not a cupcake or cake expert and it was easy to tell. This cupcake is for the average baker – no experience necessary.
Make-Ahead and Storage:
This cupcake is best served within a day of making it. With candy, marshmallows, and cookies as decorations, it makes it a little harder to make several days in advance.
Storing Leftovers – you can store the cupcakes in an airtight container for up to three days, although with those big cookie ears  – you'll need a tall container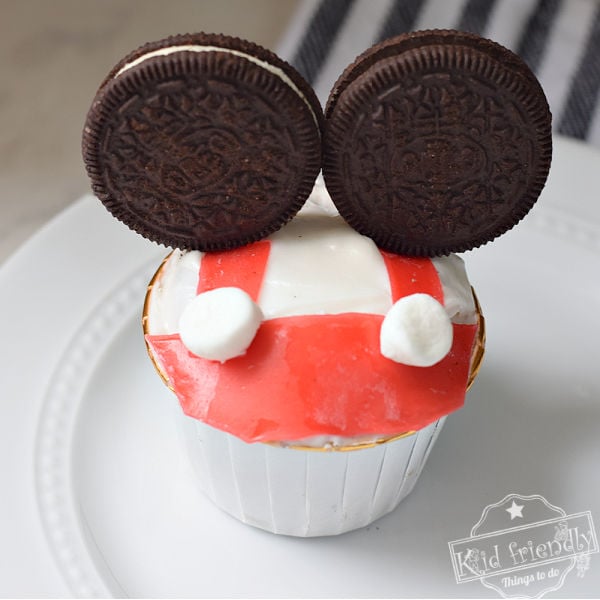 Tips and Tricks for this Mickey Mouse Cupcake:
Getting the Cookie ears to stay on…
If the frosting is thick enough, you can add some to the end of the cookies and they should stay on
Frosting that is too thin, won't hold the weight of the cookies – try adding some powdered sugar as a thickening agent
If you want to – you can trim the bottom of the cookies into a straight line by sawing them with a knife. I did not, but I didn't have to transport mine very far. Place the cookies into the cupcake as you see above
A full-proof way is to use toothpicks to hold the cookies up. They'll be more like a toothpick cupcake topper and they will definitely stay intact. Just be sure to tell your guests that there are toothpicks in the cookies so they can safely remove them before eating their cupcakes
If you are looking for Disney or character cupcake ideas, try…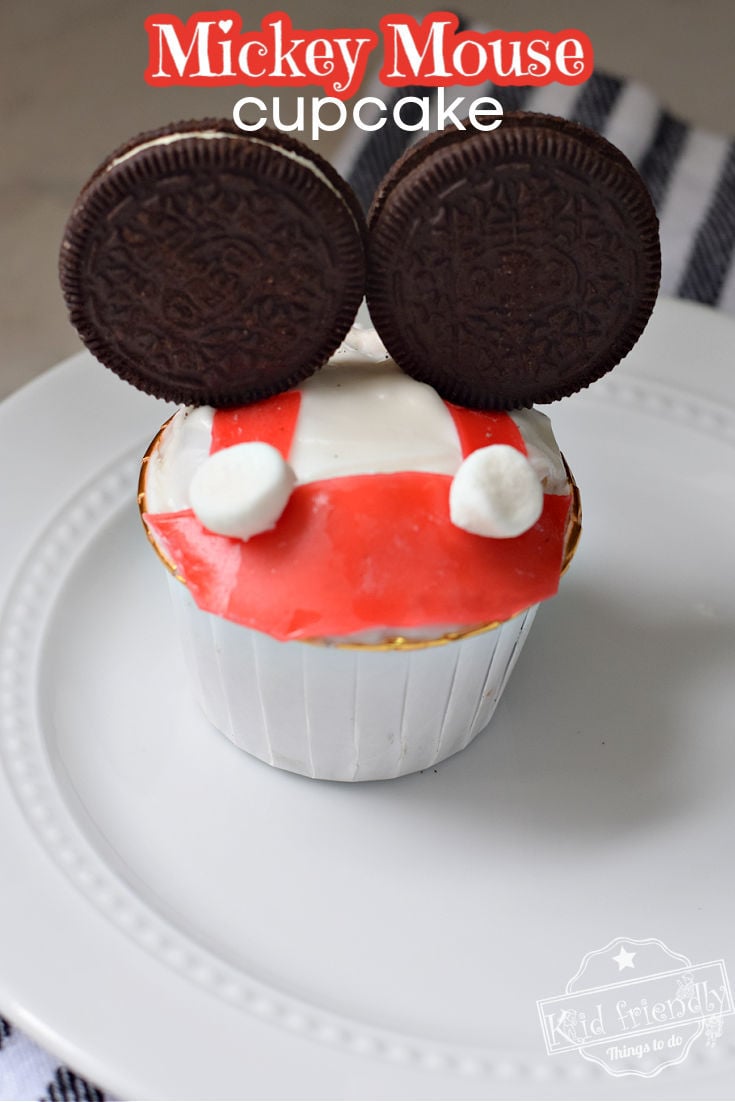 For each Mickey Mouse Cupcake, You'll Need:
A Cupcake Frosted With A Generous Amount Of White Vanilla Frosting
A Red Fruit Roll-Up
2 Oreo Cookies
2 Mini Marshmallows
Kitchen Scissors
*you might need 2 toothpicks per cupcake – it really depends on how thick the frosting is
Here are my top Amazon Picks for these cute Disney Themed Cupcakes: 
(affiliate links)
How do you make Mickey Mouse cupcakes?
Grab the full instructions in the printable below:
Frost cupcakes
Cut a piece of fruit roll-up to go across the bottom of the cupcake
Cut small strips from the roll-up for suspenders
Add those to the shorts
Cut the marshmallows in half and use the most round looking pieces  for Mickey's white buttons
Glue those on with frosting
Mickey's Ears:
If the frosting is thick enough, then you'll simply have to push them into the cookie, just above the suspenders
Toothpicks can also be inserted above the suspenders to hold the cookies in place (just be sure to let your guests know that toothpicks are hidden in the cupcake so they can remove them before eating the cupcake)
Follow Me on Social Media
FACEBOOK
Facebook Page: Recipes Passed Down
Facebook Page: Kid Friendly Things To Do
Join my Facebook Groups
Easy Family Recipes – Just Like Mom Used to Make
Kid's Crafts and Activities for the whole family
PINTEREST
Print
Easy Mickey Mouse Cupcake Idea | Kid Friendly Things To Do
Easy to make Mickey Mouse Cupcakes
Author:
Prep Time:

10 minutes

Cook Time:

25-30 minutes

Total Time:

0 hours

Yield:

2

dozen

1

x
White cupcake wrappers – I like the stiff foil cupcake liners that I found on Amazon
A Cupcake
stiff White Vanilla Frosting
A Red Fruit Roll-Up

2

Oreo Cookies

2

Mini Marshmallows
Kitchen Scissors
*you might need 2 toothpicks per cupcake – it really depends on how thick the frosting is
Instructions
Place your cupcakes into the stiff white wrapper
Frost the cupcakes with vanilla frosting
Mickey's Shorts – Using the width of your cupcake as your guide for the width – cut a piece of the fruit roll-up to match the cupcake width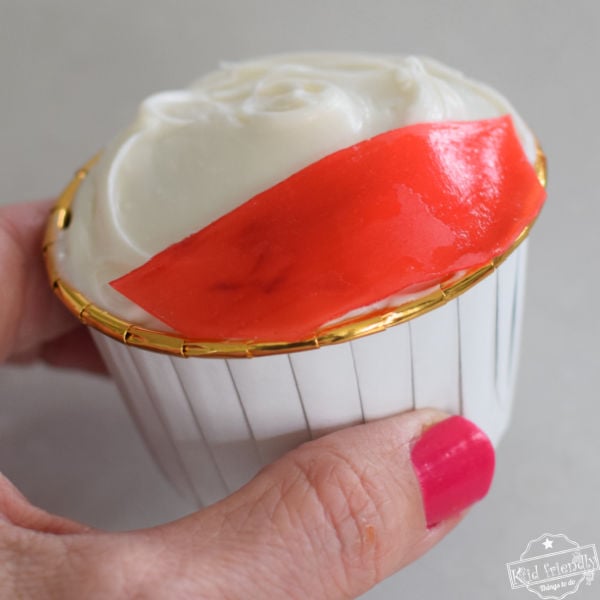 Cut that into the shape of a semi-circle
Once you place the fruit roll-up onto the cupcake – you can trim the edges, if needed
If you want to make the red a little more vivid, you can cut one more semi-circle and add it to the top of this one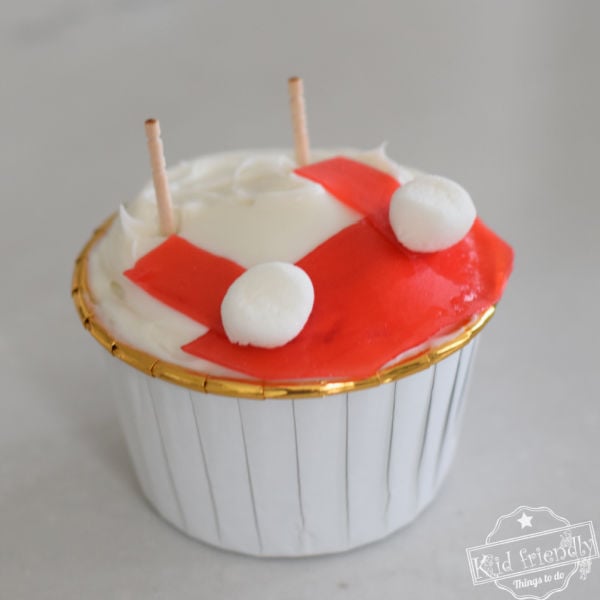 Now, with your leftover pieces of a red fruit roll-up, trim a couple of thin rectangle pieces for Mickey's straps
Add those to the shorts
Cut the marshmallows in half and use the most round looking pieces  for Mickey's white buttons
Glue those on with frosting
Mickey's Ears:
If the frosting is thick enough, then you'll simply have to push them into the cookie, just above the suspenders
You could also add some frosting to the bottom of the cookies for extra support
Toothpicks can also be inserted above the suspenders to hold the cookies in place (just be sure to let your guests know that toothpicks are hidden in the cupcake so they can remove them before eating the cupcake)
Notes
Store cupcakes at room temperature for up to one day and covered in an air-tight container for up to 3 days
~Melissa – kidfriendlythingstodo.com