Spider Hot Dog – A Kid Friendly Thing To Eat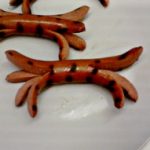 Posted by Melissa in Easy Family Recipes, Grilling Fun, Hotel Transylvania Ideas, Main Dish, Meats | 0 comments
How Fun & Simple to do!!! Give hot dogs a new twist with this idea I learned from the Boy Scouts! Awesome!
Here's How!:
Just cut an X into both edges of the hot dog
Depending on the length of your hot dog, cut 1 inch or 1&1/2 inch – leaving 1&1/2 inches in the middle untouched to create the body
As you grill the end slices should curl a little.
You can arrange the legs on the plate to look even more "Spidery"!
Have Fun With Your Spider Dogs!
~Melissa – KidFriendlyThingsToDo.Com – A site providing kid friendly recipes, crafts, party ideas, and fun things to do with kids! Plus, places in Connecticut are reviewed with pictures!