The Best Ever Kid Friendly Sugar Cookie Recipe for the Holidays!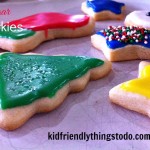 Posted by Melissa in Christmas, Game Ideas, Recipe | 0 comments
This is the recipe that I grew up with. My mom used to make these delicious sugar cookies every Christmas! Now, my kids are rolling out the dough and cutting shapes from the same recipe. We all agree…the almond flavored frosting just smells like Christmas to us! Here's the recipe: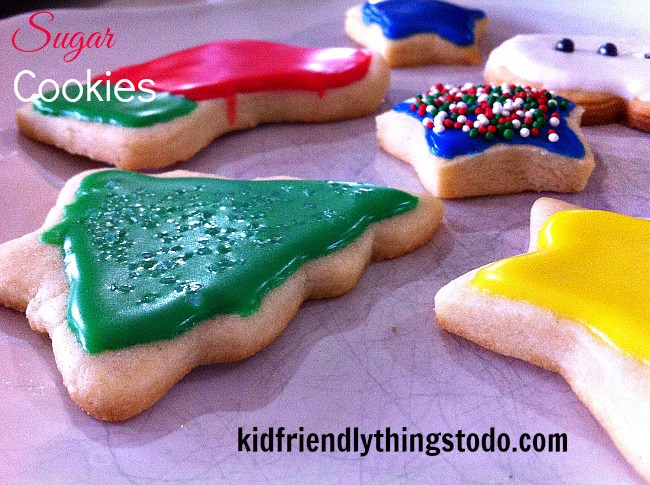 You'll Need:
1 cup of granulated sugar
1 cup of powdered sugar
1 cup of butter
1 cup of oil
1 egg
1 tsp. vanilla extract
1/2 tsp. almond extract
4&1/2 cup of flour
1 tsp. of baking powder
Icing:
1 cup of powdered sugar
1 tsp. almond extract
2 – 3 tsp. of water
Gel food coloring
Instructions: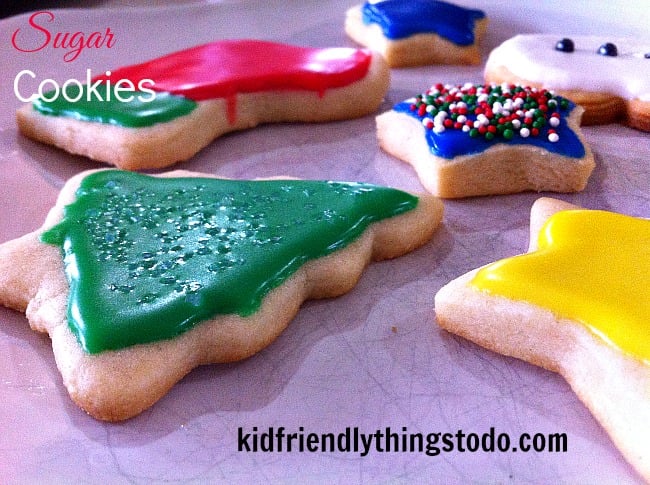 Preheat the oven to 325 degrees
In a large bowl – Cream the fist 4 ingredients
Add the egg, vanilla, and almond – mix in
In another large bowl, mix the flour & baking powder
Gradually add the dry ingredients to the wet, and mix
Chill in the refrigerator for at least one hour
When you are ready, roll the dough out between to sheets of wax paper *my little trick to avoid sticky dough on the rolling pin!
And…cut the shapes out
*When the dough warms up – and it does pretty quickly – pop it back into the refrigerator. I like to take half of the dough out, roll, and cut…then take the other half out to finish
Bake for 8-10 minutes
Mix the icing by mixing the powdered sugar, almond extract, water and food coloring together. *Add water gradually until the icing is the consistency you like
When the cookies have cooled – decorate! 🙂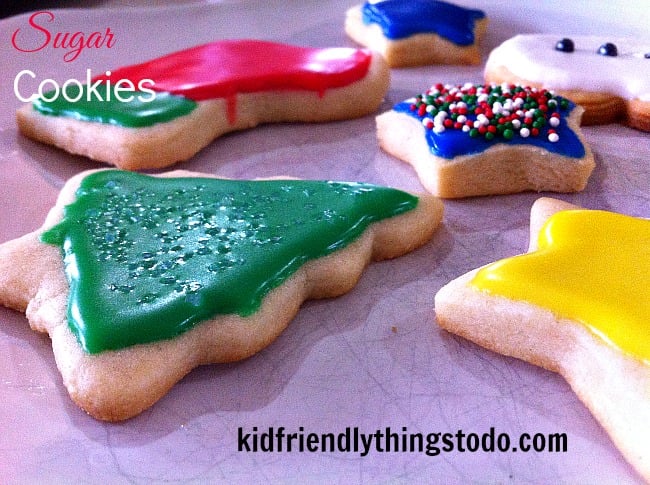 Sugar Cookies - Kid Friendly Things To Do .com
2014-12-24 06:54:44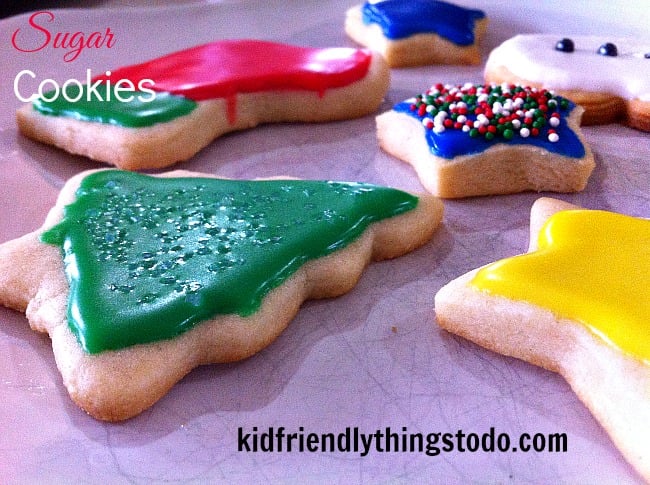 Nothing reminds me of my childhood Christmas like these Sugar Cookies!
Ingredients
1 cup of granulated sugar
1 cup of powdered sugar
1 cup of butter
1 cup of oil
1 egg
1 tsp. vanilla extract
1/2 tsp. almond extract
4&1/2 cup of flour
1 tsp. of baking powder
Icing
1 cup of powdered sugar
1 tsp. almond extract
2 – 3 tsp. of water
Gel food coloring
Instructions
Preheat the oven to 325 degrees
In a large bowl - Cream the fist 4 ingredients
Add the egg, vanilla, and almond - mix in
In another large bowl, mix the flour & baking powder
Gradually add the dry ingredients to the wet, and mix
Chill in the refrigerator for at least one hour
When you are ready, roll the dough out between to sheets of wax paper *my little trick to avoid sticky dough on the rolling pin!
And...cut the shapes out
Bake for 8-10 minutes
Mix the icing by mixing the powdered sugar, almond extract, water and food coloring together. *Add water gradually until the icing is the consistency you like
When the cookies have cooled - decorate! 🙂
Notes
*When the dough warms up - and it does pretty quickly - pop it back into the refrigerator to get cold. I like to take half of the dough out at a time...roll, and cut into shapes. That way the other half is cold and ready to go when your dough gets too warm to shape
Kid Friendly Things to Do.com - Family Recipes, Crafts, Fun Food Crafts, and Game Ideas https://kidfriendlythingstodo.com/
Don't forget to like me on Facebook, or Follow me on Pinterest…Or Instagram! I'd love to hear from you! Merry Christmas! ~ Melissa – KidFriendlyThingsToDo.com Linking Up To: Gingersnap Crafts The Lady Behind The Curtain